XRP Price Prediction as Rumors Emerge Regarding Secret Meetings Between SEC and Ripple – What's Going On?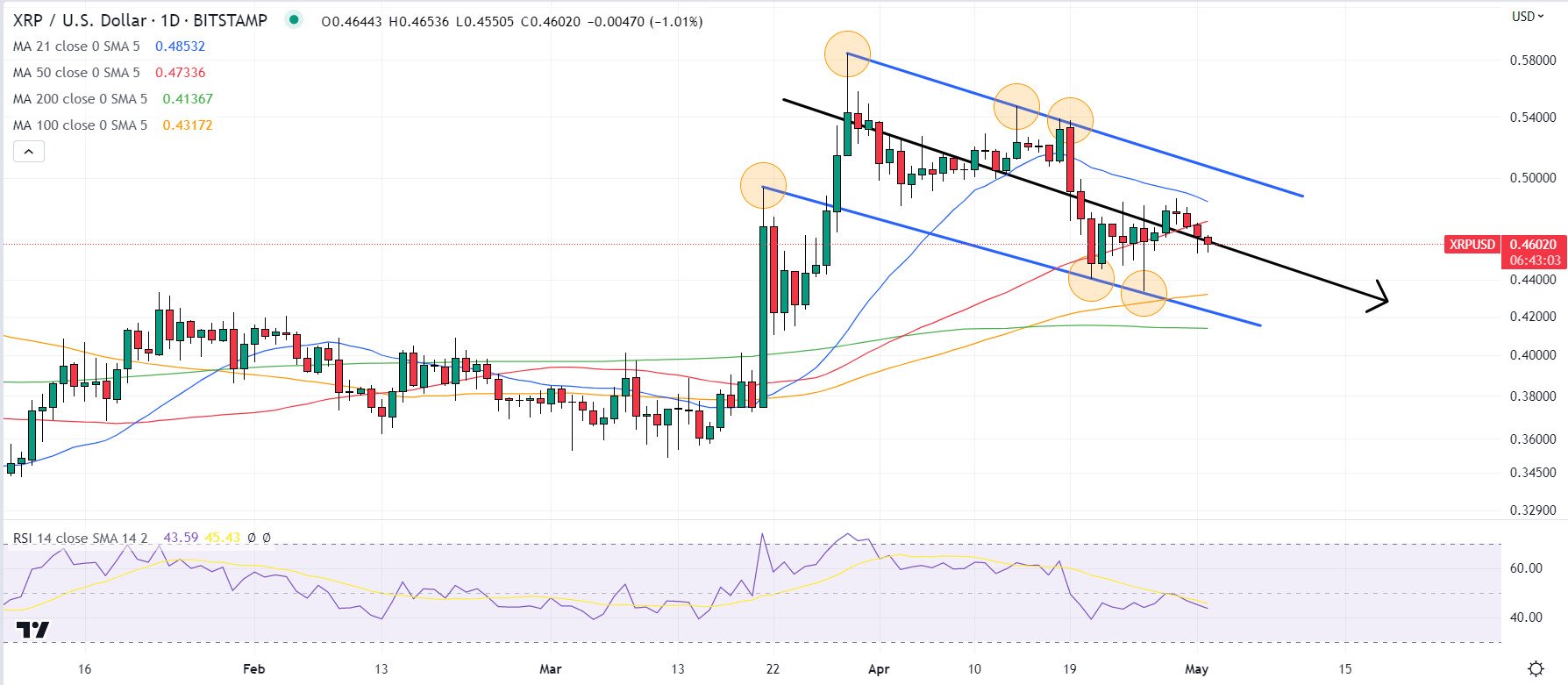 The price of XRP, the cryptocurrency that powers the XRP Ledger created by US fintech company Ripple, continues to be lower on Tuesday.
Despite rumors circulating on social media that Ripple and the SEC are to hold an undisclosed meeting next Monday, XRP has failed to pick up and was last changing hands just under $0.46, down about 1.5% on the day, around 6% versus last week's highs and close to 15% since the start of April.
The US Securities and Exchange Commission (SEC) sued Ripple back in December 2020 over allegedly issuing XRP tokens as an unregistered security, a charge that the fintech company has vehemently denied.
Observers speculated on Tuesday that, if the rumored meeting does go ahead, Ripple and the SEC might discuss a potential settlement to the lawsuit.
But the market's lack of reaction suggests that most traders deem the rumors of a Ripple/SEC meeting as untrue.
However, Ripple CEO Brad Garlinghouse revealed in a recent interview with CNBC that he thinks the lawsuit will be resolved in the first half of 2022, meaning potentially within the next two months.
Price Prediction – Where Next for XRP (XRP)?
While an end to Ripple and the SEC's lengthy lawsuit does seem to be approaching, XRP is at risk of suffering further losses given the cryptocurrency's downbeat near-term technical outlook.
XRP has been in a downs trend channel since the start of last month and is now below its 21 and 50-Day Moving Averages.
The door appears to be open for a retest of the 200-Day Moving Average in the $0.41s.
The longer-term technical picture also remains somewhat concerning.
XRP's failure to break substantially back to the north of the downtrend linking the 2021 highs earlier this year is a sign that the XRP bear market might not be over.
However, with other blue-chip cryptocurrencies like Bitcoin and Ethereum still broadly trending higher, a retest of last year's lows in the $0.30 area seems unlikely at this point.
Perhaps the market is just waiting for certainty regarding the SEC/Ripple lawsuit before bursting higher and confirming the start of a new bull market.
XRP (XRP) and Blue-chip Crypto Alternatives to Consider
While blue-chip cryptocurrencies may continue to perform well in the coming months and years, investors should nonetheless always be on the lookout to diversify their crypto holdings.
One high-risk-high-reward investment strategy that some investors might want to consider is getting involved in crypto presales.
This is where investors buy the tokens of up-start crypto projects to help fund their development.
These tokens are nearly always sold very cheap and there is a long history of presales delivering huge exponential gains to early investors.
Many of these projects have fantastic teams behind them and a great vision to deliver a revolutionary crypto application/platform.
If an investor can identify such projects, the risk/reward of their presale investment is very good.
The team at Cryptonews spends a lot of time combing through presale projects to help investors out.
Here is a list of 15 of what the project deems as the best crypto presales of 2023.
Disclaimer: The Industry Talk section features insights by crypto industry players and is not a part of the editorial content of Cryptonews.com.
---