XRP Price Prediction as Ripple Shoots Up 6% in 24 Hours – Can XRP Hit $1?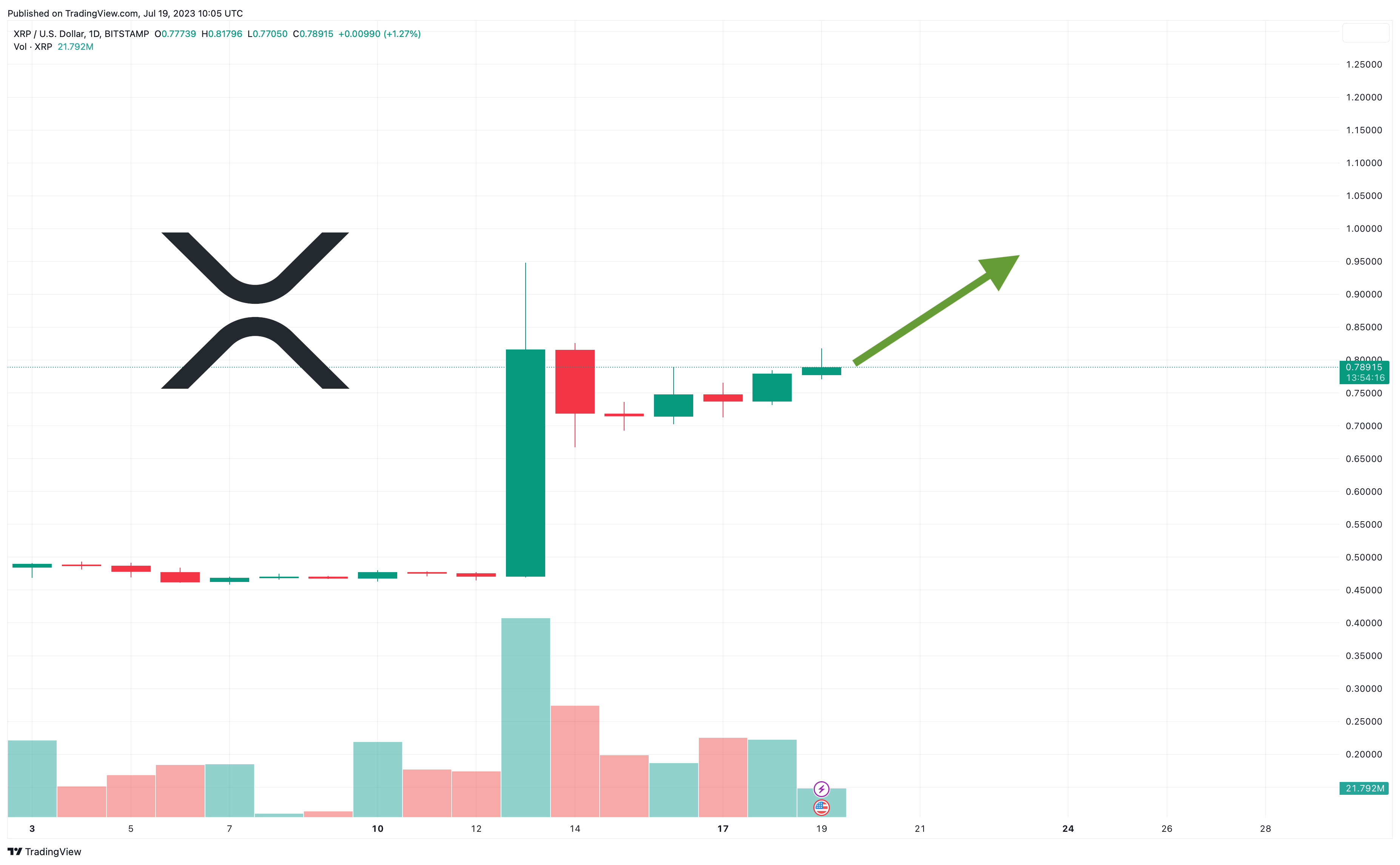 The XRP price has risen by 6% in the past 24 hours, climbing to $0.780764 as the cryptocurrency market as a whole barely moves within the same space of time.
XRP is now up by 65% in the last seven days and by 120% in the last 12 months, driven by the positive ruling Ripple saw in its legal battle with the SEC.
And what's particularly bullish about XRP is that it current rally doesn't really look like slowing down anytime soon, with more gains likely to arrive in the coming weeks.
XRP Price Prediction as Ripple Shoots Up 6% in 24 Hours – Can XRP Hit $1?
Even though XRP's indicators have been at a high level for almost a week now, it doesn't seem like they'll be declining anytime soon.
The altcoin's 30-day moving average (yellow) is still well above its 200-day average (blue) and has straightened up after temporarily looking like it could fall down again yesterday.
Similarly, XRP's relative strength index (purple) remains above 60 despite a little dip, with this level suggesting that it still has plenty of buying momentum.
Strengthening this picture is the fact that the coin's support level (green) continues to rise higher, meaning that even if it stumbles a little in the next one or two days it will still be able to continue rising from an ever-higher base.
This all suggests that things can only get better for XRP in the short- and medium-term, with Ripple's positive news last week providing enough optimism for the altcoin to continue outperforming pretty much every other top-100 cryptocurrency right now.
As we've written before, the ruling handed down by Judge Analisa Torres found that Ripple did not violate securities law when it sold XRP on exchanges, something which has enabled US-based trading platforms to relist XRP.
And while some people have worried that the SEC may try to appeal various aspects of the ruling, many experts believe they wouldn't have much chance of being successful.
For this reason, XRP's future looks pretty bright at the moment, especially when Ripple is now in a better position to continue growing its business and even holding its own initial public offering.
And with the growth of Ripple as a company will come XRP's further growth as a valuable digital asset, with the altcoin likely to reach $1 in the next few weeks.
If the wider market becomes more bullish, XRP could even hit $2 by the end of the year.
New Meme Tokens
However, now that XRP has had a dramatic surge in the days following Ripple's outcome, its forthcoming rises may all end up being relatively gradual.
This may disappoint traders looking for more sudden rallies, yet there are alternatives for anyone looking to make a faster profit.
This includes presales tokens, which have the potential to rally big when their sales end and they list on exchanges.
One very new presale token is Evil Pepe (EVILPEPE), an ERC-20 meme coin that has just launched its offering to the public.
Despite beginning only yesterday, this sale has already raised more than $100,000, an impressive figure for a token that hasn't yet received any major publicity or attention.
Evil Pepe's launch comes at a time when the market has developed a strong appetite for new meme tokens, which have often provided traders with gains when more serious cryptocurrencies have struggled to move.
The token will have a total maximum supply of 6.66 billion EVILPEPE, with 90% of this supply being allocated to the sale (the other 10% will go to liquidity).
This makes Evil Pepe an extremely decentralized coin, something it will have to be if it's to attract a wide pool of investors and a substantial community of supporters.
Its presale will have only one stage, which will make 1 EVILPEPE token available at $0.000333.
Investors can join the sale by going to the official Evil Pepe website and connecting their crypto wallets, with the token offering set to end in roughly two weeks.
This provides only limited time to acquire what could end up being the next trending meme token, with the Pepe figure often proving successful in rallying the market.
Disclaimer: Crypto is a high-risk asset class. This article is provided for informational purposes and does not constitute investment advice. You could lose all of your capital.
---