XRP Price Prediction as Ripple Publishes New Report on The Future of Central Bank Digital Currency – What's Going On?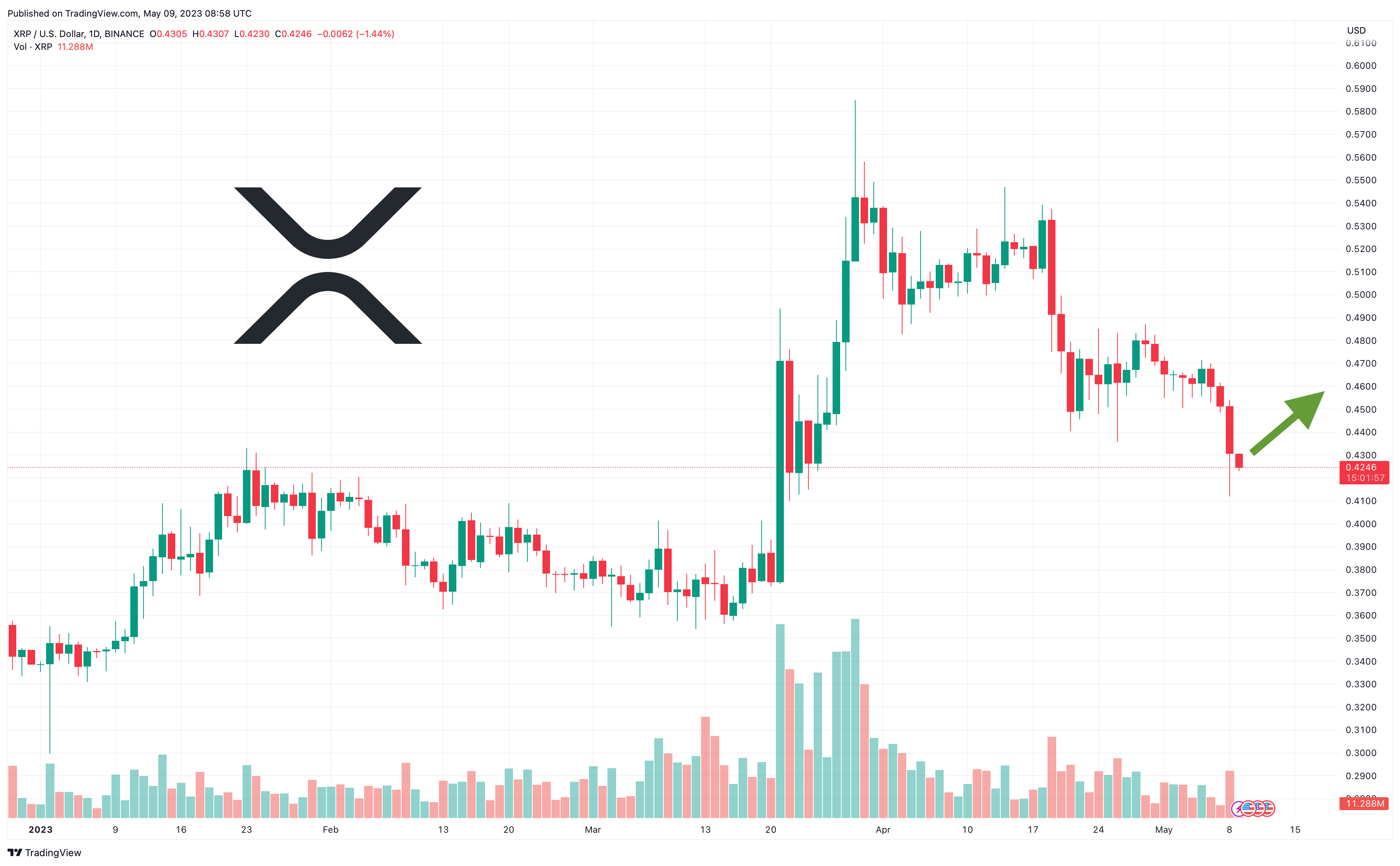 The XRP price has dropped by 2.5% in the past 24 hours, falling to $0.425150 as the cryptocurrency market as a whole declines by 1%.
This dips means that XRP has fallen by 8.5% in the past week and by 16% in the last 30 days, although the altcoin remains up by 25% since the beginning of the year.
Despite XRP's losses today, Ripple has published a report on central bank digital currencies that underlines the key role the company, and XRP, is likely to play in the economy of the future.
And with the company expecting a positive outcome in its case with the SEC, the coming months could find XRP becoming one of the best-performing alts in the market.
XRP Price Prediction as Ripple Publishes New Report on The Future of Central Bank Digital Currency – What's Going On?
Like most of the market, XRP has had a difficult few days, and its chart and indicators reflect this.
In particular, its 30-day moving average (yellow) has sunk well below its 200-day average (blue), indicating a strong downtrend.
That said, it's likely that the 30-day has hit a bottom, meaning that XRP is due to recover soon.
This view is supported by XRP's relative strength index (purple), which has begun rising again after sinking close to 20 yesterday.
At the same time, the coin's resistance (red) and support (green) levels are now forming a pennant, implying that XRP's price has reached a point where it has to breakout.
Positivity around XRP is accentuated further by Ripple's aforementioned report, which among other things has found that the global value of CBDCs will rise from $100 million today to $213 billion by 2030.
The report also highlighted the stablecoin points Ripple is currently engaged in with the Republic of Palau, the Central Bank of Montenegro and the Royal Monetary Authority of Bhutan.
In other words, the report signals the key role Ripple could play in the world's monetary system, something also indicated by research published earlier this month by Juniper Research, which ranked Ripple as the world's number one CBDC vendor.
This all sets Ripple up very nicely for a scenario where it secures a favorable outcome from its case with the SEC, which is expected to end in the coming months.
All major pieces of evidence have indeed been submitted in the case, so a settlement or summary judgment is likely to arrive in a matter of weeks, while experts such as lawyer Jeremy Hogan have argued that the SEC has failed to prove that Ripple's early sale of XRP satisfied the Howey test.
Assuming that the case does end in a way that enables Ripple to continue its business as before, there's little doubt that XRP would rally very strongly.
In the weeks following the case's conclusion, XRP could be expected to shoot towards $1, before potentially passing its current ATH of $3.40 during the next bull market.
And if Ripple really does end up playing a key role in CBDCs, XRP could rise even higher over the longer term, potentially making it a serious rival of Bitcoin and Ethereum in terms of market cap.
A High-Potential XRP Alternative
Of course, with a positive outcome not 100% certain, traders may prefer to hedge their bets and diversify their portfolios.
At the moment, presale tokens provide one means of securing market-beating returns at a time of uncertainty, with some of the biggest presales resulting in very successful exchange listings.
One of the newest and most promising presale coins is AiDoge, an AI-powered meme-generating platform that has already raised over $4 million after launching its token offering at the end of last month.
Running on Ethereum, AiDoge enables its users to create fun memes based simply on short text-based descriptions, with its platform using advanced algorithms and a large dataset to generate a corresponding image or gif.
On top of this, the platform also enables its users to upvote and downvote generated memes, with the creators of the most highly ranked memes receiving rewards in the form of its native token, $AI.
Investors can grab themselves some $AI now by heading over to the official AiDoge.com website and linking their crypto wallets, with 1 AI currently costing $0.0000284.
This will rise to $0.00003360 by the 20th and final stage of the sale, while there's no telling how high $AI could rise once it lists on exchanges a little later in the year.
---