XRP Price Prediction as Ripple On-Demand Liquidity Product Surpasses $200 Million XRP Tokens Sold – XRP Pump Incoming?
Disclosure: Crypto is a high-risk asset class. This article is provided for informational purposes and does not constitute investment advice. By using this website, you agree to our terms and conditions. We may utilise affiliate links within our content, and receive commission.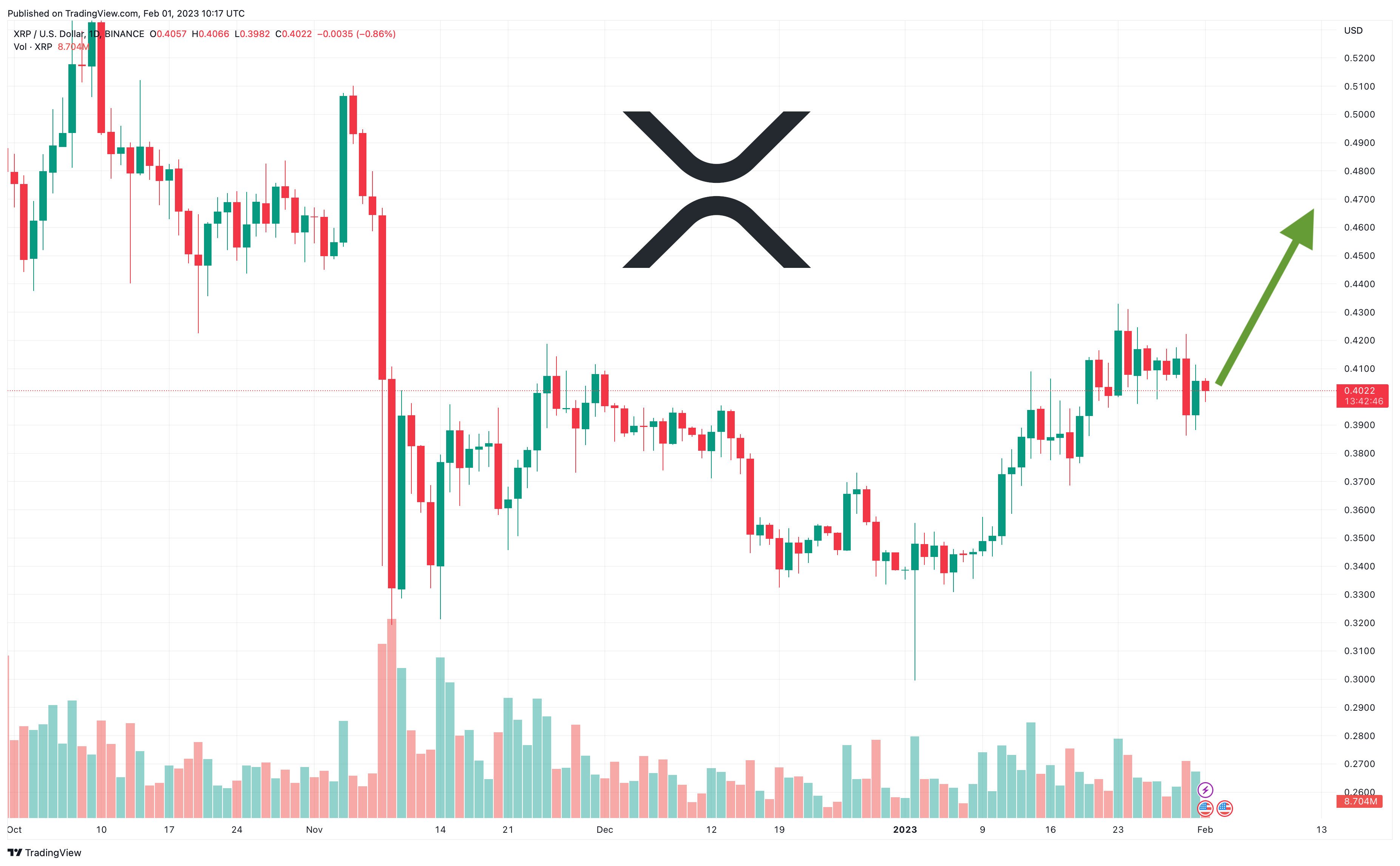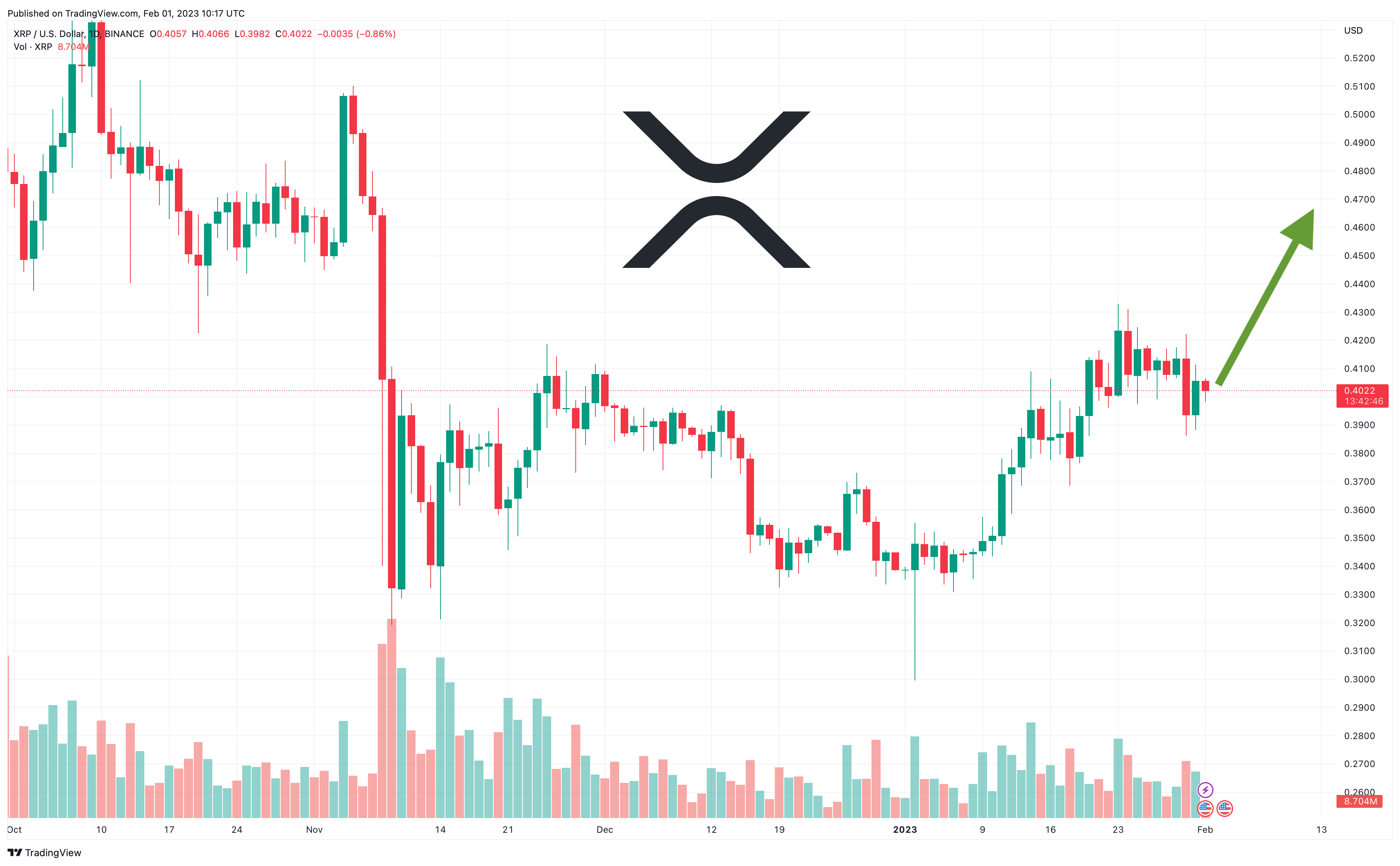 The XRP price has gained by 1% in the past 24 hours, reaching $0.402474 after Ripple published its Q4 Markets Report. Its current level marks a 3.5% increase in a fortnight and an 18% rise in the last 30 days, with Ripple's latest report revealing that it sold just over $220 million in XRP in the fourth quarter, helped by demand for its on-demand liquidity product.
While these positive results have barely nudged the XRP price (at least for now), they indicate that demand for Ripple's services, and for XRP, is strong even as the company remains embroiled in its long-running legal battle with the SEC. And with this case entering its end phase, such demand could increase exponentially if Ripple secures a positive outcome.
XRP Price Prediction as Ripple On-Demand Liquidity Product Surpasses $200 Million XRP Tokens Sold – XRP Pump Incoming?
XRPs chart reveals an altcoin that may be about to rally. After beginning a decline towards 50, its relative strength index (purple) has risen again in the past day or so, indicating a recovery of momentum.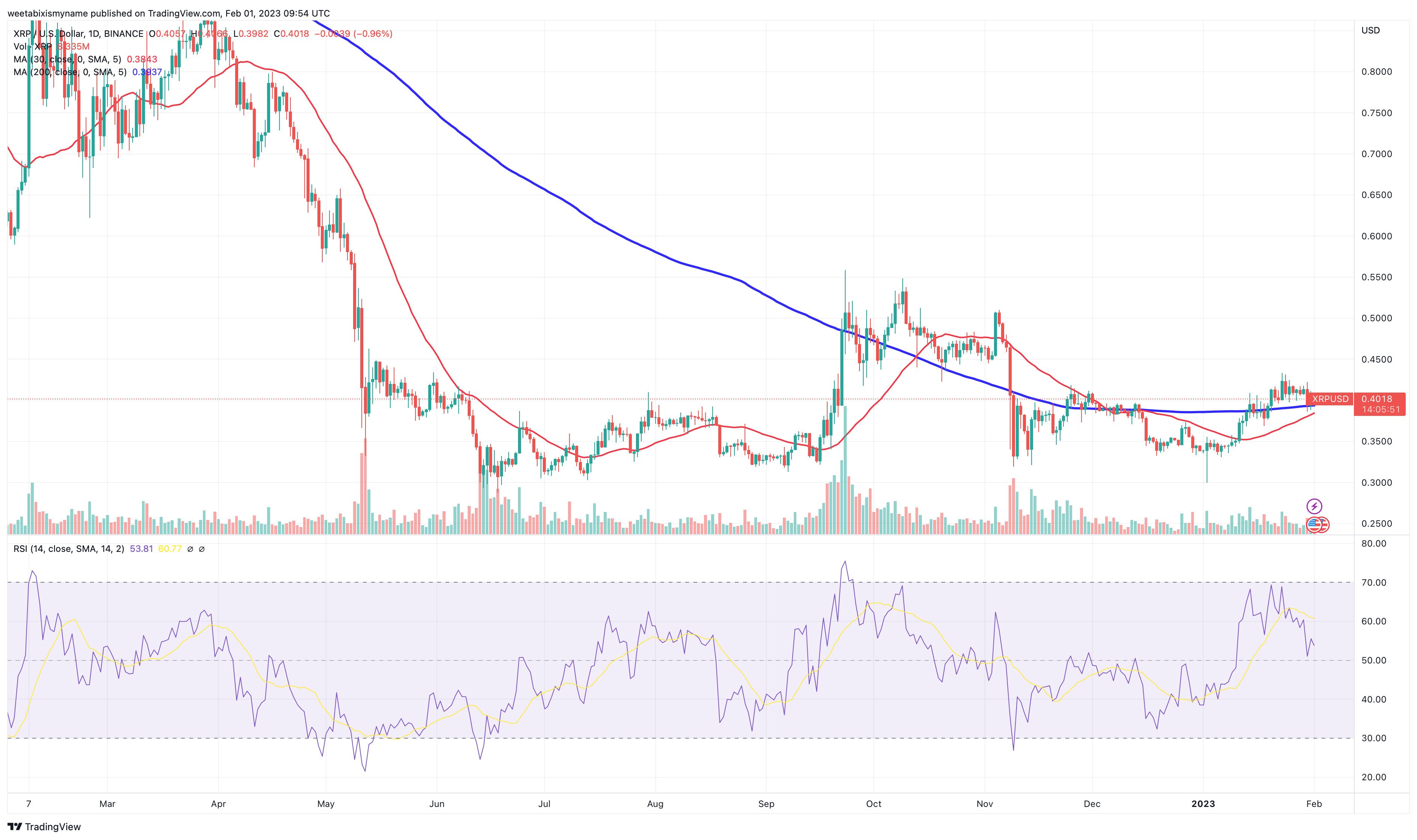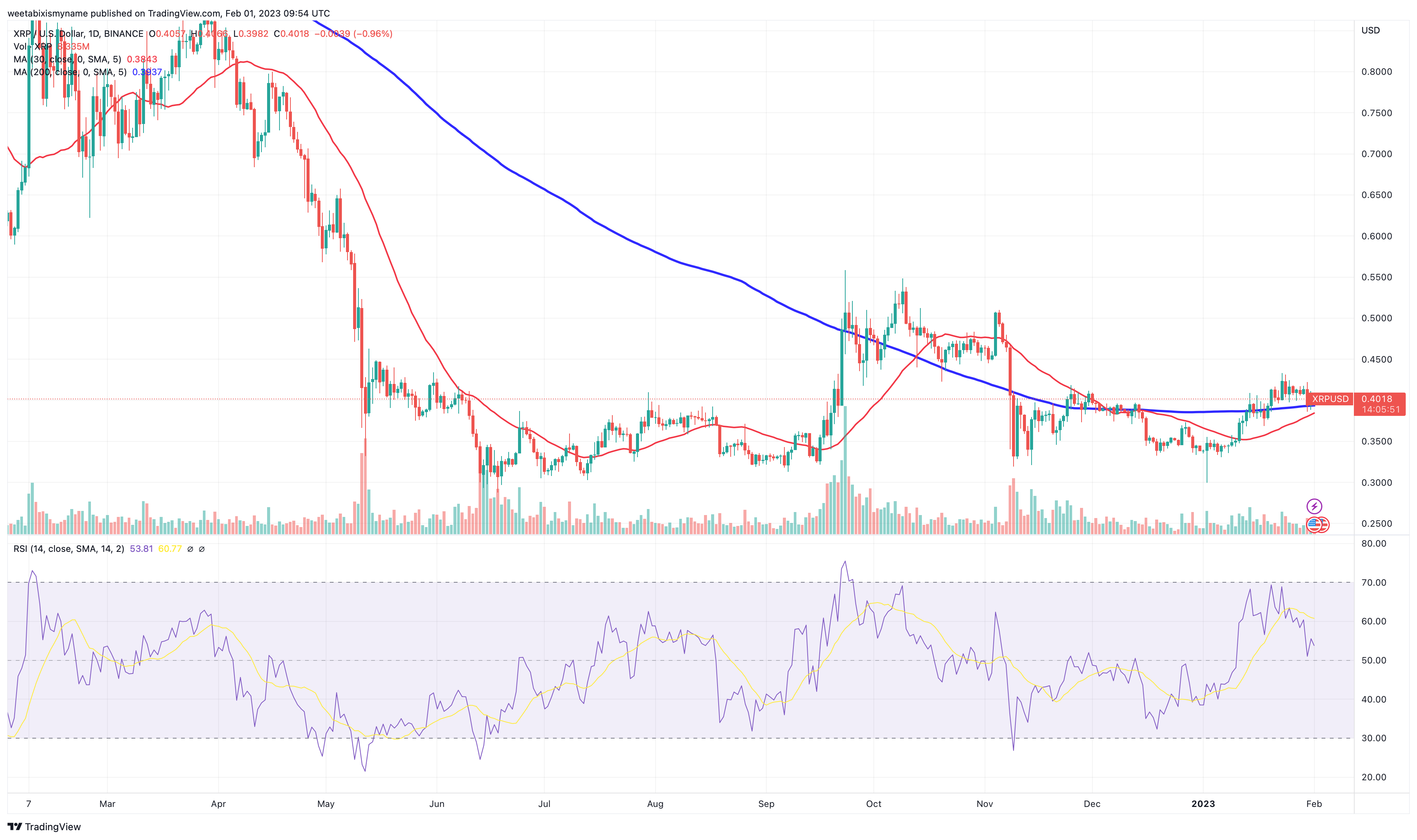 Meanwhile, XRP's 30-day moving average (red) is nearing its 200-day (blue), with a crossover signaling a potential breakout rally. Of course, with the broader market remaining in an uncertain condition, things could easily go either way.
However, in terms of XRP's fundamentals, a rally is definitely on the cards at some point. As the aforementioned Q4 report makes clear, Ripple's On-Demand Liquidity (ODL) product, an XRP-based cross-border payments solution available in around 40 markets worldwide. continues to attract consistent business.
In fact, not only did Ripple record around $226.31 million in net XRP sales in the fourth quarter of the year, but it also recorded $310.68 million in the previous quarter. In other words, demand for XRP is fairly constant, despite Ripple's well-documented tussle with the US securities regulator.
And this is highly significant since the Ripple-SEC case is nearing its conclusion, something which could result in net sales of XRP truly taking off.
For instance, CEO Brad Garlinghouse told CNBC in a recent interview that he expects the case to conclude by the end of the first half of 2023, or by the end of the year at the very latest. "I feel very good about where we are relative to the law and the facts," he said, underlining Ripple's confidence in its position.
Similarly, US-based lawyer James K. Filan tweeted on January 20 that "Everything is Briefed" with regards to the case, implying that the only thing left for Ripple and its supporters to do is wait for Judge Analisa Torres to reach a summary judgment.
#XRPCommunity #SECGov v. #Ripple #XRP Scheduling Update as of January 19, 2023. pic.twitter.com/a1ljUtGiV3

— James K. Filan 🇺🇸🇮🇪 (@FilanLaw) January 20, 2023
Interestingly, yesterday brought news of another development that may suggest Ripple has a real chance of prevailing in its case. In particular, in LBRY's appeal against the SEC's victory in its case with the securities regulator, a judge confirmed that the third-party sale and trading of LBC (i.e. on exchanges) does not constitute the sale of unregistered securities.
First word from the SEC v. LBRY hearing:

The SEC admitted on the record that the token itself is not a security.

Good job Mr. Deaton! https://t.co/tRXIQs5SSu

— Jeremy Hogan (@attorneyjeremy1) January 30, 2023
While this may not bear on the question of whether Ripple itself sold unregistered securities when it first launched, it nonetheless confirms that not all sales of cryptocurrencies are likely to be viewed as unregistered securities offerings by US regulators, officials and judges. As such, there remains a good possibility that Ripple could benefit.
On the other hand, some observers — even those who support Ripple — aren't 100% confident that Ripple will receive the result it's hoping for. This includes attorney John E. Deaton, who suggested in the past week that the case may not receive a summary judgment in the next few days, and that instead, it may go to a full jury.
What some people have failed to consider is that Judge Torres could say denied to both summary judgment motions and it goes to a jury. Until we get to read all the Rule 56 facts and read all the underlying evidence relied upon, it's near impossible for me to predict anything more

— John E Deaton (@JohnEDeaton1) January 20, 2023
This would be bad for Ripple, at least insofar as it would drag the case out much longer, potentially into 2024 and beyond. This would mean that XRP's limbo would continue.
Nonetheless, many with the cryptocurrency community believe that Ripple has a strong case, whereas the SEC has a relatively weak one. In particular, it's claimed that the securities regulator has been unable to establish how Ripple developed a 'common enterprise' — as described in the Howey test — that would boost the value of XRP.
Ripple has a particularly strong defense on the common enterprise prong of Howey and the SEC has struggled to even assert what is the common enterprise and has changed its position on this issue in the course of the proceeding. SEC has to win on this issue to succeed in the case. https://t.co/h5OTaBlYu2

— bill morgan (@Belisarius2020) January 20, 2023
There have also been a number of positive rulings that Ripple has secured in the last year or so. This includes the court upholding its right to present a fair notice defense, as well as Judge Torres granting it access to important documents and emails related to a 2018 speech given by then-Chairman William Hinman.
With all this in mind, Ripple does indeed have a real chance of securing a favorable result, something which would almost inevitably cause the XRP price to rocket. It's likely that it would comfortably pass its current all-time high of $3.40, set way back in January 2018.
In terms of longer term targets, some holders have been eyeing $10, which would result from a more than 2,000% rise from its current level. This may be extremely ambitious, but in the event of a Ripple victory, the ground would be cleared for the company to do much, much more business around the world.
Retweet if you will hold $XRP when it goes above $10 #XRP pic.twitter.com/kCKnhDLI1A

— RippleLord 🥇 (@Ripplelordz) January 23, 2023
XRP Alternatives
If you're looking for other high-potential crypto projects alongside XRP, we've reviewed the top 15 cryptocurrencies for 2023, as analyzed by the CryptoNews Industry Talk team.

The list is updated weekly with new altcoins and ICO projects.
Disclaimer: The Industry Talk section features insights by crypto industry players and is not a part of the editorial content of Cryptonews.com.
---