XRP Price Prediction as Ripple Lawsuit Set to Conclude in 2023 – Can XRP Reach $10 if Ripple Wins the Case?
Disclosure: Crypto is a high-risk asset class. This article is provided for informational purposes and does not constitute investment advice. By using this website, you agree to our terms and conditions. We may utilise affiliate links within our content, and receive commission.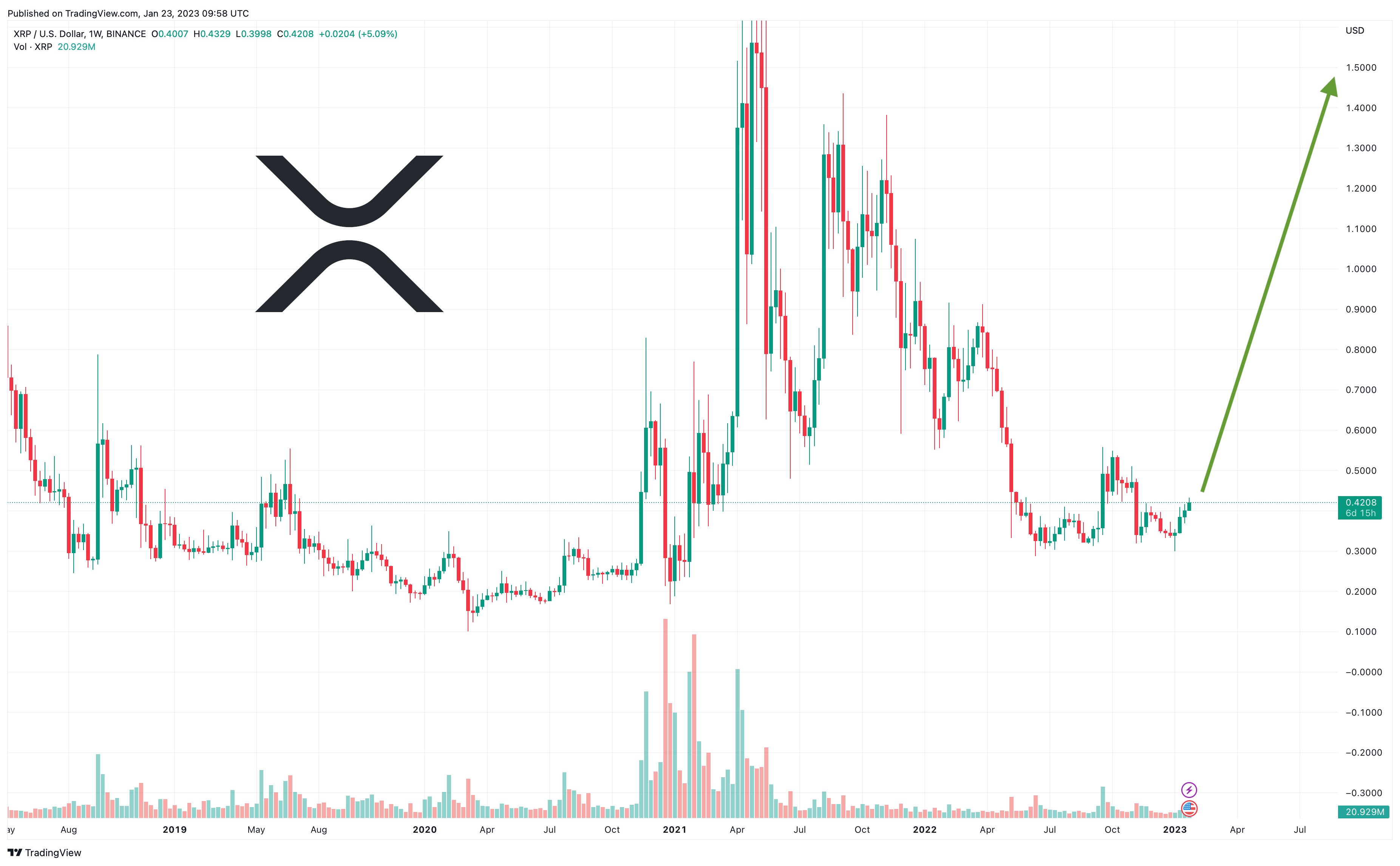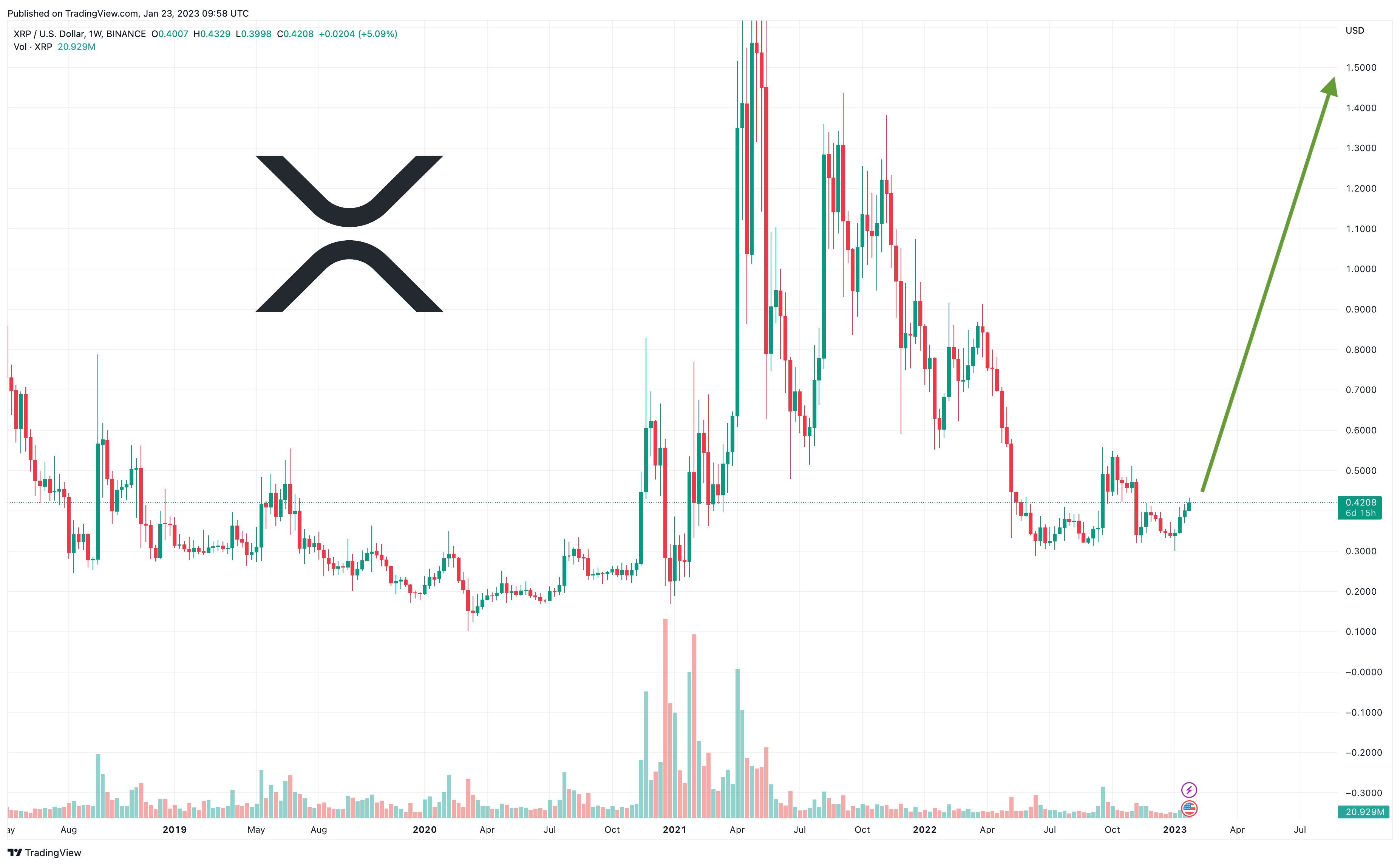 The XRP price has risen by nearly 5% in the past 24 hours, reaching $0.425152 after a week in which Ripple CEO Brad Garlinghouse predicted that the firm's lawsuit with the SEC will end in 2023.
The altcoin's current price represents a 10% gain in a week and a 20% rise in the last 30 days, pushed upwards by the market expectation that the aforementioned case has entered its end phase.
Indeed, with all existing briefs having now been filed, it seems that XRP holders (as well as Ripple and the SEC) are mostly waiting for the judge to reach a decision. And assuming that this is a favorable one for Ripple (i.e. one that finds XRP is not a security), then XRP could rally massively, surpassing its current all-time high of $3.40 and hitting new heights.
XRP Price Prediction as Ripple Lawsuit Set to Conclude in 2023 – Can XRP Reach $10 if Ripple Wins the Case?
XRP's chart points to some positive momentum. Its relative strength index (purple) has risen very close to 70 in the past few days, an indicator that the optimism surrounding the Ripple case has injected some extra buying pressure into its market.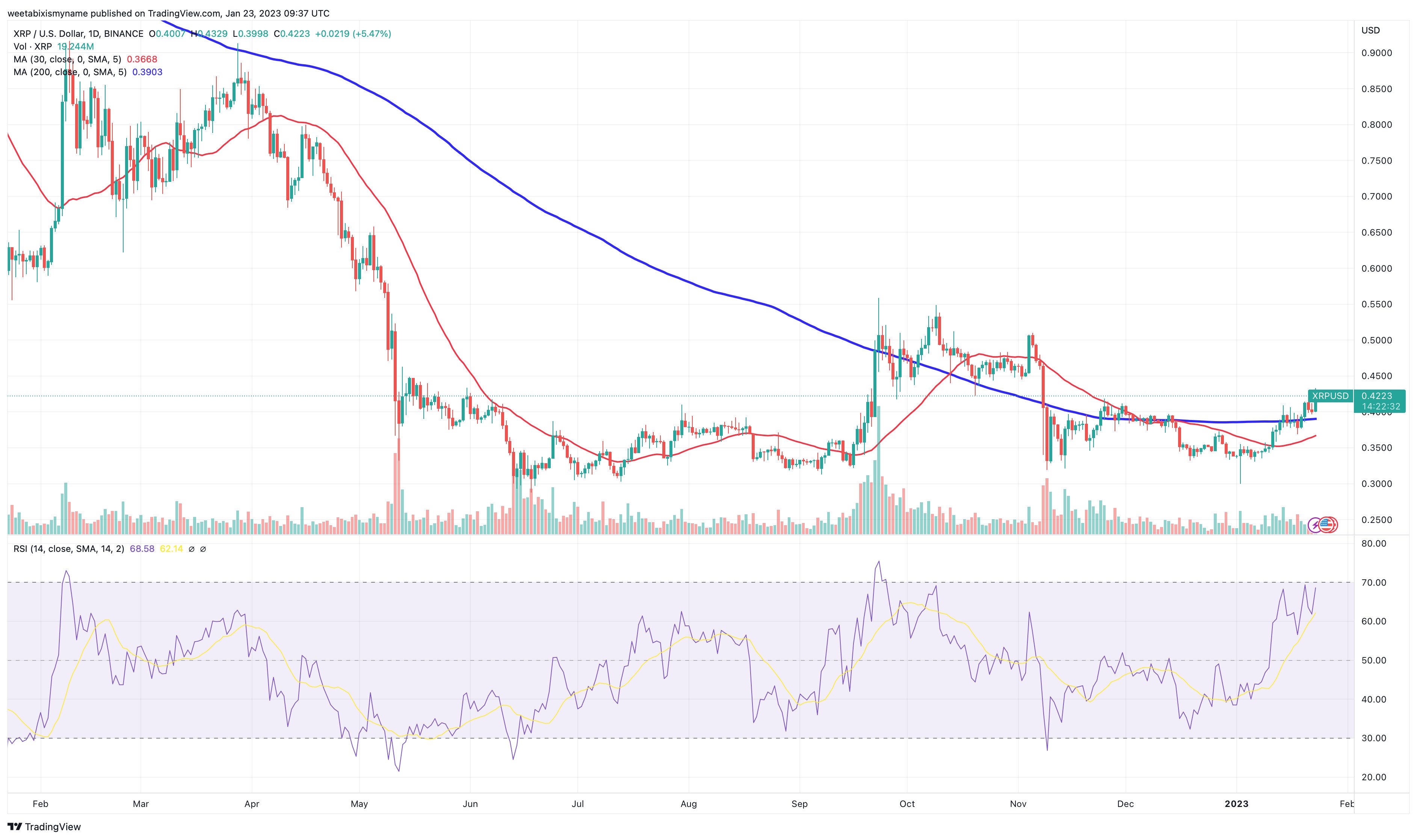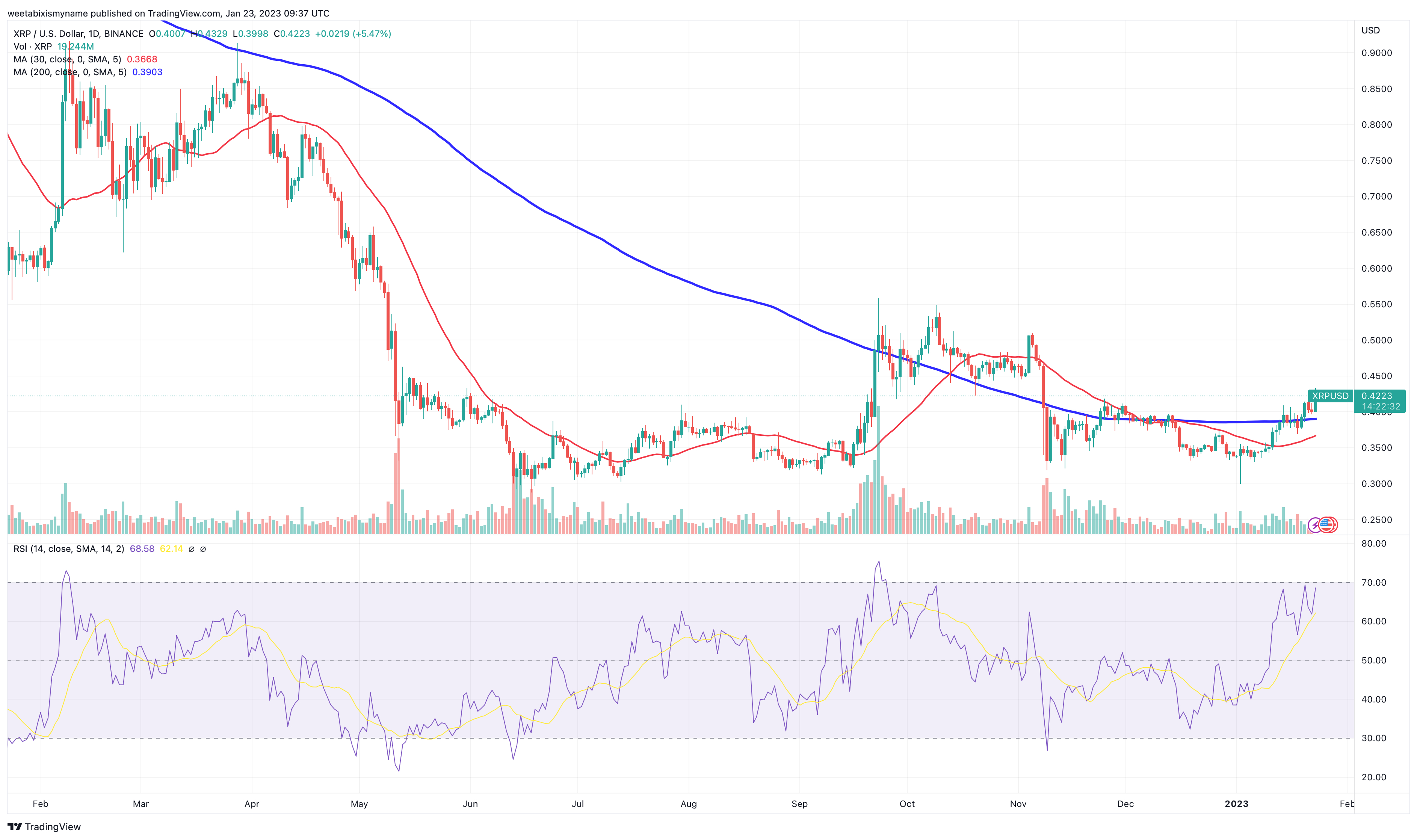 At the same time, XRP's 30-day moving average (red) has turned up towards its 200-day (blue), something which signals a potential breakout, especially if the shorter-term average overtakes its longer-term counterpart.
This is all happening pretty much because investors are feeling good about Ripple's prospects in its two-year case with the US securities regulator. Speaking last week, CEO Brad Garlinghouse told CNBC that he expects the case to conclude by the end of this year at the very latest, if not by the end of the first half of 2023.
"Judges take however long the judges will take," he said, speaking at the World Economic Forum in Davos, Switzerland. "We're optimistic that this will certainly be resolved in 2023, and maybe [in] the first half. So we'll see how it plays out from here. But I feel very good about where we are relative to the law and the facts."
Tweeting on January 20, noted attorney and a regular commentator on the Ripple-SEC case, James K. Filan declared that "Everything is Briefed" with regards to the case and that "Now We Wait," suggesting that the main thing left to do is for the presiding judge, Judge Analisa Torres, to reach a summary judgment.
#XRPCommunity #SECGov v. #Ripple #XRP Scheduling Update as of January 19, 2023. pic.twitter.com/a1ljUtGiV3

— James K. Filan 🇺🇸🇮🇪 (@FilanLaw) January 20, 2023
Such sentiment has buoyed expectations surrounding XRP, which has had a good week and a decent month. And if an observer were to consider previous developments in the Ripple-SEC case, they might conclude that Ripple really does have a serious chance of securing a judgment in its favor.
For instance, November saw Ripple succeed in having 14 amicus briefs – including one from Coinbase – filed on its behalf to the presiding court, with each presenting testimony and evidence in its favor. By contrast, the SEC managed to submit only one, suggesting the possibility that it struggles to find third parties to submit evidence on its behalf.
Accredify failed to file its Amicus Brief on behalf of the SEC by the deadline last night.

So that leaves the final tally at 14 for Ripple and 1 for the SEC.

For you Americans: Ripple scored 2 touchdowns and the SEC got a…one point safety? https://t.co/wGFfn4GNWR

— Jeremy Hogan (@attorneyjeremy1) November 19, 2022
Ripple has also secured positive rulings in the past year, including the court upholding its right to present a fair notice defense. This also includes Judge Torres granting it access to important documents and emails related to a 2018 speech given by William Hinman, with these documents potentially including evidence related to whether the SEC may have previously regarded XRP as not a security.
https://www.twitter.com/digitalassetbuy/status/1617153973043056643
At the same time, other developments suggest that the SEC has a relatively weak case against Ripple. This was highlighted last week, when it charged NEXO and settled with it on the same day for selling an unregistered security (via a lending product), whereas, by contrast, it has struggled for over two years to secure a ruling against Ripple.
The SEC charges NEXO for its "lending product," and settles with them the same day. A $45 million collection.

But isn't NEXO an exchange? What about the numerous "securities" that NEXO is unlawfully selling to U.S. citizens? That's okay now?? I'm confused. https://t.co/Dyyp4l1WFJ

— Jeremy Hogan (@attorneyjeremy1) January 20, 2023
In recent weeks, larger investors have been accumulating XRP, likely in the expectation that it's due a big rally in the coming months, pending the resolution of the case.
Follow the blue indicator line: #XRP whale addresses' supply held went from 16.7% to 18.3% in 5 weeks.

Source: @santimentfeed https://t.co/GwkN6bH8jT pic.twitter.com/DKCTMyD2xV

— 🌸Crypto Eri 🪝Carpe Diem (@sentosumosaba) December 14, 2022
In terms of actual price predictions, opinion ranges from more realistic forecasts of $1.30 (after the Ripple-SEC case ends) to longer-term targets of $10 or even higher.
Retweet if you will hold $XRP when it goes above $10 #XRP pic.twitter.com/kCKnhDLI1A

— RippleLord 🥇 (@Ripplelordz) January 23, 2023
This is certainly feasible in the more distant future, but it relies on Ripple winning its case and on a return to more positive macroeconomic conditions. While the cryptocurrency market has seen a little bounce over the past week or so, it still hasn't returned to wholly bullish conditions just yet, and is waiting on the global economy to make a full recovery until it begins to surge again.
XRP Alternatives
If you're looking for other high-potential crypto projects alongside XRP, we've reviewed the top 15 cryptocurrencies for 2023, as analyzed by the CryptoNews Industry Talk team.

The list is updated weekly with new altcoins and ICO projects.
Disclaimer: The Industry Talk section features insights by crypto industry players and is not a part of the editorial content of Cryptonews.com.
---