XRP Price Prediction as Ripple CEO Prepares for SEC Lawsuit Conclusion 'This Year' – Can XRP Reach $10?
Disclosure: Crypto is a high-risk asset class. This article is provided for informational purposes and does not constitute investment advice. By using this website, you agree to our terms and conditions. We may utilise affiliate links within our content, and receive commission.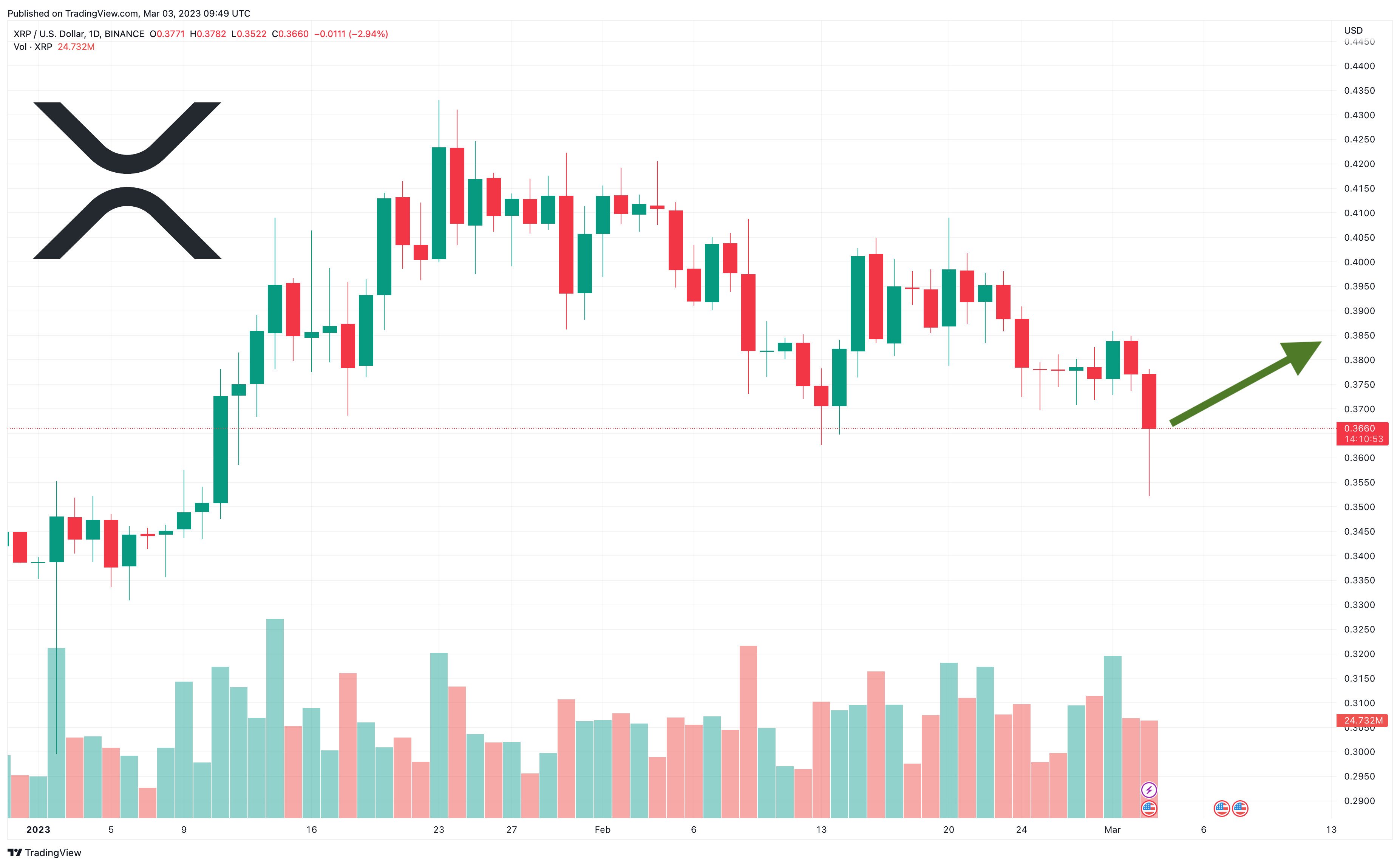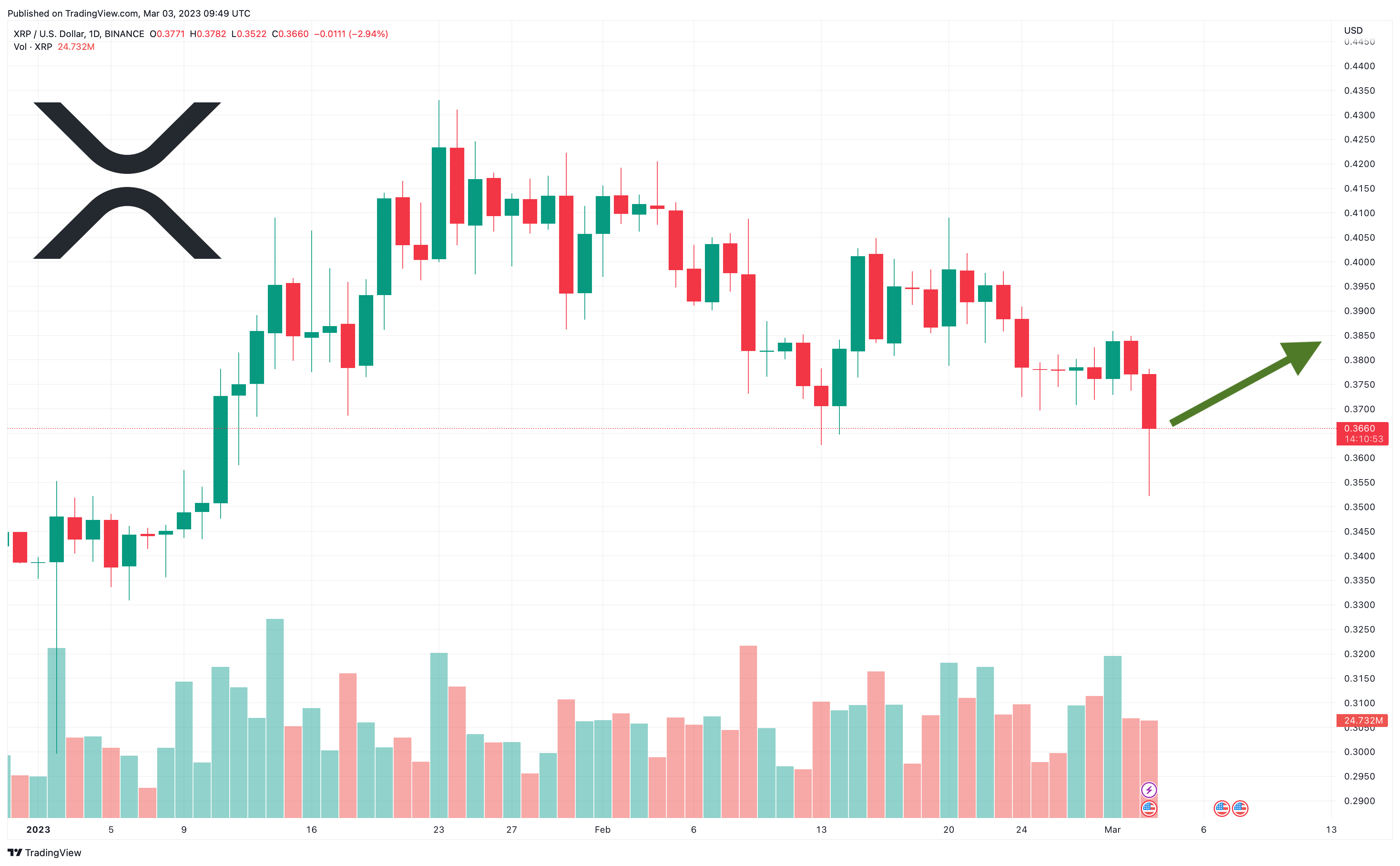 The XRP price has dropped by 3% in the past 24 hours, falling to $0.367287 as the market reels from concerns over the financial health of Silvergate Bank.
Its current level means that it has declined by over 5% in a week and by nearly 10% in the last 30 days, although it remains 8% up since the beginning of the year.
Despite the downbeat news coming from Silvergate, XRP holders have reason to be optimistic over the longer term.
This relates to the long-running legal battle between Ripple and the SEC, with Ripple CEO Brad Garlinghouse saying on Thursday that he expects it to end this year, potentially bringing very bullish news for XRP.
XRP Price Prediction as Ripple CEO Prepares for SEC Lawsuit Conclusion 'This Year' – Can XRP Reach $10?
If there's one silver lining coming from the market's troubles today, it's that XRP's indicators are now in a position where the coin should rebound soon.
Its 30-day-moving average (red) has fallen below its 200-day (blue), bringing it closer to a bottom that would usually indicate a rally.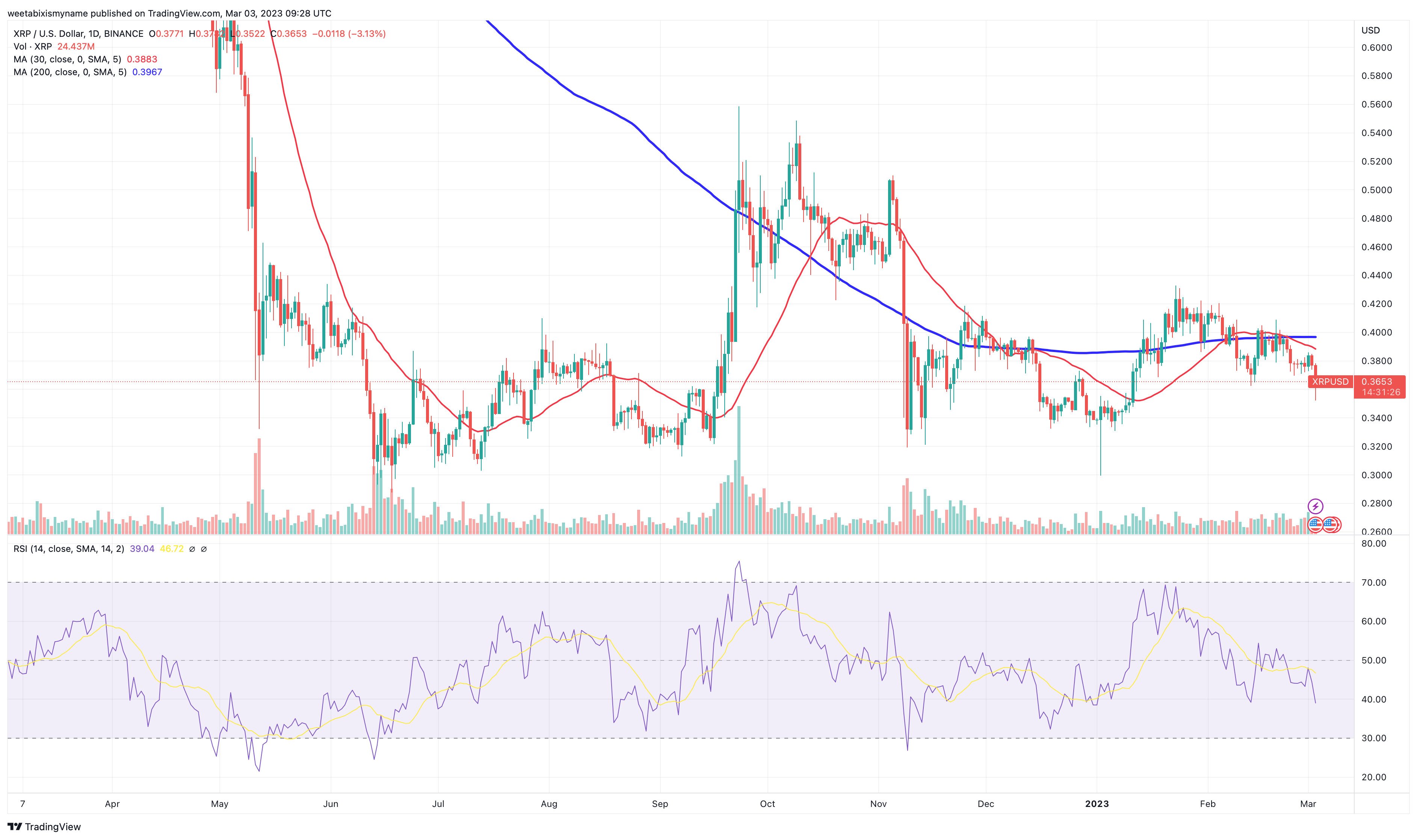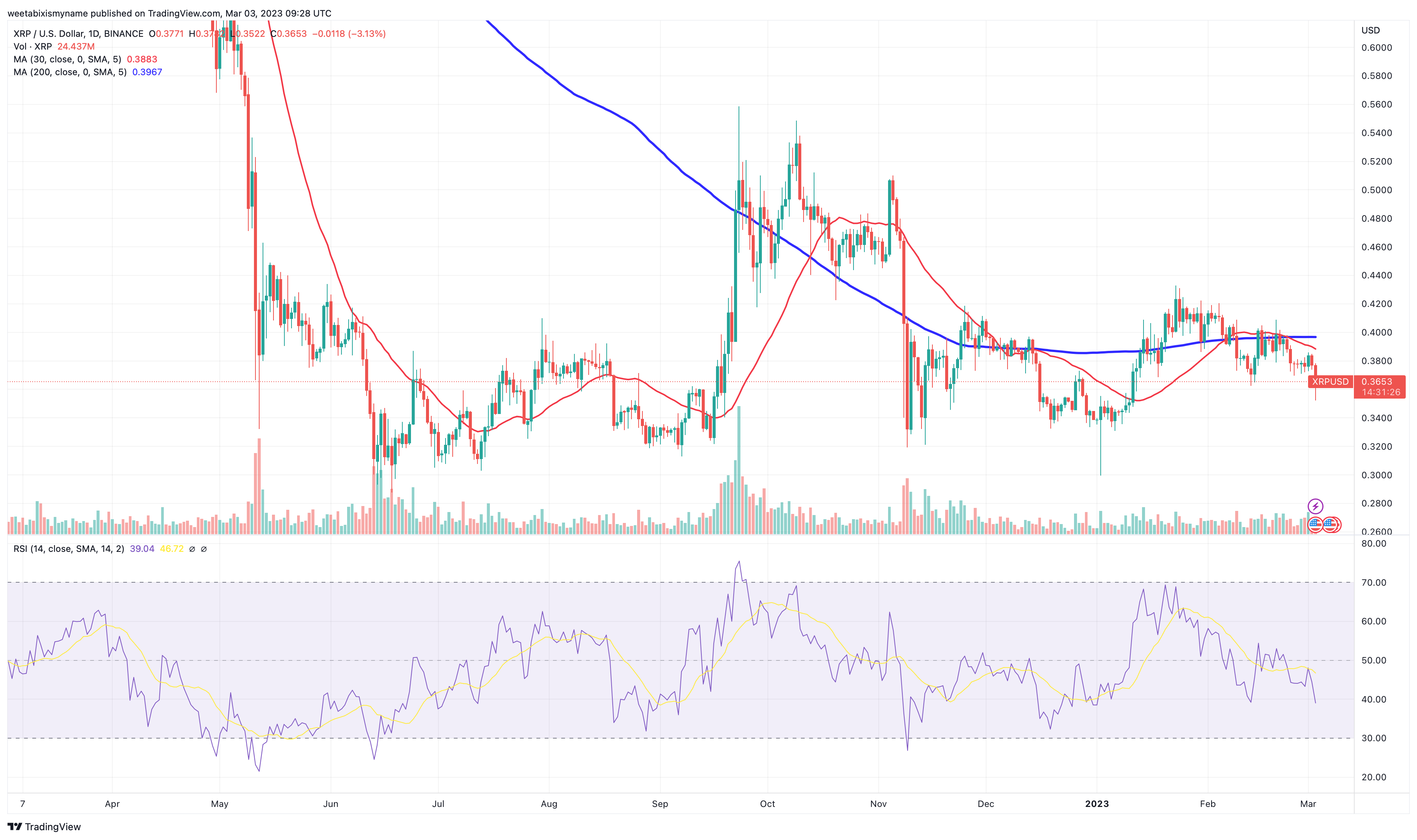 Likewise, XRP's relative strength index (purple) has sunk to just below 40 – once it reaches 30 or lower, it will have entered oversold territory, implying the profitability of buying it at a discount.
The key support level here is $0.36, which XRP held fast to earlier this morning. It may represent the bottom of any further fall today, providing buyers with a good entry point.
It's highly arguable that $0.36 is a massive discount for XRP, which is in a position to benefit from some highly significant news this year.
As noted above, Ripple's Brad Garlinghouse has once again reiterated that he expects his firm's case with the SEC end this year, with the CEO also saying that the case's outcome is "going to be pivotal for the whole industry."
Brad Garlinghouse says the SEC's suit against his crypto payments company, Ripple, is "going to be pivotal for the whole industry" and that he expects a decision on the case this year pic.twitter.com/fkDmwLkrix

— Bloomberg TV (@BloombergTV) March 2, 2023
Assuming a positive result for Ripple, one in which it's enabled to continue its business, there's little doubt that XRP will rally strongly. Its all-time high stands at $3.40, and was set back in January 2018, meaning that it missed out on setting a new record high during the 2020-21 bull market.
That it missed out on a new ATH in 2021 is significant, because it suggests that it could reach a new record once the Ripple-SEC is concluded.
Of course, it actually has to secure a favorable summary judgment first, yet the opinion within the industry is that it has a good chance of doing this. For example, the past year or so has witnessed the upholding of Ripple's right to present a fair notice defense.
Similarly, Judge Analisa Torres also granted Ripple access to important documents and emails related to a 2018 speech given by then-SEC Chairman William Hinman, a speech which is significant for XRP since Hinman declared in it that neither Bitcoin nor Ethereum are securities.
There's also a common argument that the SEC's case isn't especially strong, with some claiming that the regulator has failed to establish how Ripple developed a 'common enterprise' that would boost the value of XRP (as outlined in the Howey test).
If the SEC is to demonstrate that Ripple did sell unregistered securities, it needs to provide a clear exposition of what exactly this common enterprise is, yet for some it hasn't quite done this.
Ripple has a particularly strong defense on the common enterprise prong of Howey and the SEC has struggled to even assert what is the common enterprise and has changed its position on this issue in the course of the proceeding. SEC has to win on this issue to succeed in the case. https://t.co/h5OTaBlYu2

— bill morgan (@Belisarius2020) January 20, 2023
In the event of a positive outcome, Ripple will be free to continue its business. And what's interesting is that even with the case continuing to cast a shadow over this business, it has managed to grow in recent months.
For example, the end of January saw Ripple publish its Q4 2022 XRP Markets Report. This revealed that it had processed $226.31 million in net XRP sales in that quarter alone, with its on-demand liquidity product now available in over 40 countries, following launches in France, Sweden and Africa.
It stands to reason that, with a clean bill of health, Ripple will be free to expand even more aggressively. In turn, this will increase demand for XRP, which could enjoy substantial price increases later in the year, particularly if the market as a whole continues to recover.
XRP Alternatives
While XRP is substantially undervalued, a rally isn't likely to follow until the end of the Ripple-SEC, which may not arrive until the end of the year.
However, there are other high-potential crypto projects in the market right now, so we've reviewed the top 15 cryptocurrencies for 2023, as analyzed by the CryptoNews Industry Talk team.

The list is updated weekly with new altcoins and ICO projects.
Disclaimer: The Industry Talk section features insights by crypto industry players and is not a part of the editorial content of Cryptonews.com.
---