XRP Price Prediction as Popular Trader Says XRP is About to Outperform Bitcoin – Time to Buy?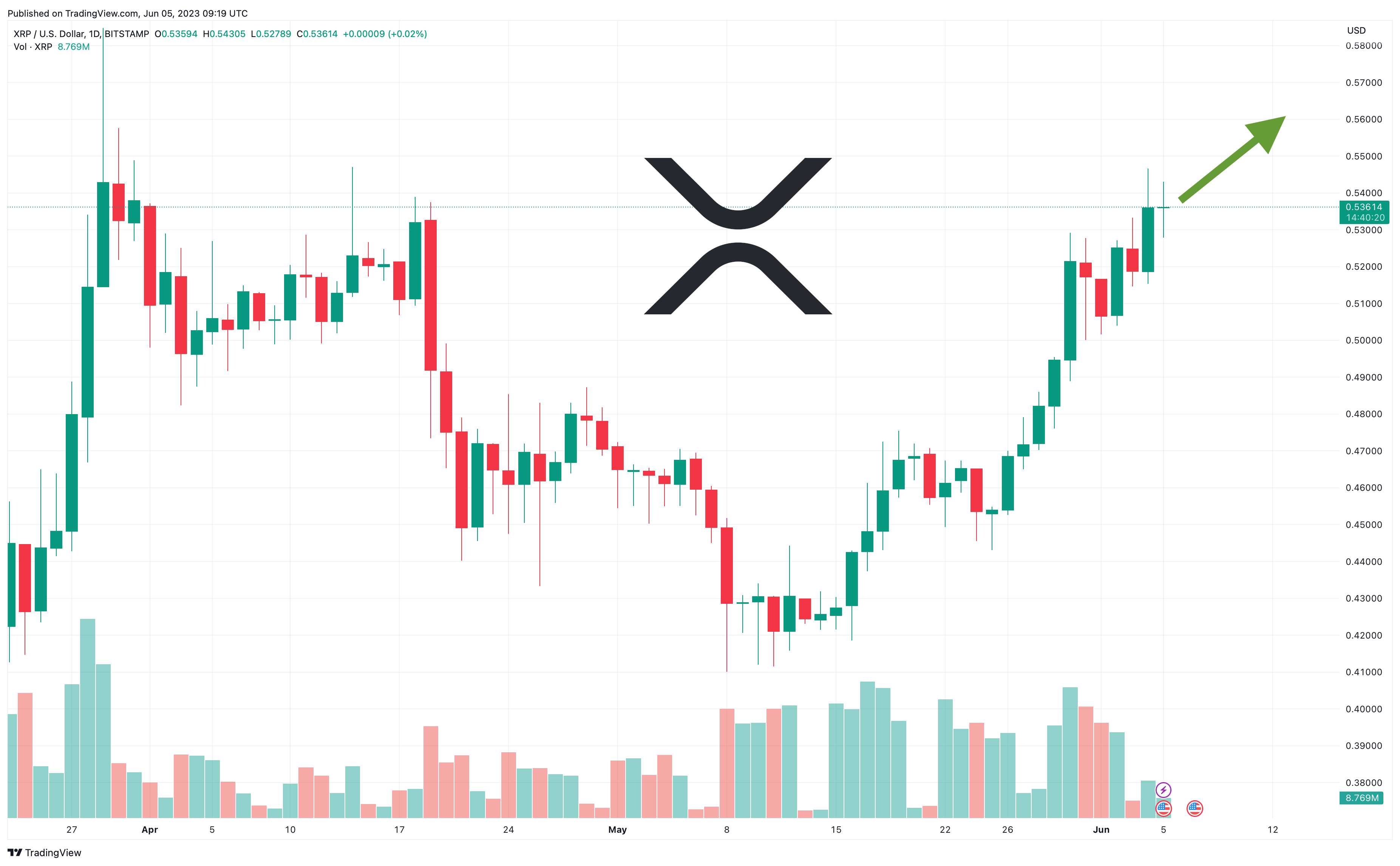 The price of XRP has risen by 2% in the past 24 hours, with its ascent to $0.536380 coming as the cryptocurrency market as a whole dips by 1%.
XRP has now gained by 11% in the past week, while it has also jumped by 15.5% in the last 30 days, as anticipation mounts regarding Ripple's legal tussle with the SEC.
And with the altcoin already having increased in price by 57% since the beginning of the year, analysts are increasingly coming to suggest that it could end up outperforming Bitcoin (BTC) and other major cryptocurrencies this year.
This will of course depend on Ripple securing a positive judgment in the aforementioned case, but if it does, there's little doubt that XRP will go on to have one of the best rallies of any top-100 cryptocurrency in 2023.
XRP Price Prediction as Popular Trader Says XRP is About to Outperform Bitcoin – Time to Buy?
Unsurprisingly, XRP's chart reflects a coin with plenty of strength and momentum right now, with the coin's trading volume rising beyond $1.4 billion today (up from $600 million as recently as yesterday).
XRP's relative strength index (purple) remains above 50, despite dipping from 80 yesterday, indicating that it continues to retain buying demand.
Likewise, the altcoin's 30-day moving average (yellow) also continues to rise above its 200-day average (blue), which also indicates sustained momentum.
In other words, XRP's current rally could still continue for a while yet, with its support level (green) also revealing that it continues to consolidate around ever-higher floors.
But it's not only the short-term that XRP has to look forward to, with Ripple expecting an end to its case with the SEC in the next few months.
In fact, Ripple CEO Brad Garlinghouse has said in a recent interview that he suspects the case could conclude in a matter of weeks, a prediction that possibly explains why XRP has been doing so well in recent days and weeks.
Also explaining XRP's performance is the fact that Ripple has enjoyed some positive developments from its end, with last week seeing the sharing of documents which appeared to show that, prior to suing Ripple, the SEC had received legal opinion to the effect that XRP was not a security.
Such information further weakens the regulator's case, with some commentators suggesting that it has failed to prove a number of important arguments, including the claim that XRP purchasers had a reasonable expectation of profit when they first bought the altcoin from Ripple.
Given such developments, some analysts are now expecting XRP to become one of the best-performing major cryptocurrencies of the year.
One such analyst -- known by the "@CryptoKaleo" handle on Twitter -- has even suggested that XRP will outperform BTC, which has already been one of the highest-rising major coins of the year.
This is all highly bullish for XRP, and if Ripple does indeed secure a favorable summary judgment or settlement, then there's little doubt that the altcoin could rise to $1 or higher in the weeks following the case's conclusion.
From there, it could then climb to $2 by the end of the year, ready for even higher levels during 2024 and a possible bull market.
Another High-Potential Altcoin
Despite the positivity surrounding XRP at the moment, it's certainly not a foregone conclusion that Ripple will win its case with the SEC.
For this reason, some traders may prefer to hedge their bets, diversifying into a number of other high-potential altcoins.
This would also include presale tokens, with some of these possibly on course to rally big once they list on exchanges.
For instance, ecoterra is an Ethereum-based recycle-to-earn platform that has raised more than $4.6 million in the presale for its native ECOTERRA token.
Due to launch later this year, Ecoterra's platform will enable users to receive rewards -- in the form of ECOTERRA and NFTs -- for recycling household waste at participating recycling points.
On top of this, ecoterra will also reward users for providing proof of using renewable energy, and it will incorporate a carbon offset marketplace, incentivizing users to trade carbon credits as NFTs.
These interesting features have encouraged growing numbers of investors to jump into ecoterra's presale, which is currently in its eighth stage and is selling 1 ECOTERRA at $0.00925.
This will rise to $0.01 in just over 23 days, giving traders a limited amount of time in which to buy ECOTERRA at the lower price.
That said, the altcoin may rise even higher when it lists on exchanges in the next few weeks, seeing as how promising its platform is shaping up to be.
---