XRP Price Prediction as Market Sell-Off Sends XRP Back to $0.50 Zone – Here are Key Levels to Watch Now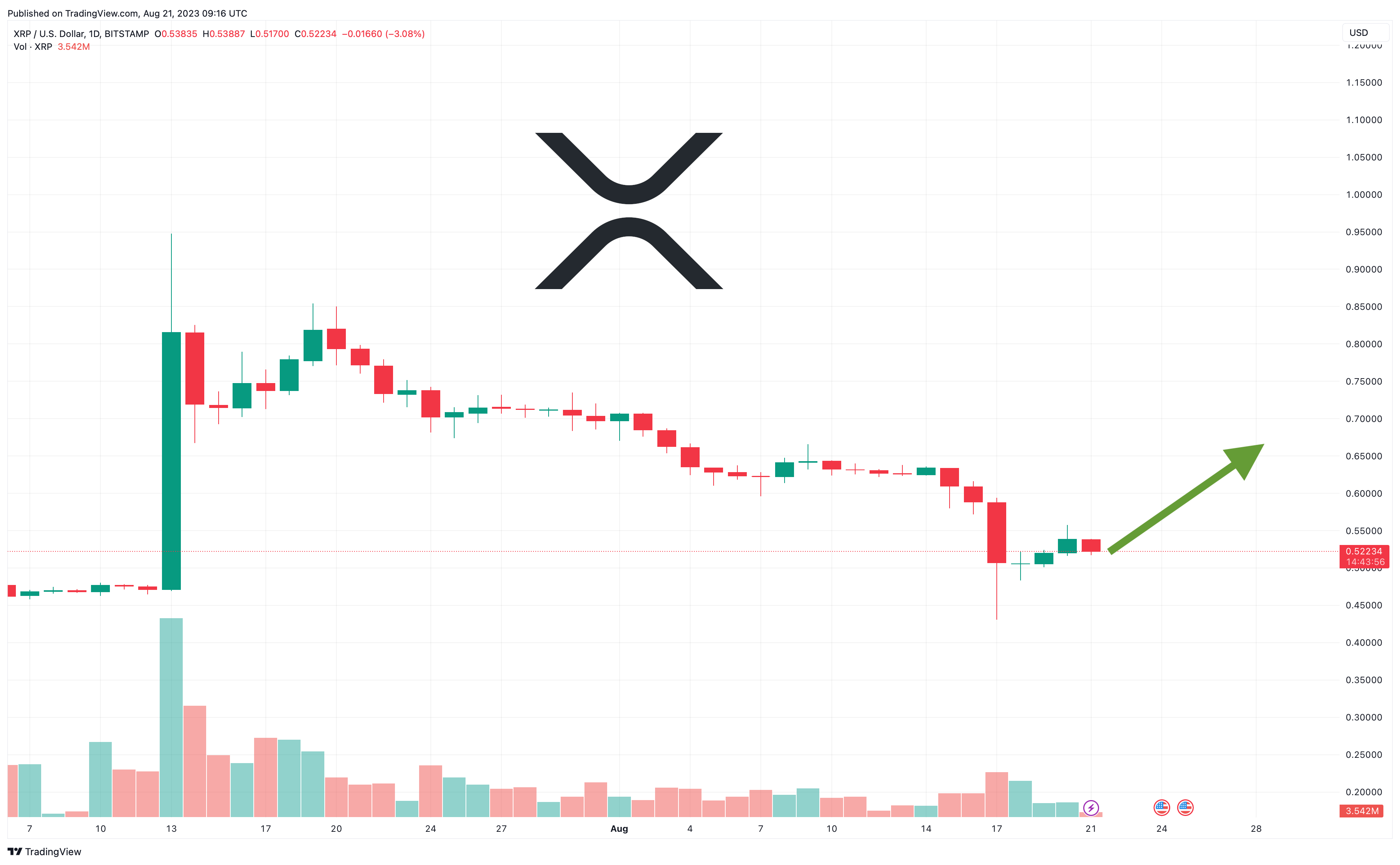 The XRP price has dropped by 1.5% in the past 24 hours, with its slip to $0.520082 coming after a selloff over the weekend that saw the altcoin plunge as low as $0.476220 at one point.
XRP's rebound back to its current price suggests that $0.50 is a key support level for the altcoin, which is also down by 16% in the past week and by 32% in the last 30 days.
Such slides have been caused by mid-July's euphoria (when Ripple secured a positive ruling in its case with the SEC) descending into a widespread mood of fear and uncertainty, with the cryptocurrency market being undermined by negative macroeconomics (particularly from China) and pessimism regarding Bitcoin ETFs.
However, with XRP remaining up by 52% since the beginning of the year, and with Ripple's business continuing to expand, XRP could easily recover in the next few weeks.
XRP Price Prediction as Market Sell-Off Sends XRP Back to $0.50 Zone – Here are Key Levels to Watch Now
If there's a positive to be taken from the weekend's downturn, it's that XRP is now oversold and due to rebound healthily.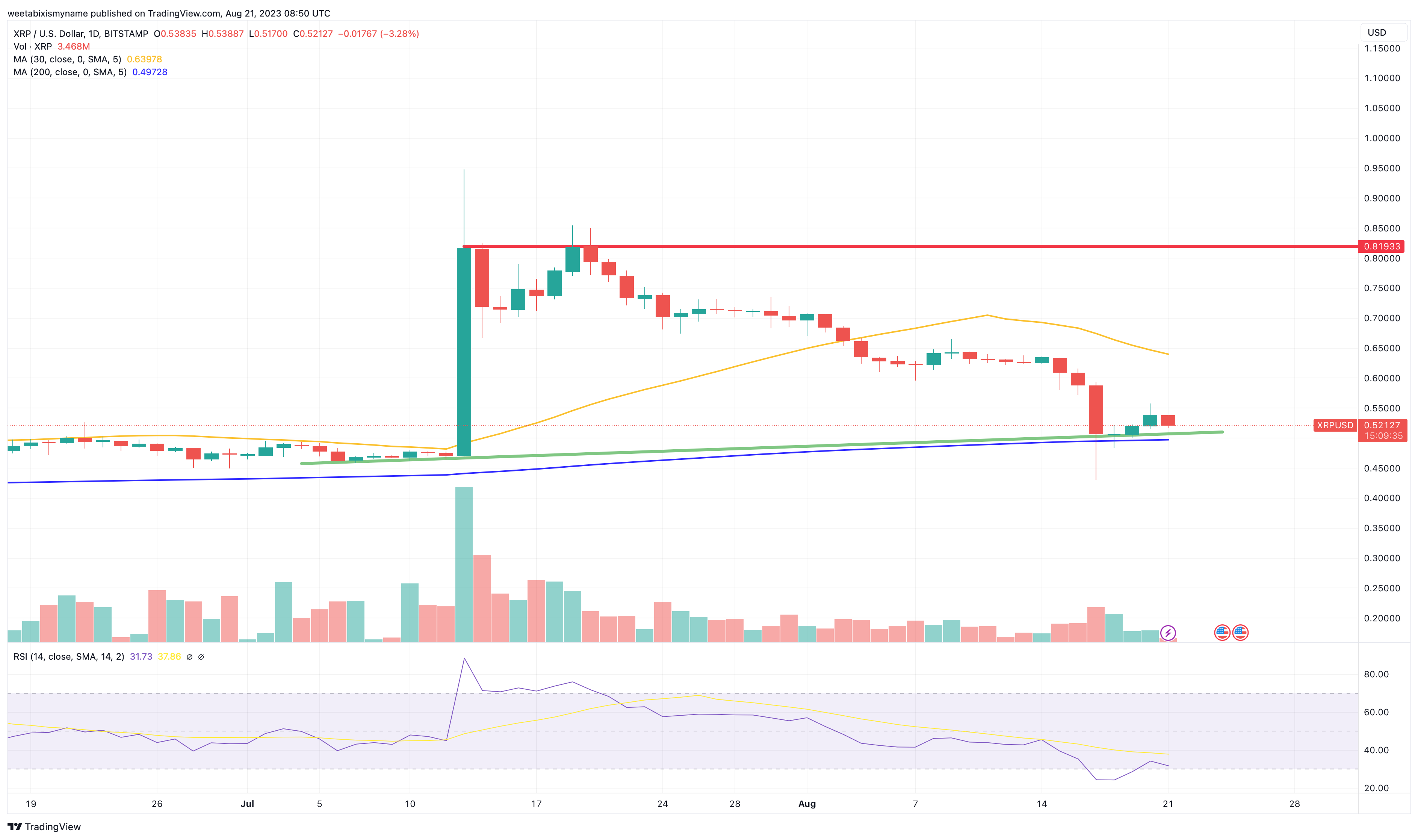 The coin's relative strength index (purple) dipped below 30 at the end of the last week, and has now just about begun recovering, suggesting a slight increase in momentum.
It's hard to say whether XRP's recovery will begin in the next one or two days, since the coin's 30-day moving average (yellow) has yet to fall below its 200-day average, implying that it hasn't quite hit the bottom of its slide.
On the other hand, the medium-term support level (green) indicates that XRP isn't going to fall below $0.50, at least not for very long.
And given that XRP has already bounced up from the $0.47 level, it may be safe to say that now is a good time to buy the cryptocurrency, since it remains cheap relative to its 'real' value.
As noted above, the coin's slide didn't really have anything to do with its own fundamentals and value, with the market as a whole dropping after reports that SpaceX has sold the entirety of its BTC holdings.
The market had already been in a weakened position prior to the emergence of this news, with fears surrounding the Chinese economy (among other things) having a negative effect on stock and cryptocurrency markets alike.
As such, XRP's recent decline shouldn't really be taken as a judgment on its inherent value and potential.
The coin remains as promising as ever following July's ruling in the long-running case between Ripple and the SEC, with Judge Analisa Torres ruling that Ripple's sales of XRP on exchanges didn't amount to the offering of unregistered securities.
This ruling led to exchanges in the US relisting XRP, while it has also enabled Ripple to expand its business and partnerships a little more proactively.
Based on this, XRP should return to $0.60 in the next one or two months, before potentially seeing out the year at around $0.70, depending on how bullish the market ends up.
New Meme Tokens for Quicker Gains
Because XRP will most likely take some time to recover properly, many traders may seek quicker gains elsewhere in the market.
Luckily, there are a number of good sources at the moment, even in a bear market, with presale tokens in particular offering potential for big returns once they list on exchanges.
And if there's one presale most likely to translate into post-listing rallies, its Wall Street Memes (WSM), a new ERC-20 token which has raised over $26.2 million since beginning its sale a couple of months ago.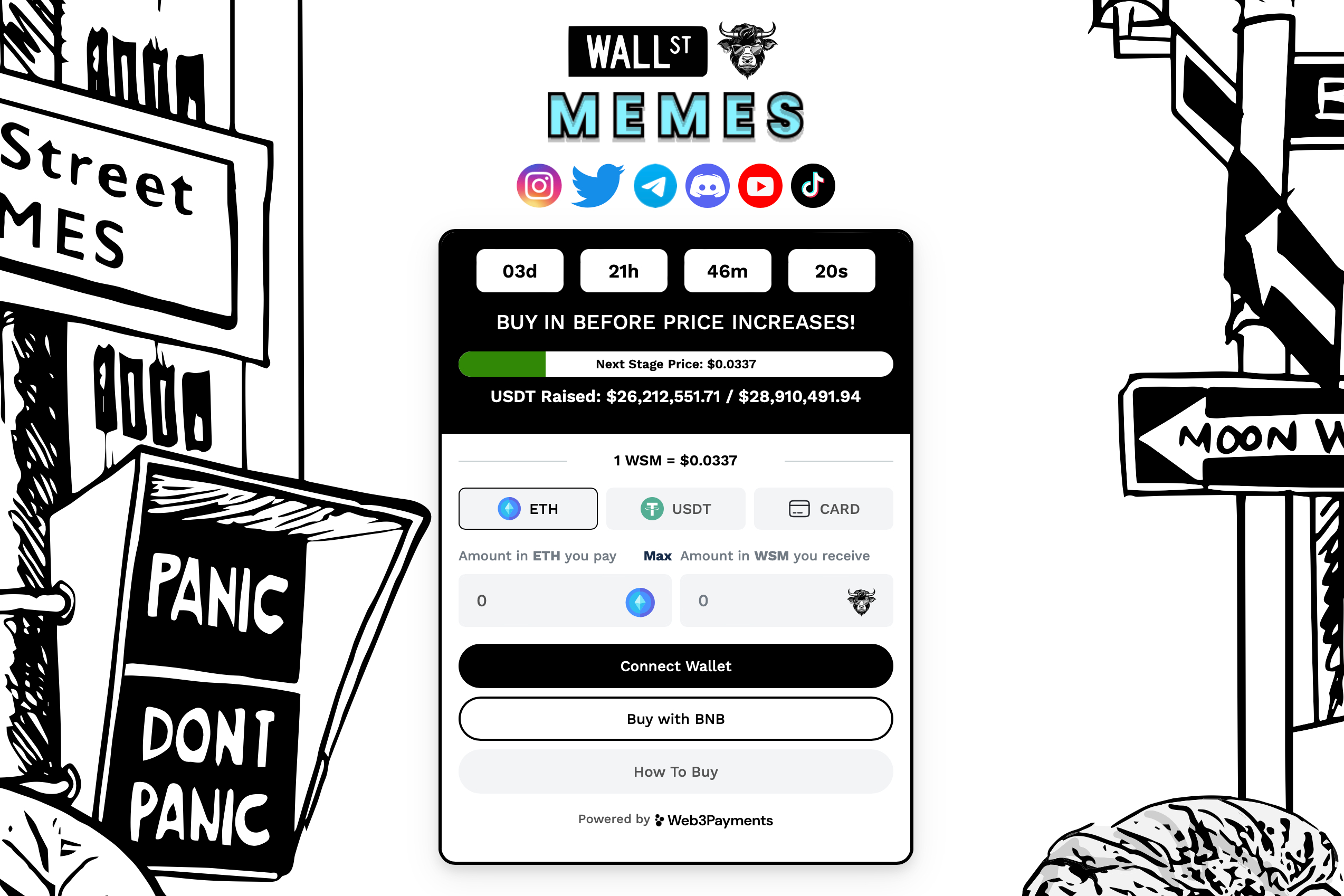 Wall Street Memes has appeared out of the meme stocks movement that was responsible for AMC and GameStop rallies in 2021, with its roots in this community helping it to raise such a large amount of money so quickly.
Indeed, its Twitter account now has more than 261,000 followers, providing the token with a large number of holders who will help boost and support its price once it finds itself on exchanges in the next few weeks.
With a total maximum supply of 2 billion WSM, 50% of the coin's total supply has been allocated to the presale and 30% is reserved for community rewards.
This makes WSM a highly decentralized meme token, and it's another key factor in how it attracted so many investors to the presale.
And while the sale has entered its final stage, new investors can still acquire WSM at a discount by visiting the official Wall Street Memes website and connecting their software wallets.
Promisingly, Wall Street Memes' team has confirmed that the coin will be added to a number of centralized exchanges in 37 days, something which could see early investors make significant profits.
Disclaimer: Crypto is a high-risk asset class. This article is provided for informational purposes and does not constitute investment advice. You could lose all of your capital.
---