XRP Price Prediction as Lawsuit Conclusion Approaches – Can XRP Hit $10 in 2023?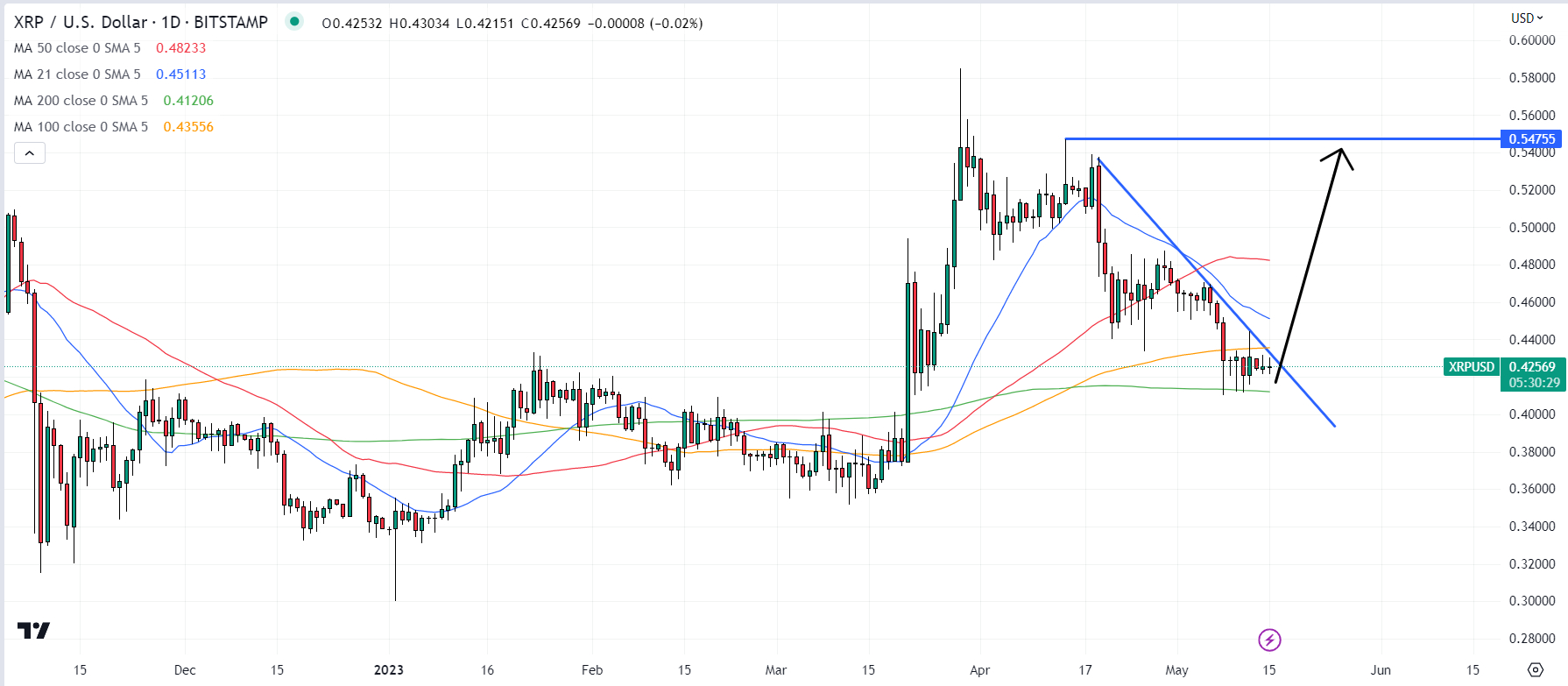 XRP, the cryptocurrency that powers the global payments-focused decentralized layer-1 blockchain protocol the XRP Ledger that was created by US fintech company Ripple, continues to consolidate just to the north of its 200-Day Moving Average, having found robust support above this key level last week.
But XRP remains stuck within an aggressive downtrend that has been in play since mid-April, meaning that near-term price predictions remain somewhat downbeat.
XRP/USD was last changing hands in the mid-$0.42s, down nearly 10% this month and down around 28% from March's highs in the $0.58 area.
Unless the cryptocurrency can break out of its current downtrend, a retest of the 200-Day Moving Average seems likely and potentially even a break below it.
That could open the door to a retest of March lows in the $0.35s.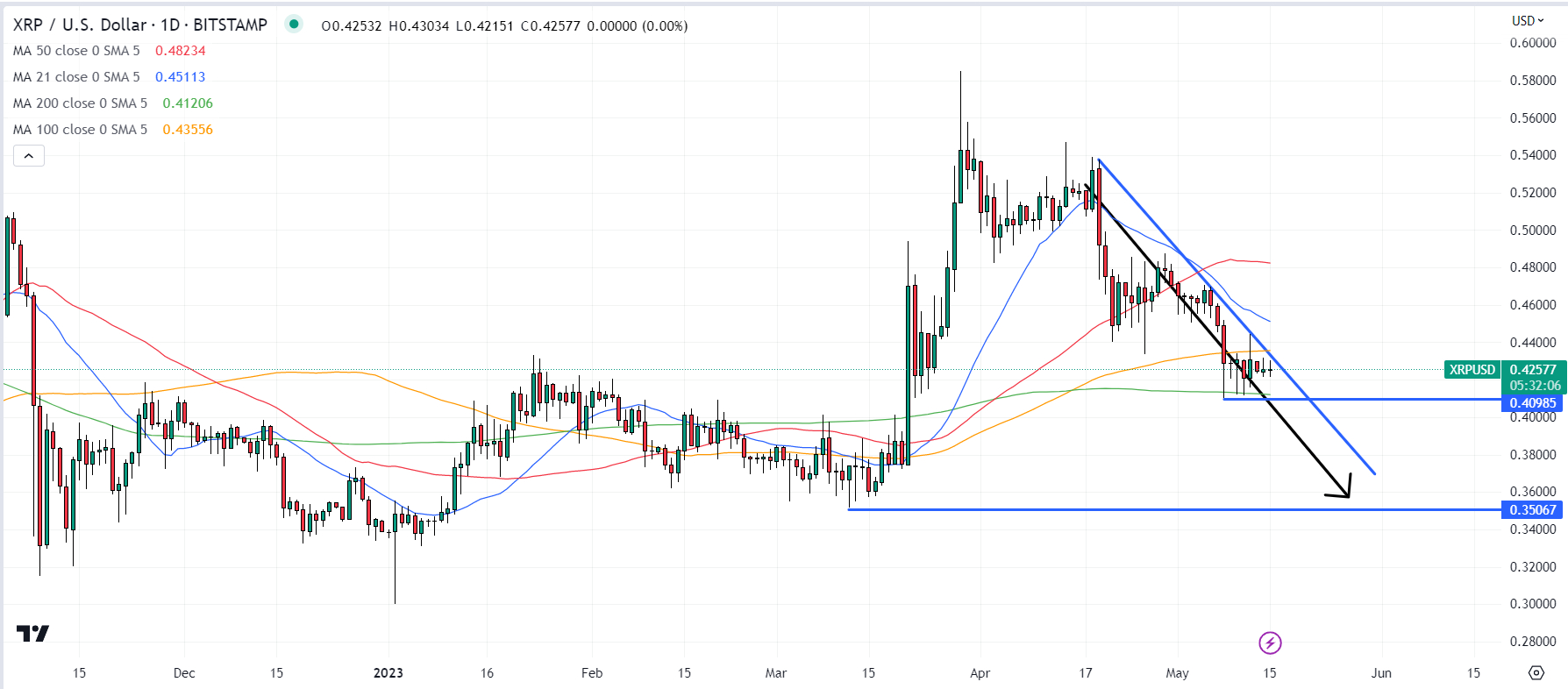 But with broader cryptocurrency markets gaining some steam on Monday – Bitcoin was last up more than 2% - the risks of a bullish breakout for XRP are rising.
If XRP was able to get back to the north of its 100-Day Moving Average near $0.4350 and close above the current downtrend (confirming a breakout), the cryptocurrency that could open the door to a run back to yearly highs, or at least the mid-April highs in the $0.54 area.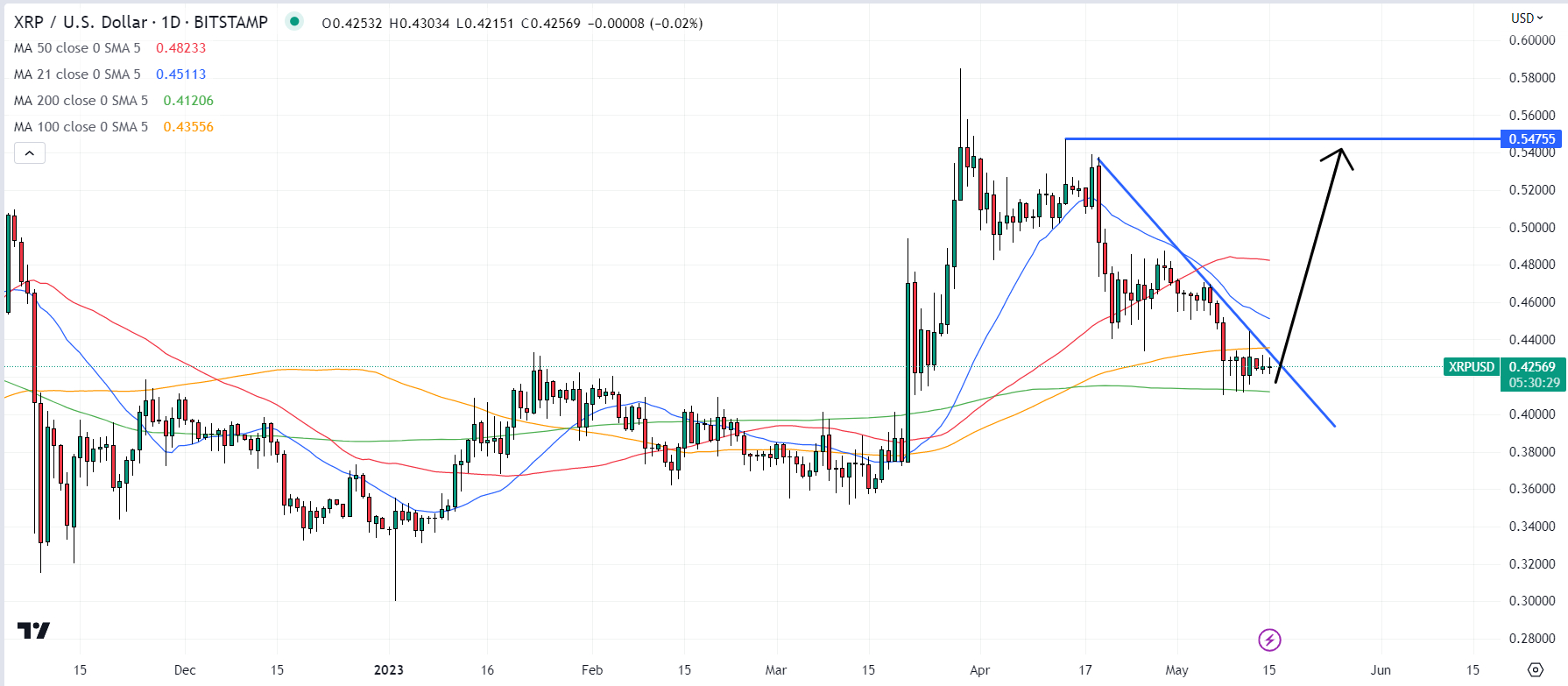 XRP Price Prediction as Lawsuit Conclusion Approaches
One potential catalyst for an XRP surge could be the conclusion of, or rumors of a conclusion of, the ongoing legal battle between the US Securities and Exchange Commission (SEC) and Ripple.
The SEC sued Ripple back in December 2020 over allegedly raising $1.3 billion via the issuance of XRP as a security, something which Ripple denies.
The fintech company that created the XRP Ledger claims XRP is a commodity.
XRP pumped back in March on optimism that Ripple is set to win a favorable outcome in its lawsuit with the SEC.
While most of that pump has since unwound, a ruling from district judge Analisa Torress on the lengthy lawsuit it expected soon.
Ripple CEO Brad Garlinghouse revealed in a recent interview with CNBC that he thinks the lawsuit will be resolved in the first half of 2022, meaning potentially within the next two months.
Any indications that Torress might rule in favor of Ripple, or that the SEC might want to settle with Ripple, could result in a major near-term pump for XRP, which would very likely print new highs for the year above $0.60.
Can XRP Hit $10 in 2023?
Whilst a favorable ruling or outcome to the SEC lawsuit would certainly be a huge positive catalyst for XRP, and would very likely see the cryptocurrency become one of the best performers in the crypto space this year, more than 10x gains to hit $10 per token this year might be an overly optimistic forecast.
That's because the bull market in the broader crypto markets appears to still be in its infancy.
Yes, macro conditions are set to improve this year, with the Fed's rate hiking cycle looking likely to already be over.
But cryptocurrencies like Ripple may have to wait a few years and for further fiat currency debasement (via new rate cutting cycles and liquidity injections) to post 10x gains from current levels.
XRP (XRP) and Blue-chip Crypto Alternatives to Consider
While blue-chip cryptocurrencies may continue to perform well in the coming months and years, investors should nonetheless always be on the lookout to diversify their crypto holdings.
One high-risk-high-reward investment strategy that some investors might want to consider is getting involved in crypto presales.
This is where investors buy the tokens of up-start crypto projects to help fund their development.
These tokens are nearly always sold very cheap and there is a long history of presales delivering huge exponential gains to early investors.
Many of these projects have fantastic teams behind them and a great vision to deliver a revolutionary crypto application/platform.
If an investor can identify such projects, the risk/reward of their presale investment is very good.
The team at Cryptonews spends a lot of time combing through presale projects to help investors out.
Here is a list of 15 of what the project deems as the best crypto presales of 2023.
Disclaimer: The Industry Talk section features insights by crypto industry players and is not a part of the editorial content of Cryptonews.com.
---