XRP Price Prediction as Community Urges Coinbase to Relist Token – $3 XRP Incoming?
Disclosure: Crypto is a high-risk asset class. This article is provided for informational purposes and does not constitute investment advice. By using this website, you agree to our terms and conditions. We may utilise affiliate links within our content, and receive commission.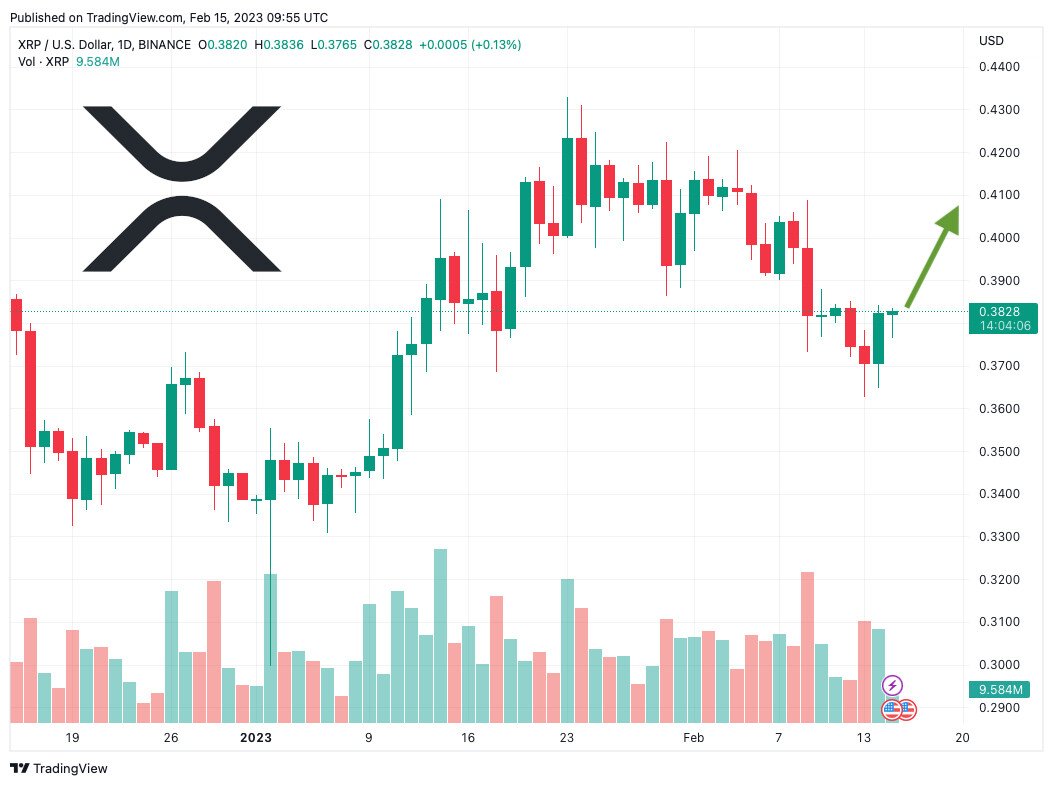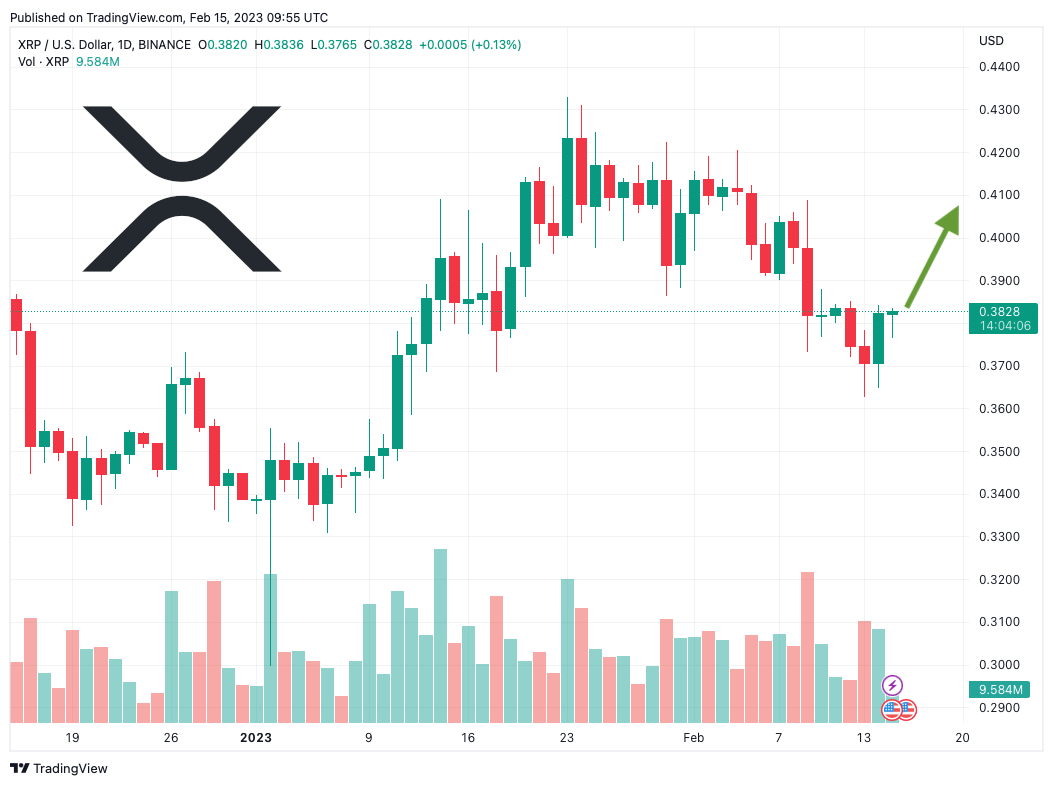 The XRP price has gained by 3.5% in the past 24 hours, rising to $0.382995 as the cryptocurrency market recovers from its weekend losses. Its current price represents a 5% fall in a week and a very slight 0.4% dip in the last 30 days, as XRP continues to be undermined by the dragging on of Ripple's legal battle with the SEC.
Despite this, sentiment surrounding this case remains positive, with XRP's community recently taking to Twitter to urge Coinbase to relist the token. This indicates confidence that Ripple will succeed in securing a positive judgment, and that exchanges will be legally permitted to list XRP.
XRP Price Prediction as Community Urges Coinbase to Relist Token – $3 XRP Incoming?
XRP remains in a precarious position at the moment, with its indicators consistent with either continued rises or new falls. Its 30-day moving average (red) has flatlined after touching its 200-day (blue), and it looks like it could now come down along with its price.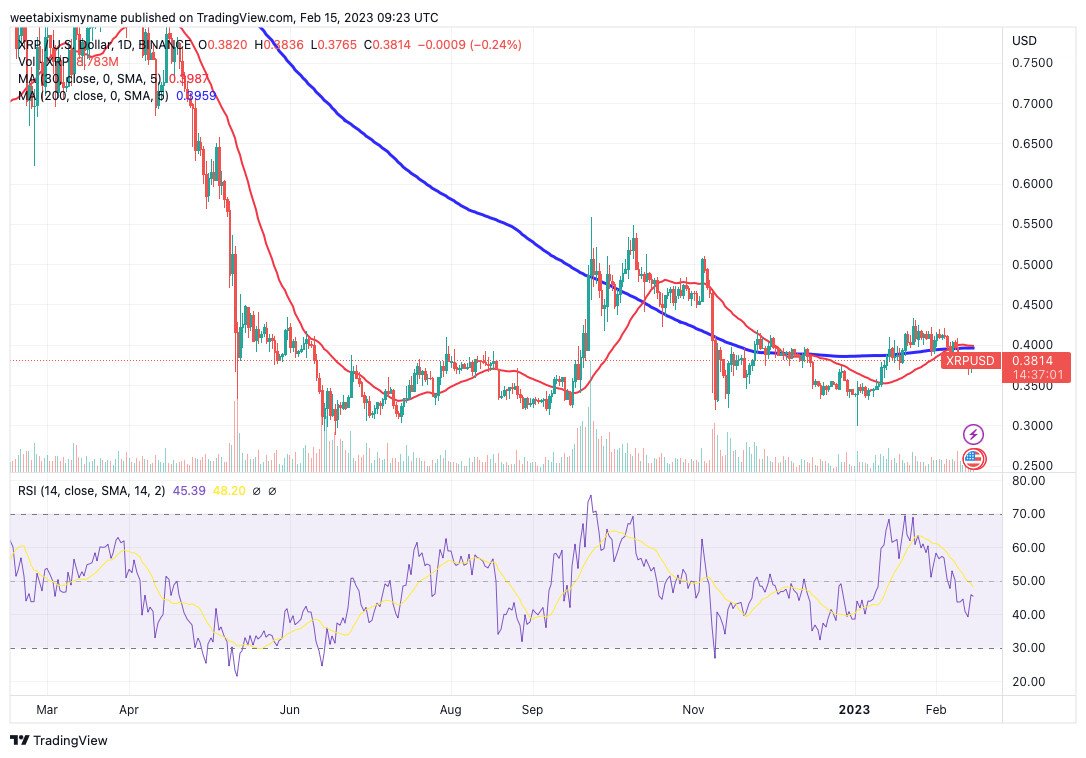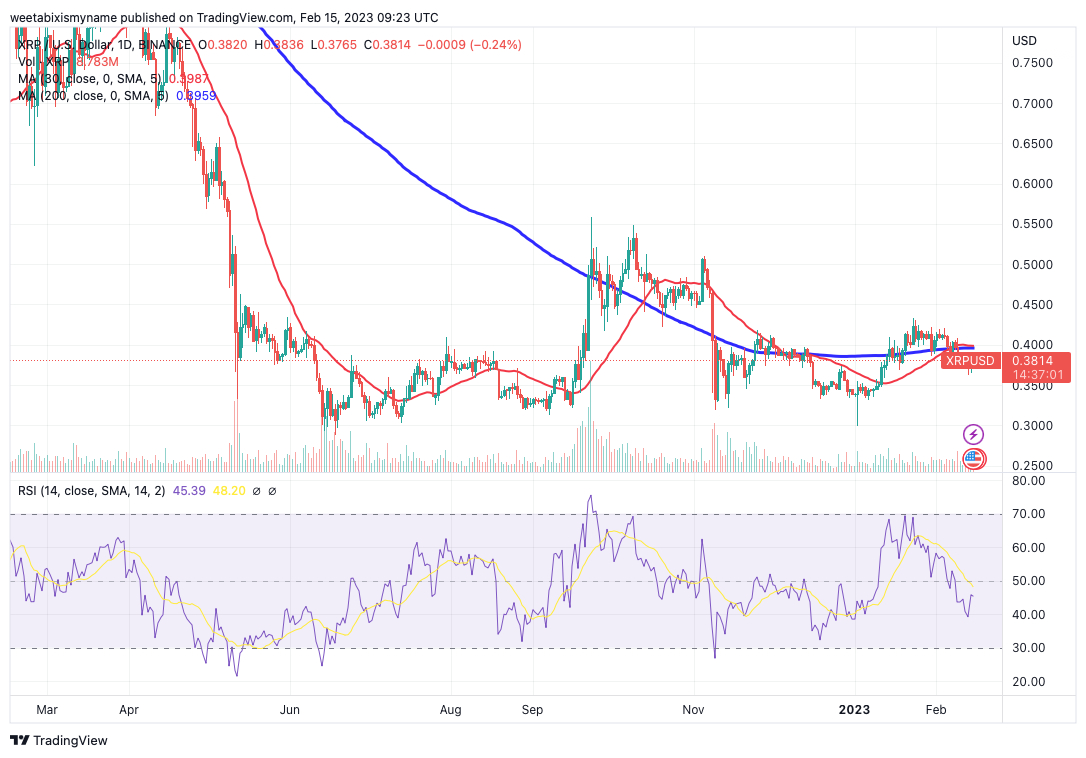 Meanwhile, XRP's relative strength index (purple) has risen to more than 45 after sinking to 40. Having already fallen in recent days, this minor recovery could signal further increases, although it could just as easily fall again, as happened in December.
Today's rise has occurred in the context of the widespread campaigns on Twitter and social media to encourage Coinbase to relist XRP. Under the #RelistXRP hashtag, the coin's supporters have argued that not only would such a relisting spark a rally for the token, but that Coinbase would benefit by reaping millions in exchange fees.
Hey @coinbase and @brian_armstrong, I got a GREAT IDEA! Ready?

RELIST #XRP… people will go absolutely NUTS and will buy the shit out of it. You'll be heroes and instantly collect MILLIONS in exchange fees.

THEN use that money to fight the SEC on the staking thing.

VOILA!

— XRPP (@XRP_Productions) February 10, 2023
Some have even claimed they've heard rumors that Coinbase is indeed planning to relist XRP, although there is no evidence in support of such speculation.
$XRP rumor floating around that it will be re-listed back on Coinbase! #relistXRP #XRP 🚀🌖

— XRP whale (@realXRPwhale) February 7, 2023
That said, the exchange did submit an amicus brief in support of Ripple back in November. This submission of testimony supports the view that Coinbase continues to have a favorable stance on XRP, even though it delisted the coin in December 2020, in order to avoid legal repercussions.
Another event supporting the view that Coinbase will sooner or later relist XRP came in January. This was when, during an appeal hearing in LBRY's case against the SEC, the judge declared that the third-party sale of LBC tokens does not count as the sale of unregistered securities.
First word from the SEC v. LBRY hearing:

The SEC admitted on the record that the token itself is not a security.

Good job Mr. Deaton! https://t.co/tRXIQs5SSu

— Jeremy Hogan (@attorneyjeremy1) January 30, 2023
Given that LBRY itself had been found to have sold unregistered securities when it initially offered LBC tokens, this ruling suggests that, even if the SEC wins against Ripple, exchanges will still be able to list XRP. In other words, Ripple losing its case would not necessarily stop Coinbase from relisting the coin.
The thing is, there remains a good chance that Ripple does end up securing a positive outcome. This is supported by the various favorable rulings it has gained up until now, including the court upholding its right to present a fair notice defense, as well as Judge Torres granting it access to important documents and emails related to a 2018 speech given by then-Chairman William Hinman.
At the same time, observers have claimed that the SEC has failed to establish how Ripple developed a 'common enterprise' that would boost the value of XRP. Establishing this is vital if the SEC is to demonstrate that Ripple sold unregistered securities, yet so far it's questionable that it has adequately shown this.
Ripple has a particularly strong defense on the common enterprise prong of Howey and the SEC has struggled to even assert what is the common enterprise and has changed its position on this issue in the course of the proceeding. SEC has to win on this issue to succeed in the case. https://t.co/h5OTaBlYu2

— bill morgan (@Belisarius2020) January 20, 2023
As such, Ripple's prospects remain good, CEO Brad Garlinghouse recently saying that he expects the case to conclude by the end of the first half of 2023, or by the end of the year at the very latest.
If Ripple does win, there's little doubt that Coinbase would relist XRP. By extension, there's also little doubt that the altcoin would enjoy a very big rally.
In the immediate aftermath of a positive outcome, XRP would likely shoot to $1 within a matter of days. From there, the rest of the year could see it climb as high as $3, before approaching its current all-time high of $3.40 in 2024.
In the long term, a Ripple win will enable it to expand its business by leaps and bounds. This is supported by the fact that it has been able to expand this business even under the shadow of its case, with its Q4 2022 XRP Markets Report finding that it processed $226.31 million in net XRP sales in that quarter alone.
Ripple continues to actively buy back its $XRP tokens on the market
——–
Ripple is buying back in XRP tokens on the secondary market because of the growing popularity and use of its On-Demand Liquidity (ODL) services. pic.twitter.com/Z77Z2j26SG

— ImNotTheWolf (@ImNotTheWolf) February 6, 2023
Because of this, the years following a Ripple victory could result in XRP rising up the cryptocurrency rankings as Ripple attracts more adoption and usage.
Is Now A Good Time to Buy XRP?
While XRP is due a substantial rally at some point in the future, this may not come for several months. So if you're looking for other high-potential crypto projects alongside XRP, we've reviewed the top 15 cryptocurrencies for 2023, as analyzed by the CryptoNews Industry Talk team.

The list is updated weekly with new altcoins and ICO projects.
Disclaimer: The Industry Talk section features insights by crypto industry players and is not a part of the editorial content of Cryptonews.com.
---