XRP Price Prediction as Bulls Keep XRP Above $0.48 Support – Where is XRP Heading Next?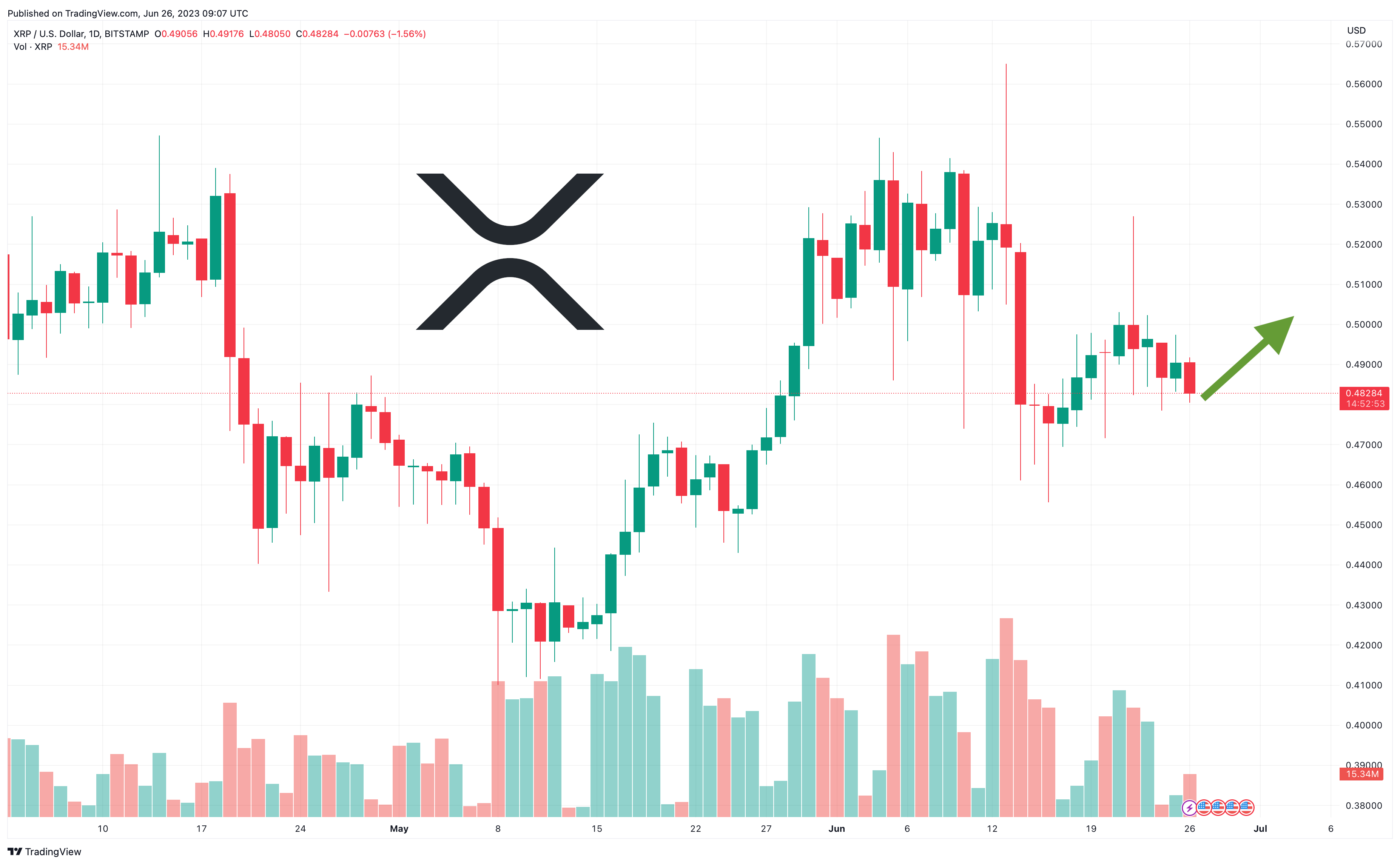 The XRP price has dipped by 1% in the past 24 hours, dropping to $0.483806 as the cryptocurrency market falls by a similar percentage within the same timeframe.
XRP is now down by 1.5% in the past week but up by 2% in the last 30 days, while positivity surrounding Ripple's case with the SEC has helped the altcoin gain by 42% since the beginning of the year.
However, the case is still awaiting a decision, which may take several months to arrive, while recent evidence has leaned both ways, hinting that there's no guarantee Ripple will secure a positive judgment or settlement.
But if it does, there's no doubt that XRP will enjoy a huge rally, rising back up to $0.50 and to $1 (or higher) by the end of the year.
XRP Price Prediction as Bulls Keep XRP Above $0.48 Support – Where is XRP Heading Next?
XRP's chart reflects its recent falls, with its indicator showing a loss of momentum that may continue for several days yet before we see a recovery.
The coin's relative strength index (purple) has slid below 50 and looks as though it will continue declining, meaning that it's losing buying momentum as the market increasingly comes to sell it.
Likewise, XRP's 30-day moving average (yellow) has dropped below its 200-day (blue) and is sinking further, with its fall only just beginning.
On the other hand, the fact thay XRP's support level (green) has risen gradually over the past week or so would suggest that any falls in the near future won't be particularly substantial.
In other words, XRP may dip a little further, but it's likely to resume rising again in the not-too-distant future.
Supporting this view is the aforementioned Ripple-SEC case, which is expected to end in the next couple of months.
More importantly, there is an expectation that Ripple will end up with a result that works in its (and XRP's) favor, with recent evidence coming to light that has supported its argument that it didn't receive sufficient fair notice of a potential legal action.
Assuming that this kind of analysis is accurate, XRP would benefit massively from a positive ruling for Ripple.
Indeed, Ripple has been able to grow its business even under the shadow of the case, which would imply that it could expand even faster once the case has ended and it's free to operate normally.
Some XRP holders have predicted big price increases for the cryptocurrency under such a scenario, with some going well beyond $10.
Of course, it needs to be pointed out that not every single development and piece of evidence in the case has been unanimously positive for Ripple, with the release of internal emails showing that the company may have actively endeavored to support XRP's price.
This would potentially support the SEC's claim that sales of XRP satisfied the Howey test, given that a third-party (Ripple) acted to boost the value of an alleged security.
Presale Tokens
Because of the outside chance of an SEC victory, investors may be inclined to diversify into altcoins other than XRP, especially those with strong potential upside.
Strongest among new altcoins at the moment are a number of presale tokens, all of which stand out in terms of their fundamentals.
One of these is yPredict.ai, a Polygon-based platform that harnesses AI and advanced algorithms to provide users with various trading tools.
It launched the presale for its native YPRED token a few weeks ago, and has impressively raised more than $2.5 million.
The platform also recently launched its first AI-powered predictive trading model, which it is making free to use for a limited period of time.
This feature will be expanded upon in the coming weeks as yPredict.ai launches additional AI-based prediction tools, including sentiment and transaction analysis, as well as its own sophisticated trading terminal.
Most of these features will be made available through yPredict's own marketplace, enabling developers of forecasting and analytical models to sell their services directly to traders.
The native YPRED token will be used to pay for subscriptions to such models, as well as for staking purposes and for gaining access to the platform's analytics.
Such uses provide YPRED with genuine value and utility, meaning that it should rise in price the more popular the yPredict.ai platform becomes.
Investors can join its presale by going to the official yPredict.ai website and connecting their software wallets.
1 YPRED token currently costs $0.09, although this will rise to $0.12 by the time the sale ends.
Of course, once YPRED lists on exchanges in the next few months, its fundamentals could easily push it up much higher.
Disclaimer: The Industry Talk section features insights by crypto industry players and is not a part of the editorial content of Cryptonews.com.
---