XETA Genesis Is Bridging TradFi Earnings For DeFi Users With 20% Monthly Returns – Here's How
Disclosure: Crypto is a high-risk asset class. This article is provided for informational purposes and does not constitute investment advice. By using this website, you agree to our terms and conditions. We may utilise affiliate links within our content, and receive commission.
Disclaimer: The text below is a press release that is not part of Cryptonews.com editorial content.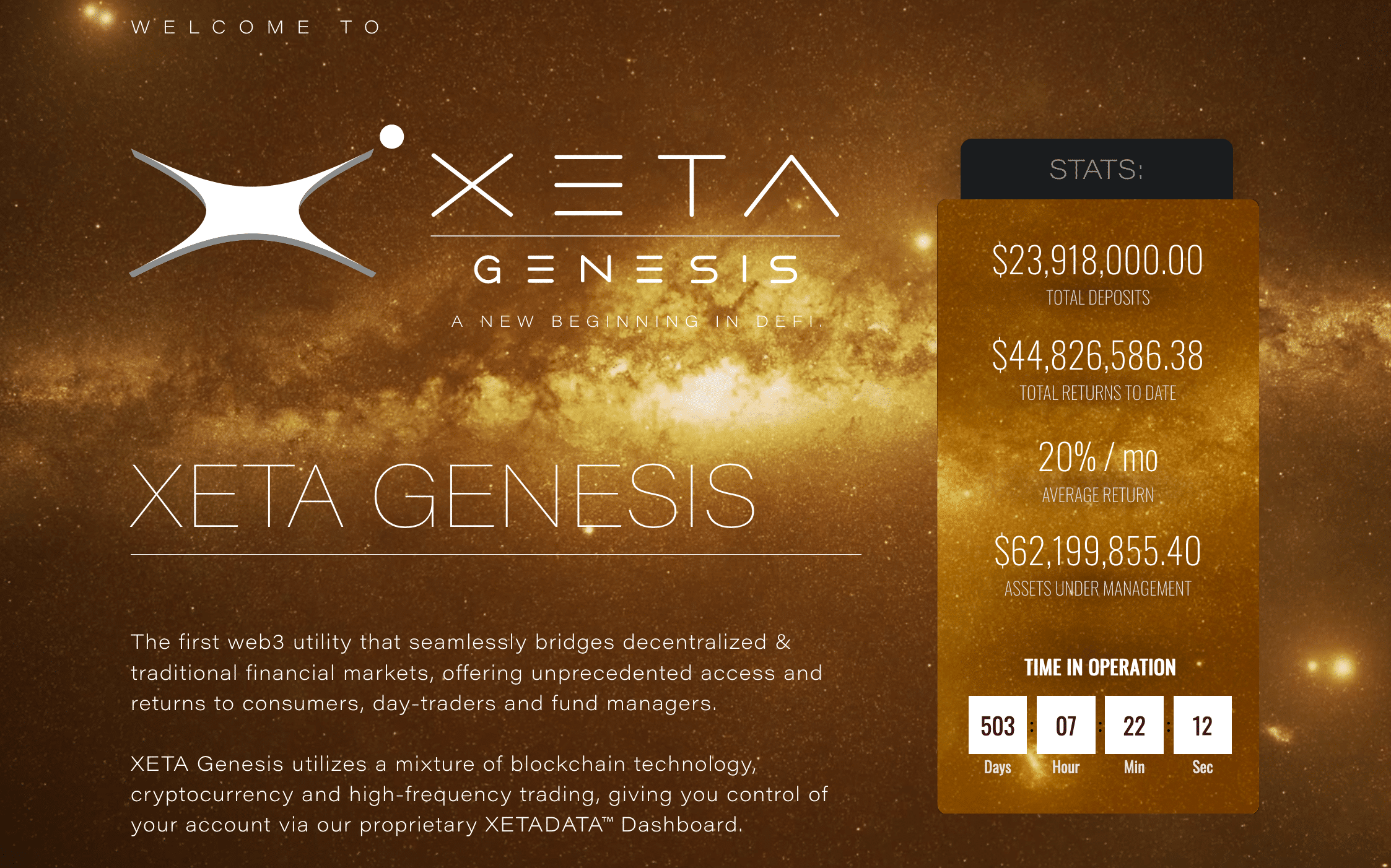 XETA Genesis recently unveiled its groundbreaking solution to bridge the gap between TradFi and DeFi – bringing the consistency of TradFi returns to the DeFi market.
The project is providing DeFi users with the ability to start earning 20% monthly returns, and it has a track record of over 500 days to provide consistency.
Finally, DeFi users can tap into the traditional finance market through a Web3 utility that opens the doors that were previously available to high-net-worth individuals and institutions.
The accounts available on XETA Genesis are still open, but they won't be available for too long.
XETA Genesis Brings TradFi Consistency To DeFi

XETA Genesis is the first Web3 utility that seamlessly bridges DeFi with TradFi.
It provides an innovative way of connecting TradFi returns for Web3 users, consistently providing 20% monthly returns.
As a result, DEFi users finally have the chance to benefit from the consistency of TradFi without the DeFi volatility.
The project allows DeFi users to invest USDC into the Genesis member accounts or pools to start earning returns from an expertly traded fund in TradFi markets, such as Forex and Gold ETFs.
XETA Genesis currently has $24 million deposited and $62 million in assets under management, demonstrating the increasing confidence from investors in the returns provided.
With multiple investment options and an easy-to-use platform, XETA Genesis is a rare opportunity to diversify your portfolio and help hedge against downside bear markets.
How Are Returns Generated so Consistently?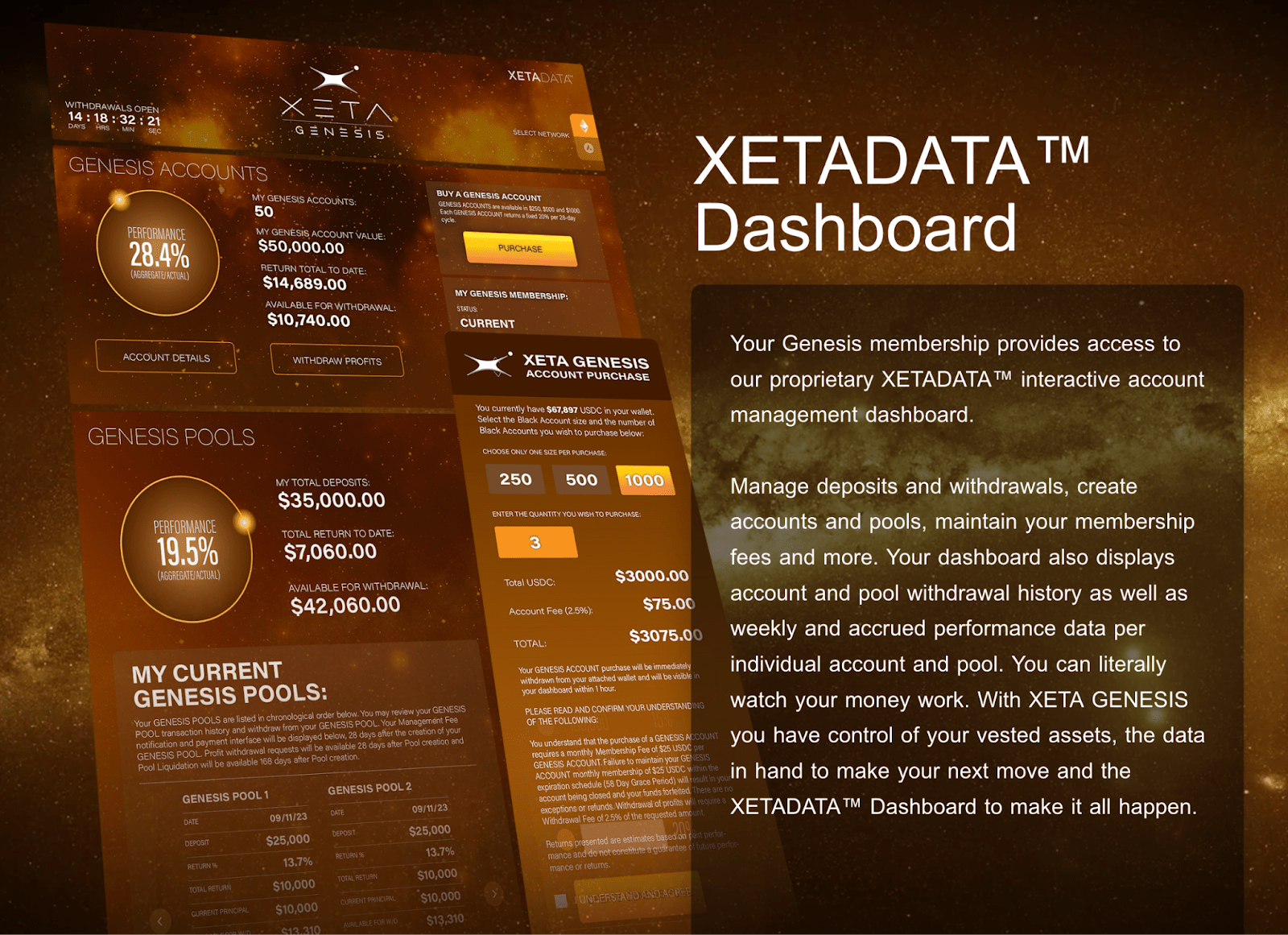 So, how can XETA Genesis provide consistent returns?
Well, the good news is that it doesn't use magical algorithms that led to the 2022 market crash.
Instead, the fund that provides the returns is underpinned by a team of highly skilled traders to generate revenues for its members.
The fund has a past performance of up to 400% per annum and has already paid out a staggering $44.8 million in total returns to date.
The firm has a range of trading strategies that it employs, integrating high-degree risk management through careful analysis with proven trading techniques and discipline.
It also integrates artificial intelligence to analyze market data and minimize loss.
One of the primary vehicles XETA Genesis uses is the FX market.
In this market, it aims to capture small gains over the medium term using intra-day and long-term strategies.
The signals generated from XETA Genesis are incredibly accurate, with a 95% accuracy rating.
Another vehicle is the Gold ETF market, which provided a 68% to 294% return over the last six years on its strategy.
As a result, you have an opportunity to diversify your portfolio in a completely hands-off approach, providing a passive income to DeFi users.
Two Avenues to Get Involved: Membership and Pools

The project has two avenues to get involved.
The first is through Membership Accounts, which have three investment tiers: $250/$500/$1000.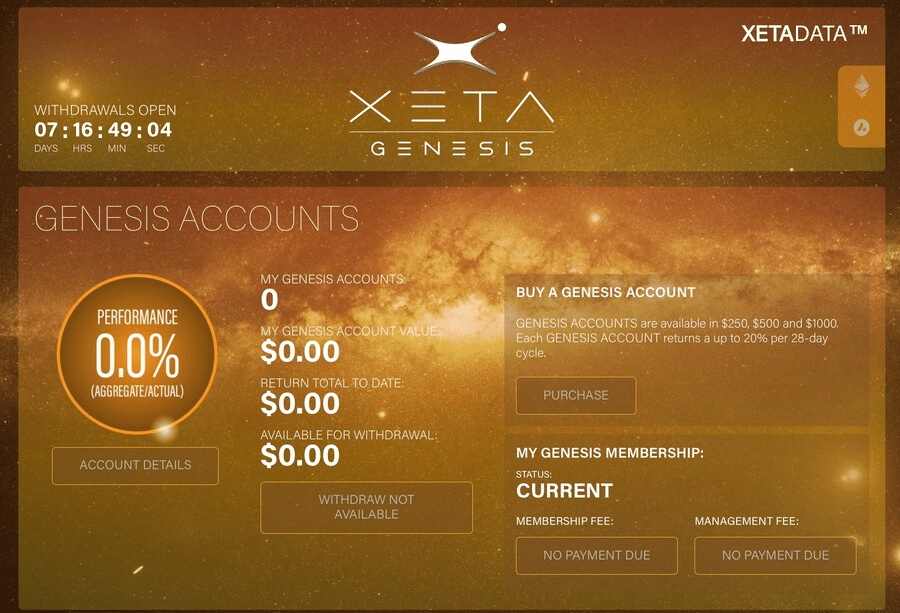 The Membership Accounts provide a 20% return on 28-day cycles – which is when users can make withdrawals.
It's important to understand that this is not an investment into XETA Genesis. Instead, it's an investment membership account that provides consistent returns.
As a result, you won't be able to withdraw your principal at the end of the term but will still make beyond 100% gains on your investment.
There is a monthly $25 maintenance fee and a 2.5% withdrawal fee for all accounts.
After a year, your account expires, and you will need to open another to keep earning.
The second avenue is through XETA Genesis Pools, which have a range of investment options;
$10,000 tier providing 5% monthly return
$50,000 tier providing 10% monthly return
$100,000 tier providing 15% monthly return
$250,000 tier providing 20% monthly return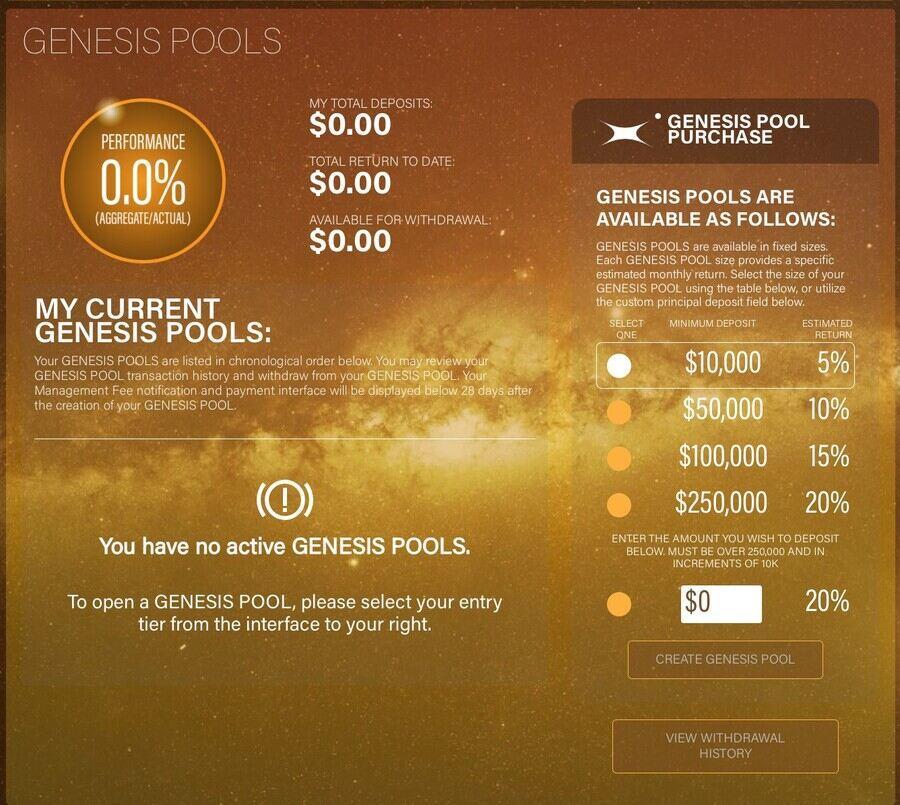 Genesis Pools are part of the XETA Fund and allow you to withdraw your principal at the end of the term.
Again, there is a 2.5% management fee and a 2.5% withdrawal fee.
The following table breaks down the differences between the two options;
| | | |
| --- | --- | --- |
| | Genesis accounts | Genesis pools |
| Monthly fee | $25 | 2.5% of the principal amount |
| Monthly returns | Up to 20% | Up to 20% |
| Withdrawal fees | 2.5% | 2.5% |
| Can withdraw principal | No | Yes |
| Compounds each month | No | Yes |
| Funds are forfeited if monthly fees are unpaid | Yes | Yes |
Accounts Still Open for Sign Up – Get Involved Before They Close

Overall, XETA Genesis provides an avenue for consistent returns while helping DeFi users hedge against downside risk in the volatile DeFi markets.
With the options to get positioned in this project still available, users are encouraged to sign up quickly as the access is likely to become restricted in the coming weeks once XETA Genesis hits its member targets.
---