XELON Meme Coin Surges 1,000% After Going Viral and Crypto Gurus Say This in the Next Crypto to Explode

The price of new meme token XELON has surged by 110% in the past 24 hours, with its ascent to $0.000005259 marking a gain of more than 1,000% since listing on Uniswap a couple of days ago.
This makes it one of the best-performing new coins in the market, with its use of Elon Musk- and Twitter-related memes helping it to go viral on social media.
However, 2023 has taught us that new meme tokens with no real community behind them are almost certainly destined to crash as hard as they rose, a possibility which retail investors should seriously consider before even touching XELON.
And while XELON is likely to dump soon, certain newer meme tokens actually boast the support and following they need to have sustained lifecycles, with Wall Street Memes (WSM) set to become one of the most successful new altcoins of the year after raising more than $25 million in its presale.
XELON Meme Coin Surges 1,000% After Going Viral and Crypto Gurus Say This in the Next Crypto to Explode
There's not much to say about XELON's chart, other than that it appears as though the latest flavor-of-the-week meme coin has already begun its inevitable descent back to Earth.
After reaching a record high of $0.0000084 in the early hours of this morning, the coin has already fallen by 37%, and will probably fall even further before the day is done.
As with other meme tokens that directly list, the reason for this is that XELON's issuers had probably kept the bulk of its supply to themselves, so when the coin rose in price on Uniswap they decided to take their profits and run.
And once XELON falls by more than 50% in a day or so, it's likely to be finished for good.
Fortunately, there are other new meme tokens in the market, with some actually having the communities that are necessary for them to endure beyond their initial listings.
The prime example of such a token this year is Wall Street Memes (WSM), an ERC-20 token that has raised well over $25 million since beginning its presale ain June.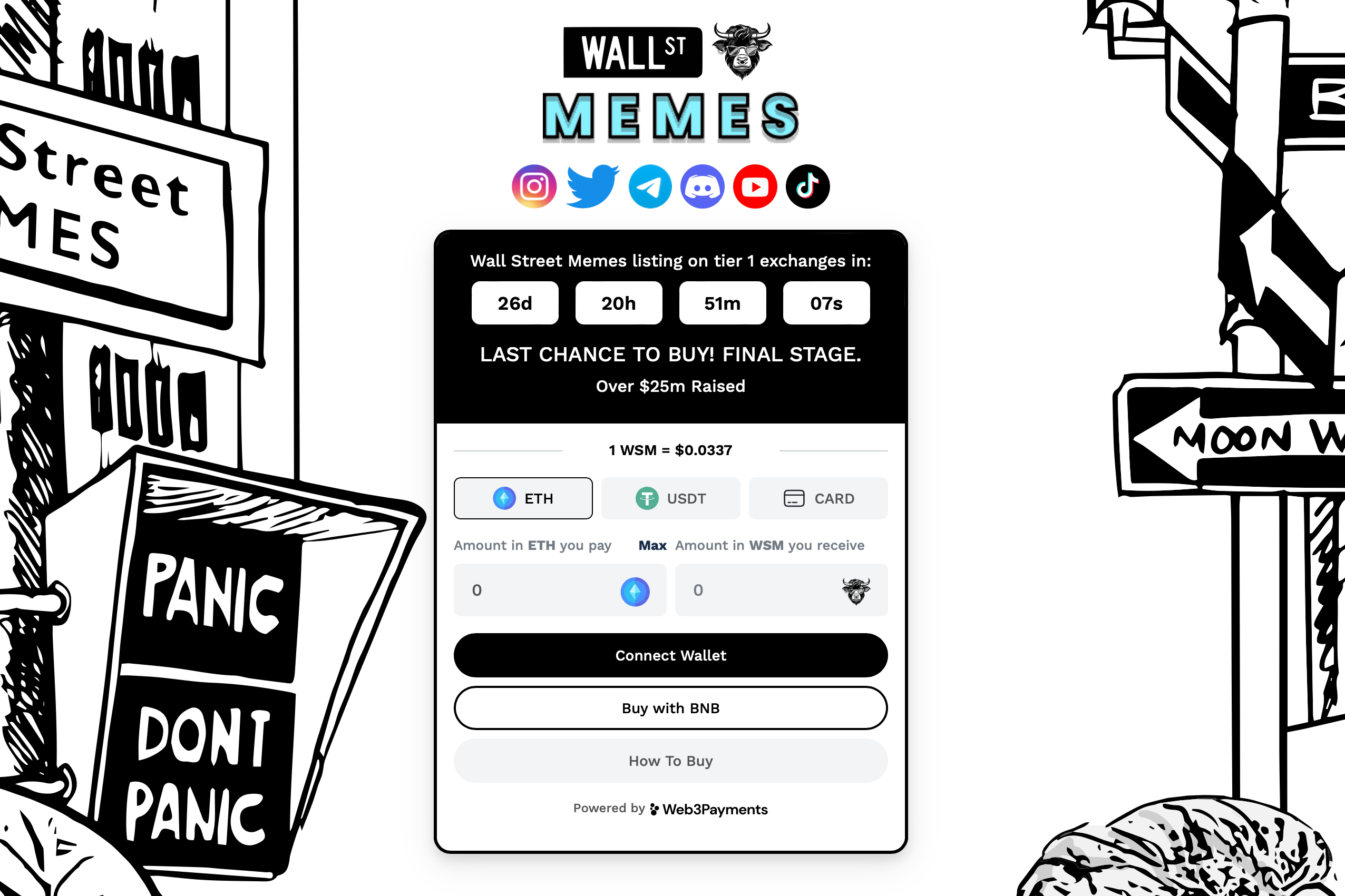 Its presale is due to end in 25 days, with Wall Street Memes able to raise so much money owing largely to its connecting with the the meme stocks movement, which was responsible for the infamous GameStop and AMC rallies of 2021.
The fact that it has already gathered a big online community is indicated by its Twitter follower count, which now stands at over 265,000.
This is a very big number, especially when compared to junk meme tokens such as XELON, which have almost no online presence and therefore a complete lack of holders able and willing to support their prices.
Its WSM's community which will also increase the chances that the token has a big opening when it lists on exchanges for the first time in just under a month.
Matters are also helped by the coin's decentralized tokenomics, with 50% of its max supply –2 billion WSM – allocated to the presale and 30% reserved for community rewards.
These rewards will ensure that Wall Street Memes' community remains engaged and vibrant, with the rewards likely to incentivize community members to promote the coin and attract new investors.
And while time is now very limited, new buyers can join the presale by heading over to the the official Wall Street Memes website.
1 WSM is now available at a price of $0.0337, with buyers likely to make a decent return when the token lists on trading platforms and rises substantially in the next few weeks.
Disclaimer: Crypto is a high-risk asset class. This article is provided for informational purposes and does not constitute investment advice. You could lose all of your capital.
---