WSB Coin Price Prediction as WSB Blasts Up 6000% in 24 Hours – What's Going On?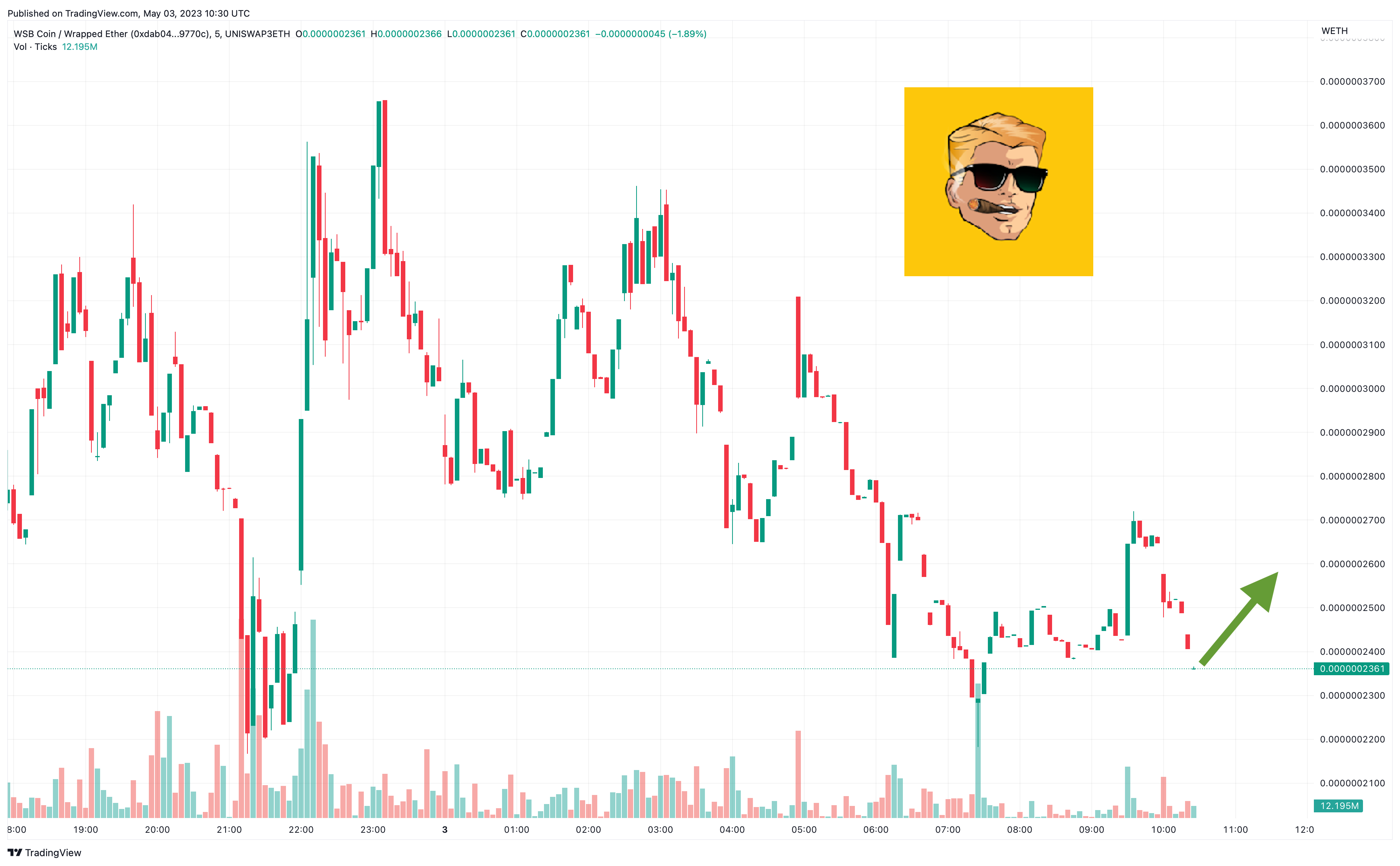 The price of WSB Coin (WSB) has risen by over 6,000% since yesterday, following a tweet from the founder of WallStreetBets which helped draw investor attention towards a new wave of WallStreetBet-themed meme tokens.
Since this tweet was posted on Monday, WSB is now standing on a 6,400% gain since May 2, when its price was only $0.0000007752.
And in a week when Pepe Coin (PEPE) has also set the market alight with its market-beating gains, the emergence of WSB seems to confirm a trend for meme tokens during a time of relative market stagnation.
WSB Coin Price Prediction as WSB Blasts Up 6000% in 24 Hours – What's Going On?
Billing itself as "the official, unofficial meme coin" of r/wallstreetbets, it's not entirely clear what connection WSB Coin has to the famous subreddit.
Yes, it is allocating 10% of its 69.42 billion supply to WallStreetBets' treasury and 5% to the subreddit's moderators, and it also appears to have the cooperation of the blue-ticked WSBMod Twitter account (belonging to a former moderator of the subreddit), which tweeted details of its airdrop on April 29.
Other than that, the coin's founders are unknown, although its whitepaper states that the ownership of its smart contract has been renounced, meaning its code can't be changed or tampered with.
More bullishly, WBS appeared to receive the blessing of WallStreetBets founder Jaime Rogozinski on May 1, when he tweeted that "WallStreetBets now has a #memecoin targeting the WSB Reddit community."
But in actual fact, Rogozinski mentioned Wall Street Baby (also WSB) in this tweet, another meme token which the WSB Coin team has claimed isn't in any way associated with the r/wallstreetbets subreddit.
Despite focusing on a different WallStreetBets token, Rogozinski's tweet inadvertently helped draw attention to WSB Coin, with the coin reaching a record high of $0.0006569 late last night.
Meanwhile, Wall Street Baby -- the token Rogozinski had named -- is down by 70% in the past 24 hours, as if traders have begun realizing that it doesn't have any connection with WallStreetBets.
As with any other meme token, it's almost impossible to say whether WSB Coin can maintain its momentum, given that even its whitepaper admits it's "a shitcoin."
That said, with a 20% airdrop and 15% going to r/wallstreetbets, it potentially has a big community behind it.
This community may be enough to maintain its price over the longer term, and help it enjoy a few more rallies beyond the one it's having right now.
Meme Tokens With Utility
Because WSB Coin doesn't offer any genuine utility, some traders may prefer to look at other tokens that combine meme value with actual fundamental value.
One of the most interesting examples of such a coin right now is AiDoge.com, an AI-powered meme-generating platform that has already raised more than $1 million, with the first stage of its presale selling out in just under a week.
Running on Ethereum, AiDoge employs artificial intelligence so that its users can create fun and relevant memes to share with its community.
By harnessing advanced algorithms in conjunction with a large dataset, AiDoge enables users to create memes simply by entering a text-based description, with no technical skill or knowledge required.
This low barrier to entry should help its community grow substantially in size, with users also able to up and downvote memes once they've been generated.
Even better, the most highly rated memes will earn their creators rewards in $AI, the platform's native token.
This basic concept has been more than enough to attract a strong influx of early investors, with new investors able to join the presale by visiting its official website and connecting their wallets.
One 1 AI token now costs $0.0000264, a price which will rise to $0.0000336 by the time the presale ends and the coin lists on exchanges.
---