Winklevoss ETF Rejected, Bitcoin Drops
Crypto investors Cameron and Tyler Winklevoss, the twins best-known for their conflict with Mark Zuckerberg during Facebook's early years, for the second time had an application for a bitcoin-based exchange traded fund (ETF) rejected by the US Securities and Exchange Commission (SEC).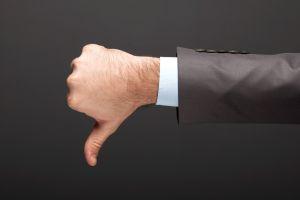 Bitcoin dipped below the USD 8,000-mark on Thursday evening following the news, in what can best be described as a healthy pullback following the strong surge in prices on Monday and Tuesday.
Bitcoin price chart: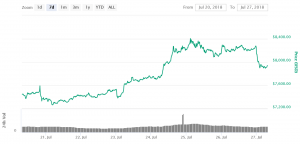 On Thursday, the proposal filed through BATS BZX Exchange to list the "Winklevoss Bitcoin Trust" was voted down 3 to 1 by the SEC.
The rejection marks the second time the Winklevoss twins have had a proposal for a bitcoin-backed ETF disapproved by the SEC. In response to the regulator's concerns from earlier, the twins this time argued that bitcoin markets in general, including their own Gemini Exchange, are "uniquely resistant to manipulation."
The SEC listed in its decision "protection of investors and the public interest," as well as insufficient "means to prevent fraudulent and manipulative acts and practices" as key reasons for its conclusion. However, the commission also noted that the disapproval is not based on an evaluation of whether bitcoin "has utility or value" as an investment or not.
In a statement, commissioner Hester M. Peirce, who voted against the decision to block the ETF, said:
"More institutional participation would ameliorate many of the Commission's concerns with the bitcoin market that underlie its disapproval order," she said, adding that the ruling "sends a strong signal that innovation is unwelcome in our markets."
Despite this week's disapproval, the ETF application with perhaps the best odds of receiving an approval is still under consideration by the SEC. That proposal, filed by financial firm VanEck through the Chicago Board of Options Exchange (CBOE) – one of two futures exchanges where bitcoin is traded – is "nearly certain" to receive an approval, according to an anonymous former SEC employee.
However, the recent bitcoin rally may turn out to do more harm than good for the prospects of getting an ETF approved by the SEC this year, another report suggested.
An ETF would allow the average Joe to buy and sell bitcoin without having to go through an exchange – something that, as everyone hopes, would significantly improve adoption.
---