Will RenQ Finance (RENQ) replicate the success of Floki Inu (FLOKI) or Baby Doge Token (BABYDOGE)? Experts believe it might comfortably outperform them
Disclaimer: The text below is an advertorial article that is not part of Cryptonews.com editorial content.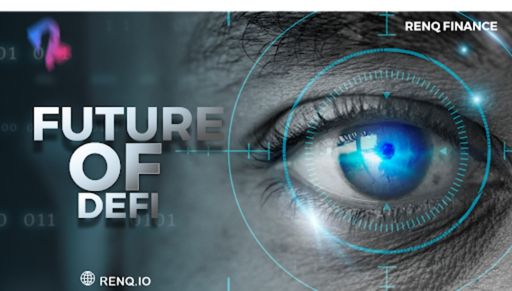 The Crypto market has seen the rise of several assets and that is not about to stop.
Baby Doge token and Floki Inu have been among the successful cryptocurrencies in the past; having brought substantial profits to investors. A new crypto king is however on the horizon - RenQ Finance.
Crypto experts are comparing RENQ to the likes of BABYDOGE and FLOKI, the new crypto kings. There are indications that RENQ will follow in the footsteps of these two assets and replicate their success. Moreover, many experts believe that RENQ tokens will outperform both BABYDOGE and FLOKI.
Baby Doge (BABY DOGE)
Baby Dogecoin is a deflationary token intended to get scarcer over time. By merely keeping Baby Doge coins in your wallet, all Baby Doge holders will automatically receive extra Baby Doge. As Baby Dogecoin holders automatically receive a 5% fee from each on-chain transaction that takes place in the Baby Doge ecosystem, you can see the amount of Baby Doge in your wallet increase. The fees collected by each transaction increase the number of baby doge coins available to the community.
It has enjoyed a great deal of success having reached an all-time high of $6.2 in the 2022 bear market bringing its ROI to over 800% since inception for investors. However, it has fallen from the success recorded and now trades around the $2 mark as of writing.
Floki Inu (FLOKI)
Floki Inu is a new cryptocurrency that was created by fans and members of the Shiba Inu community. The coin's mascot, Elon Musk's Shiba Inu named Floki Inu, has a craving for space snacks and is designed to be hyper-deflationary, rewarding holders with additional coins for each transaction. As you love and pet your little Floki Inu, you can watch him travel to Mars.
Although FLOKI reached an all-time high of $0.00034 in 2021, it has since lost over -80% of its value and is currently trading at $0.00004 as of writing. In comparison, experts believe that RENQ will surpass Floki Inu's achievements.
>>>>> BUY RENQ TOKENS HERE <<<<<
RenQ Finance (RENQ)
RenQ Finance has a superior utility compared to the FLOKE & BABYDOGE meme coins with very little or no utility.
RenQ boasts of a bigger, better, more innovative, and more revolutionary ecosystem. Experts say this superior utility will make RenQ comfortably outperform both meme coins in profits.
RenQ Finance is a revolutionary DeFi solution that improves on shortcomings in earlier DeFi platforms; it combines the advantages of a centralized exchange in a decentralized system and is built to function through a community (RENQDAO), In contrast to what is known about centralized exchanges like Binance or Coinbase, decisions are made by a unanimous vote within the community.
RenQ is an innovative, multi-chain, non-custodial platform that will function independently without compromising the user's identity and allows wallet transactions without compromising the User's custody (ownership) status of wallet funds.
RenQ is a unified platform for a decentralized world; RenQ Finance can be utilized as a Decentralized Exchange (DEX), Decentralized Application (dApp), and Decentralized Autonomous Organization because it is an all-in-one DeFi solution (DAO).
RenQ Finance is on a mission to create a revolutionary protocol that will connect all isolated blockchain networks in the DeFi ecosystem. By doing so, RenQ aims to establish a cross-chain exchange network that will make these networks more relevant and useful through its platform. This approach allows transactions that were previously only possible within a network to be executed across borders, opening up new opportunities for users.
RenQ's innovative Swap feature allows users to trade and exchange tokens from other platforms at a lower cost. This functionality enables RenQ to facilitate cross-chain transactions, making it an essential player in the DeFi space.
In contrast to its counterparts like FLOKI, RenQ Finance is positioned to become a giant in the crypto market, with the potential to outlast its rivals. Its unique approach and innovative features have set it apart from the competition, and it is expected to achieve greater success in the long run.
Click Here to Buy RenQ Finance (RENQ) Tokens.
Visit the links below for more information about RenQ Finance (RENQ):
Website: https://renq.io
Whitepaper: https://renq.io/whitepaper.pdf
---