Will Ethereum Prices Rebound In 2021?
Disclaimer: The Industry Talk section features insights by crypto industry players and is not a part of the editorial content of Cryptonews.com.
3 Reasons Why Analysts are Bullish on Ethereum Prices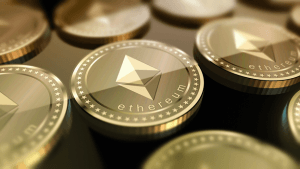 After a spectacular rally between May 2020 and April 2021, the cryptocurrency market has come to a screeching halt. Several digital coins including Bitcoin and Ether have lost over 50% in market value in the last three months. While the volatility has not surprised crypto enthusiasts, relatively new investors will be feeling the heat especially if they entered the market near record highs.
Alternatively, if you are bullish on the long-term prospects of cryptocurrencies, the ongoing bear market presents an opportunity to buy the dip. According to a Statista report, there are close to 6,000 cryptocurrencies in circulation, up from just 66 in 2013 and 1,300 in 2017. However, similar to investing in stocks, it makes sense to place your long-term bets on the largest players in this highly volatile but equally disruptive space.
Why is Ethereum popular?
Ether is the second-largest cryptocurrency with a market cap of 232 billion USD. Ethereum is a decentralized open-source platform that is used by other cryptocurrencies as well for effecting smart contracts on the blockchain.
The Ethereum blockchain was first introduced via a whitepaper published by Vitalik Buterin back in 2013. Buterin obtained funding for the project by crowd-funding this idea in 2014 and the blockchain platform was launched a year later in July 2015. In August 2015, the price of a single Ether was just 0.75 USD and has since risen to 1,991 USD. It means early investors would have clocked gains of a staggering 265,300%. For example, a 100 USD investment in Ether back in 2015 would be worth close to 266,000 USD today.
According to Coinmarketcap, "Ethereum's own purported goal is to become a global platform for decentralized applications, allowing users from all over the world to write and run software that is resistant to censorship, downtime and fraud."
It has already established the fundamentals of a smart contract platform on the blockchain, which is basically a computer program that allows users to execute digital contracts between multiple parties online. It's a trustless system that aims to reduce transaction costs while increasing reliability.
Noted investment bank Goldman Sachs expects Ether to gain pace over the upcoming decade and even surpass Bitcoin to lead the cryptocurrency market. Goldman Sachs explains Ether is a digital asset with solid real-use potential due to its popularity among smart contract developers.
Let's see a few other reasons why analysts are bullish about Ethereum as we move towards 2021. According to FXLeaders, the price of Ether is forecast to range between 3,500 USD and 4,000 USD by the end of 2021 and might range between 6,500 USD and 7,000 USD in the next 12-months. By the end of 2025, the price of Ether might rise to trade between 20,000 USD and 25,000 USD.
The explosion of DeFi
DeFi or decentralized finance is a financial system built for the digital age. It aims to replace the current system that is largely controlled by governments and regulators. Further, the Ethereum blockchain is the foundation for DeFi as no single individual or entity owns the platform or the smart contracts that are part of its ecosystem.
At the end of April 2021, there was around 100 billion USD of fiat money locked in multiple DeFi projects.
The rise of NFTs
Another trend that has captured the imagination of the global populace this year is NFTs or non-fungible tokens. NFTs are basically unique tokens that represent ownership of items such as a collectible or artwork. These tokens can be used to symbolize ownership of several assets that are unique and non-fungible including domain names, physical items as well as digital content.
Right now, all NFTs are tokenized on the Ethereum blockchain which is expected to drive the demand for ether higher. The NFT market has surged by a monumental 2,100% on a sequential basis in Q1 of 2021 to 2.1 billion USD.
Ethereum 2.0
The cryptocurrency space has come under the pump due to the amount of energy the sector consumes for mining coins. Earlier this month Tesla CEO Elon Musk rolled back his decision to use Bitcoin as a form of payment for buying the company's electric vehicles due to this very reason.
Now, the second-largest cryptocurrency is on its way to silence its critics and is focused on lowering energy consumption via Ethereum 2.0. This updated version will move from proof-of-work to a proof-of-stake mechanism which will reduce energy use by 99.95%.
The final takeaway
We can see why the widespread adoption of Ether is on the cards as it not only enjoys a leadership position but also multiple competitive advantages over peers due to real use-case potential.
---