Why Whales are Accumulating Swords of Blood Presale Tokens
Disclaimer: The text below is a press release that is not part of Cryptonews.com editorial content.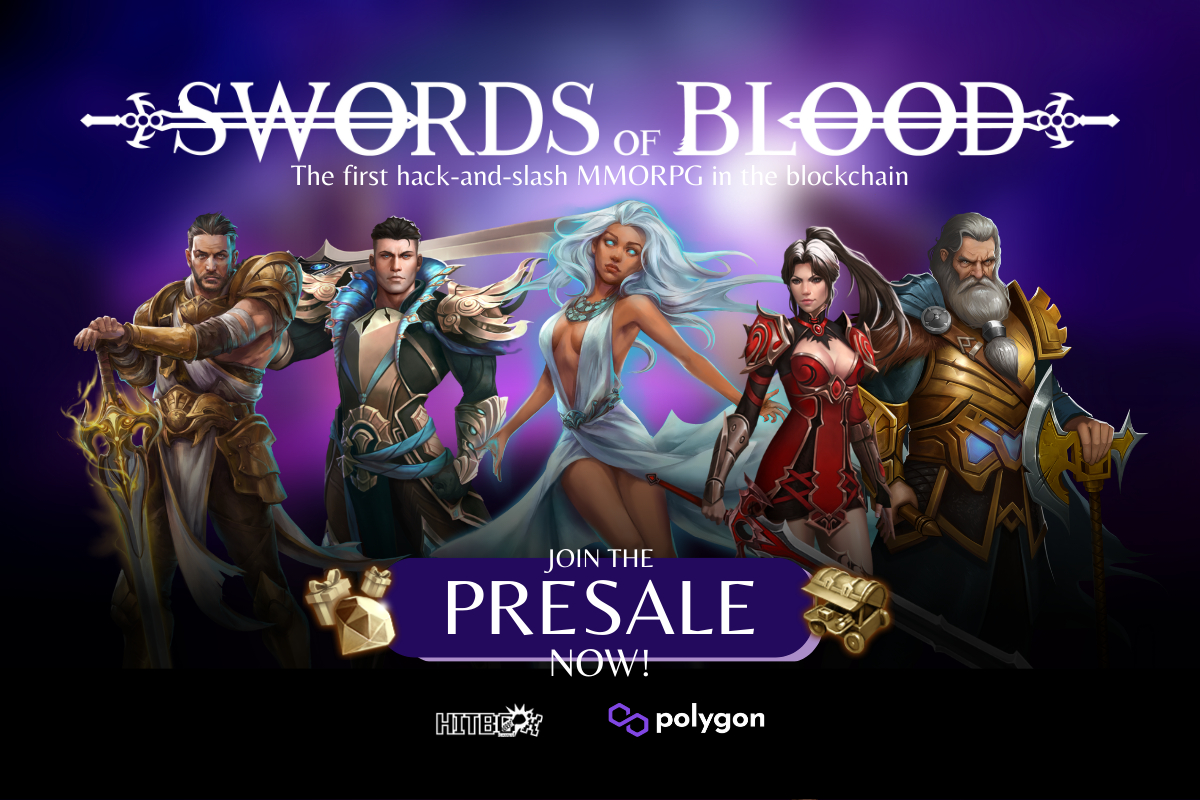 The latest cryptocurrency to seize the attention of whales is SWDTKN – the native cryptocurrency of Swords of Blood. Owing to the massive influx of investors, the SWDTKN presale has crossed the $1M milestone within days of going live.
At this pace, the presale will sell out ahead of schedule, forcing a large share of potential investors and gamers to buy the token from crypto exchanges for higher prices. SWDTKN is selling for a heavily discounted price of $0.054 in the first stage of the presale. In three days, it will move to the second stage, with a price increase to $0.070.
Flashy combat, stellar graphics, and vibrant game modes
Gaming has long been a guilty pleasure for even the most passionate gamer. Not shocking, since the gaming industry is largely predatory in nature. While you put all your time (and sometimes money) into these riveting virtual challenges, it gives you nothing but regret and remorse in return.
Blockchain gaming has tried to overhaul the industry in the last few years with crypto incentivization and NFT ownership. It rewards people for their time, skills, and dedication. And the ownership of the in-game assets is recorded on the blockchain, ensuring transparency and decentralization. As a result, many blockchain games grew to become an excellent source of income for gamers, however briefly.
Swords of Blood enters the rich blockchain gaming market with unique gameplay and gaming model. A closer look at the gaming theme, set in the World of Ezura, reveals that Swords of Blood is one of the most gripping games to enter the blockchain space in recent times. The game has flashy combat, stellar graphics, and various game modes that are on par with the top traditional games. It is the world's first AAA-quality, fast-paced F2P hack-and-slash RPG on the blockchain.
Swords of Blood stands apart in the crowded play-to-earn market, which has proven to be unsustainable over the years, with a free-to-play game rooted in a play-to-own economy. It is built on the framework of an award-winning title that was initially released by Artifex Mundi. Hit Box Games LLC has acquired unlimited rights to publish a complete reimagination of the game.
Unlike anything seen before in Web 3.0
The MVP of the game features attractive asynchronous modes that have already captivated gamers. This includes main campaign dungeons in three difficulty levels, Monster Hunt Dungeons, Boss Fortress, and Daily Dungeons, to name a few. The team's plan is to build an MMORPG as the game modes become synchronous and more features are integrated into it.
Payment support from multiple chains and fiat currencies via SphereOne and Simplex.
A play-to-own rather than a play-to-earn game.
Brand new and more engaging F2P mechanics
4, 8, and 16-player PVP modes
New soundtrack featuring members from many famous acts such as Disturbed and Trivium.
Weapons specialist and creator, Ben Abbott, from the famed show forged in fire.
E-Sport Micro Tournaments
Community-based gaming with guilds and clans
G.U.T.'s, game utility tokens (NFTs) that can be used in-game and sold in the open market.
150-hour game expansion pack, the narrative of which is written by members from Cyberpunk, The Witcher, Gord, Command and Conquer, and Ghost Recon.
Community-based communication areas, and the team is in talks about integrating VR capabilities.
4 million USD planned in added development
40% of all tokens and payments brought in will be managed by the project's market-making team.
Swords of Blood will have many play-to-earn mechanics and monetization streams. But its primary mode of attracting players is the game itself, with a focus on the fun factor. It is designed for long-term player retention and sustainable growth.
Why buy $SWDTKN when Swords of Blood is a free-to-play game?
As mentioned above, the Swords of Blood economy is designed to be sustainable. We have seen how people like to splurge on games if they find the gameplay riveting. World of Warcraft, Diablo, and Lost Ark (all great MMORPGs) are good examples. Although Swords of Blood is a free-to-play game, it will launch exclusive, premium content that can be only unlocked by $SWDTKN.
In addition, you will need the token:
To get past a certain hero level
To get past a certain threshold for PVE/PVP content
To level up your items using Gold and Gems
To access Tournaments, PVP Season Ranks and acquire Battle Passes for the season
To buy in-game Gold, which you need to level up your Bladebound's gear and crafting
To buy in-game Gems, which are used to access exclusive content
To access exclusive content and battle passes
To unlock rankings, seasons, and exclusive content
If the game wins the approval of gamers, the price of SWDTKN will go through the roof. The game trailer and white paper instill faith in the project. That also explains the investor rush to the game. If you're thinking about buying the token, the best time is now. The earlier you invest, the higher the discount. You can participate in the SWDTKN presale using $USDT, $USDC, $ETH, or $DAI.
---