Why RaisedX: Making Money Investing in Crypto the Smart Way
Disclosure: Crypto is a high-risk asset class. This article is provided for informational purposes and does not constitute investment advice. By using this website, you agree to our terms and conditions. We may utilise affiliate links within our content, and receive commission.
Disclaimer: The text below is an advertorial article that is not part of Cryptonews.com editorial content.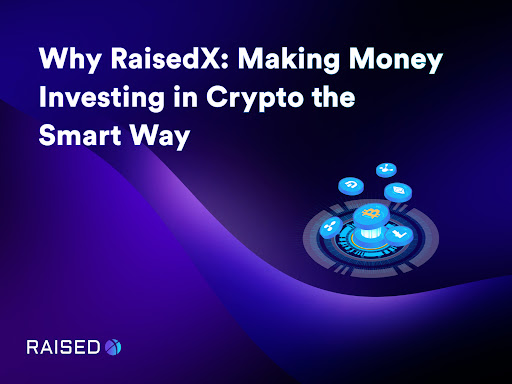 With over $25 billion raised globally by crypto startups in 2021 and just under $10 billion raised in the first half of 2022 despite less than perfect market conditions, the interest of investors in the crypto space is not abating anytime soon. As blockchain continues redefining the boundaries of what is possible and carving out new ways of creating and transferring value between humans, it is important that everyone is carried along and that no one is left behind. However, despite the unmistakable interest and opportunities in the blockchain space, the funding space is riddled with problems. From one end, only projects that can raise considerable seed capital or have connections get the exposure and traction to be listed on major IEO platforms. This translates to hundreds if not thousands of legitimate projects with enterprising founders that never see the light of day. For the projects that scale through the initial hurdles of listing on expensive IEO platforms, every day small crypto investors are almost always excluded from an equal opportunity to invest, skewing opportunities in favor of big-time and institutional investors or crypto whales.
RaisedX: Our Solution
RaisedX is a public token sale-only platform built with a simple idea; to give every small and medium crypto enthusiasts an equal opportunity to invest in legitimate and promising blockchain projects at their early stages. We are creating a low-barrier, easy-to-access, and safe marketplace where any public investor can put whatever they can afford into vetted crypto startups with the goal of getting high returns on their investment. We are creating a melting point that brings together visionary founders with willing investors in a safe and conducive portal that allows startups to raise the funds they need and investors to get first rights to budding projects within their budget.
Our Background
RaisedX is the brainchild of a core team of 8 finance, technology, and business professionals with decades of combined experience in the blockchain space. Led by consummate corporate banking and finance expert, and DeFi startup founder Denis Molozhavyy, the RaisedX team boasts of authorities with unique experiences from the investing and founding facets of crypto, people who intimately understand the pain points faced by startups and small investors alike. The team came together to bring RaisedX to life after being contacted by countless teams looking for a way to launch public token sales of their projects. With over 20 such requests per week currently, the RaisedX team is confident that it will bring some exciting opportunities for public crypto investors in the months and years ahead.
Why RaisedX
The RaisedX IEO platform is all about inclusion, for investors and startups alike. Our platform comes with basic free registration which guarantees participation opportunities in all token sale events on the platform. We are a beginner and small investor-friendly platform with entry allocations ranging from $200 to $1000. Beyond token sale participation, RaisedX users will have unfettered access to our in-house centralized exchange which lists exclusive new tokens allowing our users to buy, sell, and adjust their portfolio holdings with ease. RaisedX will also have an agile social media presence with VIP accounts to be won by followers of our social channels. Being a VIP account holder offers perks like getting a 100% chance to fill your allocation space for any token sale on the platform.
RaisedX Will be There When You Need Us
Taking customer support to the next level is a solemn commitment of the RaisedX team. Apart from our 24/7 customer support channel via email, we promise to be wherever you are so you can speak to us and forward your complaints and suggestions where you are most comfortable. RaisedX will have a dedicated team on Telegram, Twitter, and other social media to respond to you immediately whenever you have a pressing matter that needs to be addressed. A dedicated chat portal will also be available to attend to your trading inquiries. RaisedX is also rolling out a treasure trove of helpful content and a continuously updated FAQ section to make our customers' experience better as they seek lucrative opportunities in the projects we list. To complete the inquiry and feedback circle, RaisedX will keep an open suggestion channel for users to bring up features and additions they'll like to see next. We promise to give each suggestion our attention and serious consideration.
More Opportunities and More Wins for All
Blockchain will continue to make its mark in our lives as humans in the times ahead. RaisedX strongly believes that for the space to fulfill its decentralization mantra, opportunity must be shared equally. Whether you are an investor looking for a viable project to get into early, or you are a founder looking for funds to bring your project to life, RaisedX is a welcoming port of call that makes your life easy in this respect. We look forward to seeing you all on the inside as we begin the next chapter of making smart investment opportunities and innovation in crypto accessible to everyone.
To celebrate our launch, we're launching AirDrop for our users. Hurry up and get involved!
Link to Gleam: https://bit.ly/launchgleamraisedx
Link to our website: https://raisedx.io
---