Why Pay Market Price for Your Bitcoin? Do This Instead
Disclosure: Crypto is a high-risk asset class. This article is provided for informational purposes and does not constitute investment advice. By using this website, you agree to our terms and conditions. We may utilise affiliate links within our content, and receive commission.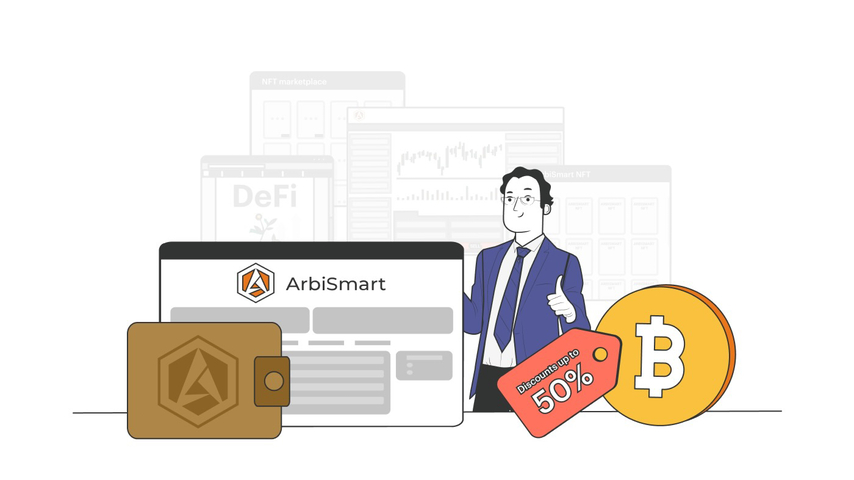 As we enter 2023, how about making your new year's resolution to earn a better profit from digital currencies?
One of the best ways you can do this is with an innovative new program from the ever reliable ArbiSmart project. The popular EU authorized interest-bearing wallet and financial services ecosystem is now guaranteeing you pay up to 50% off every single crypto purchase.
How to Pay Up to 50% Less for Your Crypto
ArbiSmart users can enter the Buy Crypto tab of the dashboard to buy crypto or FIAT and see a list of discount options of between 10% and 50% for their chosen currency purchase.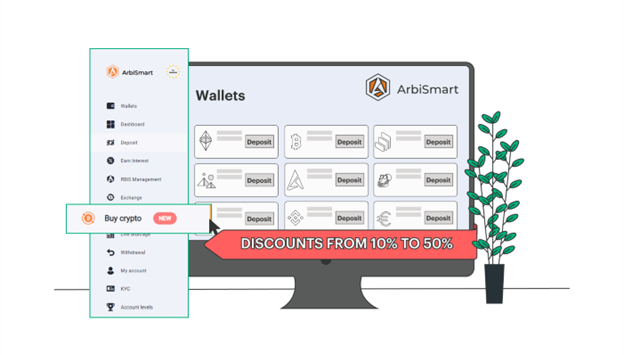 Discounts are available on all 28 currencies supported on the ArbiSmart platform ranging from BTC, ETH, and DOGE to USD, GBP and EUR.
Next to each discount percentage, terms are clearly presented for the buyer, prior to purchase. These include the length of the vesting period, and the amount of the currency being bought. In some specific cases, terms may also include keeping a pre-determined amount of ArbiSmart's native token, RBIS, in a locked balance for the duration of the vesting period.
So, how does it work? Well, if you decide to buy €2,000 worth of Bitcoin with a 30% discount, you will pay just €1,400. Then when the pre-set vesting period ends, you'll receive the full €2,000 worth of BTC.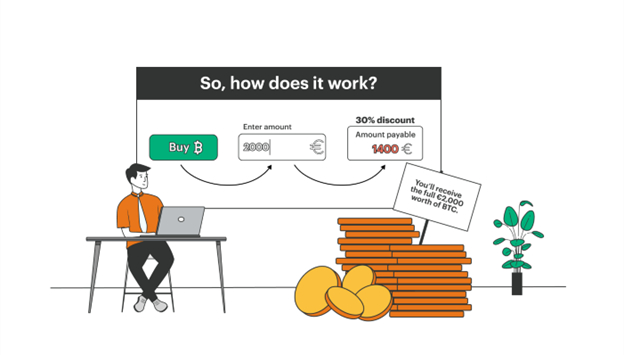 In certain scenarios, the discount program proves doubly profitable. For example, if you buy $1,000 worth of euro with 20% off, then if the US dollar subsequently drops against the euro you will have profited twice over.
It's worth noting that making a profit doesn't need to stop when the vesting period ends and you can withdraw your crypto.
How to Earn Post-Purchase Profits
ArbiSmart users who have purchased funds through the dashboard, often choose to store them in the project's interest-bearing, FIAT and crypto wallet that generates up to 147% APY. The exact rate is primarily based on the user's account level, which depends on how much RBIS they hold. So, while you can still earn a basic rate of interest without holding any tokens, owning more RBIS means a higher account level and a better interest rate on savings plans in all supported currencies.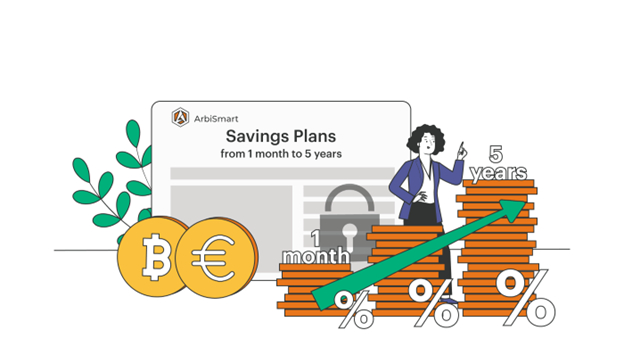 Also, BTC, EUR or any other currency can be locked in savings plans for a wide choice of time frames, ranging from as short as 1 month to as long as 5 years, with better rates the longer the length of the plan. Savings balances in all supported currencies will generate interest, though those in RBIS will earn a higher return.
In addition, the way interest is received can impact a wallet holder's bottom line. The daily payout can be sent to an available balance, accessible for withdrawal any time, or locked in the savings balance along with the capital on which it is being earned. Alternatively, for the highest return it can be received in RBIS, even if the capital on which it is being earned is in a different currency, and locked until the plan expires.
All these RBIS utilities are expected to drive demand for the token, as the restricted supply diminishes, with crypto analysts projecting a dramatic rise in the value of the token from its current price of under 50 cents to over $2.8 by the end of the first quarter of 2023.
One more reason for this positive outlook for ArbiSmart's native token in the year ahead is the stream of new RBIS utilities in the pipeline for H1 2023, including a professional crypto exchange, an NFT marketplace and a DeFi protocol, offering a staking service, with never-before-seen gamification features, where exclusive ArbiSmart NFT's will have unique characteristics for boosting a yield farmer's APY.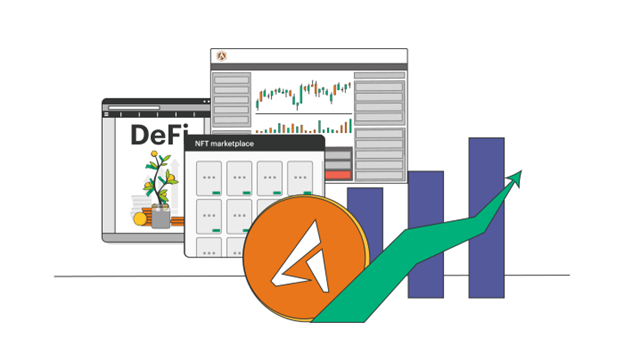 As the RBIS price grows, anyone who buys crypto with a purchase condition to lock a certain amount RBIS for the duration of the vesting period will benefit from potentially huge capital gains.
Why not give it a go? Buy crypto with up to 50% off! 
---