Why Integrating NFTs into Real-Life Events Will Promote Mass Adoption
Disclaimer: The text below is an advertorial article that is not part of Cryptonews.com editorial content.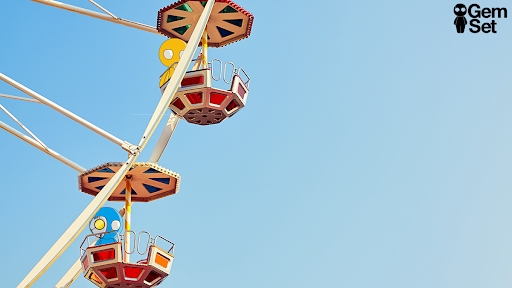 Universal Studios theme parks are now jumping on the NFT wagon and integrating non-fungible tokens into real-life events. This week, the entertainment company announced it is offering visitors a Halloween-themed NFT Scavenger Hunt through October 31st at its parks in California and Florida. Each park has seven hidden QR codes that, when scanned, will generate an NFT. Visitors who discover and scan all seven will receive a unique NFT, which will unlock extra benefits. Moonpay, the crypto payments firm that is collaborating with Universal on the initiative, revealed that 7 million NFTs are up for grabs.
Despite the abstract nature of NFTs, there is a growing interest in them and the entertainment business is taking notice. As the global capital and prestige worth of NFTs skyrockets, ideas emerge about how entertainment professionals might leverage their enthusiasm to boost participation and community building.
The ETHer Hunt Hosted by GemSet
In April earlier this year, GemSet NFT held a similar scavenger hunt during Coachella - the annual music and arts festival held in California. GemSet gave away $10,000 worth of diamonds hidden in easter eggs for the ETHer Egg Hunt. Event attendees also scoured the resort grounds hoping to find QR codes leading them to wallets filled with Ethereum, diamonds, private jet credits, and NFTs.
"The reason we're doing IRL activations is to bring awareness, showing that this is real," said GemSet Artist Johnathan Schultz "Many collections boast IRL activations or elements to their collection but don't really follow through. Showing up front that we're serious about our physical goods sets us apart."
Schultz is known for his ability to incorporate precious metals and diamonds into his iconic pieces of art. Some of his work was featured in Vault721's Inaugural Coachella Takeover, a three-day Web3 event held in Palm Springs, California. Physical GEM sculptures and diamonds were displayed throughout the property, while GEM NFTs were prominently displayed at the NFT art exhibit.
The event was enough to garner community enthusiasm for the upcoming GemSet NFT launch. GemSet is a collection of 10,000 generative NFTs that are associated with real, physical diamonds. Johnathan has also personally picked and hand-drawn over 180 traits. Currently, the collection consists of the GemSet Mint Pass in Drop1 and GemSet NFT in Drop 2. Holders of GEM will also have the opportunity to claim high-quality prizes including original pieces created by Johnathan, Gem statues, physical diamonds, prints, and more. More information about the GemSet NFT collection and upcoming drops will be revealed throughout GemSet's twitter and website.
Media Details
Company Name: GemSet
Website: https://www.gemset.io
Mail: [email protected]
---