Why is HDAO Token Making a Leap Higher Today
Disclaimer: The text below is an advertorial article that is not part of Cryptonews.com editorial content.
💥 HKD.com's HDAO Platform Token surges as the crypto exchange applies for a license to operate in Hong Kong.
💥 HKD.com will explore a new trading venue that would cater specifically to Hong Kong as a means to facilitate transactions in a compliant manner.
💥 The likelihood of this application pulling through.
What Happened?
As of 2:35 pm GMT on Thursday, HDAO Token ($HDAO) has skyrocketed 134.5% over the past 24 hours. That's right - while the overall cryptocurrency saw a mere increase of 0.75% over the same time frame, HDAO has outperformed the entire market.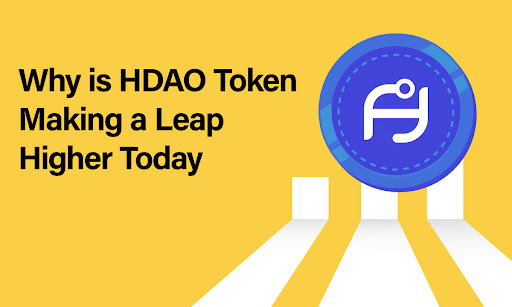 Why Does It Matter?
HKD.com's Founder and CEO, Kelvin Yeung, announced that HKD.com is moving forward with an application for a trading license in Hong Kong. This license would allow HKD.com to become an established and trusted exchange for users in the special administrative region of China to trade crypto. Additionally, Yeung included that their management team is currently exploring the possibility of establishing a new trading venue that would cater specifically to this initiative, which will facilitate "fully compliant" transactions in accordance with Hong Kong laws and regulations.
What to Expect?
Now the question we should ask ourselves is whether or not these potentially bullish catalysts will actually pull through. Most investors are well familiar with China's strict stance when it comes to the trading of cryptocurrencies. Indeed, given President Xi Jinping's stance on crypto thus far, perhaps investors would feel wary that this may once again be all bark and no bite.
Interestingly, comparing this to the nation's previous "zero COVID" policy, we can also assume that China's "zero CRYPTO" policy could possibly be coming to an end. If an experiment in Hong Kong works, and the nation's leaders can feel safe that the allowance of crypto trading can be proliferated in a regulated and contained manner and won't cause the communist party any harm, we may well expect something extremely bullish about this.
Since its incorporation in 2020, HKD.com has become one of Hong Kong's most iconic and eye-catching cryptocurrency exchanges, with its head branch sitting in the heart of the city's CBD, offers both an online platform and physical branches that enable the buying and selling of cryptocurrency with cash and bank wire. The exchange currently operates Hong Kong's largest crypto ATM network, with more than 15 machines spread contagiously around Hong Kong's busiest business and residential districts, and is catering to over 3.2 million local residents' crypto needs.
---