Where Next For The Bitcoin Price? Crypto Community Can Become Their Own Bank With Collateral Network (COLT)
Disclaimer: The text below is an advertorial article that is not part of Cryptonews.com editorial content.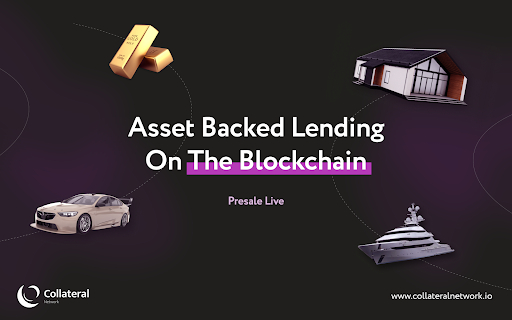 Bitcoin (BTC) has recently been making significant gains, and many predict it will surpass $30,000 in the upcoming weeks. However, with the volatility in the crypto market, it's difficult to make accurate financial investments. But what if you could become your own bank and have more control over your financial decisions? That's where Collateral Network (COLT) comes in, offering decentralized services that give investors freedom and autonomy.
What Is Collateral Network (COLT)?
Collateral Network (COLT) has revolutionized the concept of asset-backed lending with a user-friendly platform that allows people to easily borrow money against their real-world tangible assets. The borrower needs to send its asset to Collateral Network (COLT), where they are authenticated and minted as fractionalized NFTs. Afterward, the asset will be stored safely until the loan is repaid.
Unfortunately, banks will not allow you to take loans on most assets, whereas Collateral Network (COLT) allows vintage cars, wines, watches, and more. These asset-backed fractionalized NFTs are then sold to lenders, who earn a fixed interest on their investment. However, if the loan is not repaid, the physical asset will go to Collateral Network's (COLT) auction, where COLT holders can buy the asset below market value.
What sets Collateral Network (COLT) apart is the simplicity of the lending process, with the valuation of tangible assets being completed through AI. It also has institutional-level liquidity and multi-chain capabilities, improving speed and reducing gas fees.
During the first stage of presale Collateral Network (COLT) is available for only $0.01, with a 50% bonus if you lock your tokens. Experts say the coin has a projected growth of 3500%, so it's no wonder investors are scrambling to secure the token before it reaches $0.35.
Where Next for Bitcoin?
Bitcoin (BTC), the largest cryptocurrency, has been holding steadily above $27,000 after correcting its price from $28,000 levels the past week. While Bitcoin (BTC) has been struggling to break past the crucial resistance level of $28,000, experts remain optimistic about Bitcoin (BTC)'s future, citing the upcoming halving event in 2024. This is where the rewards for mining Bitcoin (BTC) are halved, and historical trends indicate Bitcoin (BTC) will surge in price shortly after.
Bitcoin (BTC) is still trading almost 65% lower than its all-time high, and investors should remain wary as the coin has an unpredictable short-term future, mainly due to the economic conditions of major markets such as the US, India, and the UK. In fact, India continues its tough stance against Bitcoin (BTC), and now all crypto-related transactions are under the Money Laundering Act.
Find out more about the Collateral Network presale here:
Website: https://www.collateralnetwork.io/
Presale: https://app.collateralnetwork.io/register
Telegram: https://t.me/collateralnwk
Twitter: https://twitter.com/Collateralnwk
---