What's Pushing Tezos Up?
Blockchain ecosystem project Tezos has seen its native coin XTZ jump in price by 20% in the past 24 hours (UTC 02:30 PM), following a steep increase this past weekend, both of which broke periods of relative stagnation by the coin. Now, the community is trying to figure out why.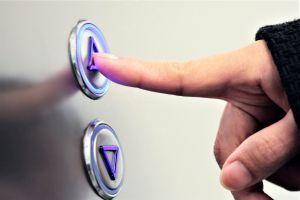 XTZ price chart: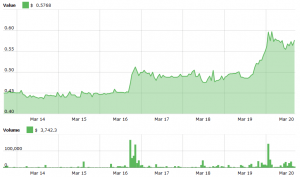 Cryptocurrency trader and analyst Luke Martin (a.k.a. Venture Coinist) started the debate around Tezos outside of its community by tweeting, "Why is everyone talking about Tezos?" Twitter user [Tezos] Blindripper (@Blindripper85) reminded the relevance of the Tezos Athens proposal: "We are also in the middle of proving that our governance is working."
Eugene Loza, a popular trader on the TradingView platform, known as EXCAVO, also claims he's bullish on Tezos: "After we found the bottom, the Tezos began to grow, now it looks very bullish."
However, the market sentiment around Tezos is stuck between the neutral and positive zones, according to Predicoin, a crypto market sentiment analysis service: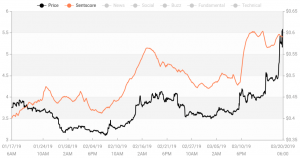 The Tezos Athens proposal is the first on-chain Tezos upgrade proposal, which is set to change gas limits and the amount of XTZ needed to vote in its Proof-of-Stake governance model called "baking." This proposal is currently in the first stage and is separated into two parts. The first proposal wants to increase the gas limit, while the second also wants that along with reducing the roll size to 8,000 XTZ for Tezos Proof-of-Stake. In the current Tezos consensus, a "baker" must have 10,000 XTZ to be randomly selected to propose or endorse a block.
The voting process seems to be going well: Jacob Arluck, developer at Tocqueville Group, a company working to advance the Tezos ecosystem, yesterday tweeted: "Voting participation rate (including [Tezos Foundation's] non-vote) has surpassed 80%, the [minimum] quorum for the next voting period!"
The Athens upgrade will also include an invoice. "For this first update, we decided to include an example of invoicing, an on-chain way to fund the development of protocol proposals. During the migration, the account of the authors of a proposal can be funded by creating a certain amount of tez. In this case, we chose a symbolic value of 100 XTZ, enough to buy a round of drinks for the [developers] who worked on these proposals. In the future, we hope this mechanism can be used to fund the work of new teams and help increase decentralization," announced Nomadic Labs, a research and development company formed by several of the lead architects behind the Tezos project.
---