Whales Hunt For New Opportunities: Polkadot (DOT) and Borroe ($ROE) Gain Traction Amid Ripple (XRP) Decline
Disclaimer: The text below is a press release that is not part of Cryptonews.com editorial content.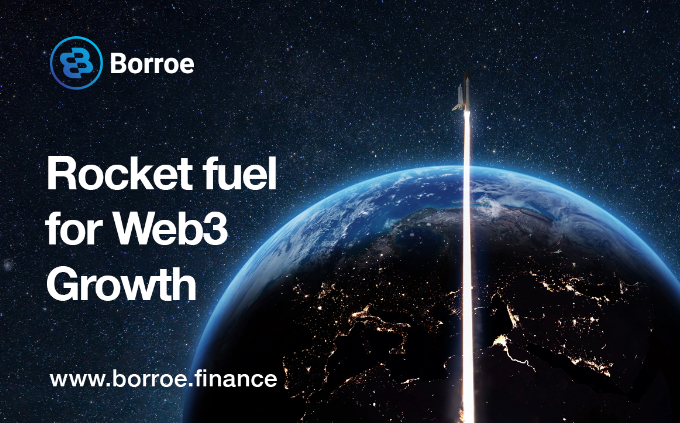 As the fortunes of XRP face headwinds, the spotlight shifts to Polkadot (DOT) and Borroe ($ROE), both gaining significant traction and captivating the attention of crypto enthusiasts.
$ROE and DOT are two strong players in the crypto market emerging assets for savvy investors looking to ride the next wave of digital asset prosperity.
Borroe ($ROE): Whales Are Diving In
Borroe ($ROE) is the fresh face that's making waves in the Web3 ecosystem. This dynamic marketplace, powered by blockchain and AI, redefines how content creators and businesses can access funding.
In a landscape where traditional financing solutions fail to meet the needs of Web3 startups, Borroe is stepping up with an audacious mission to empower businesses with short-term liquidity, bridging the gap between creativity and capital.
The $ROE token presale is an opportunity that has captured the attention of forward-thinking investors.
With Stage 1 currently in full swing at a meager $0.0125 per ROE, and the preceding Beta Stage selling out swiftly at $0.01 per token, the excitement is palpable indeed.
As Stage 2 approaches, with a price of $0.015 per $ROE, the presale journey promises to be thrilling, offering forward-thinking investors a chance to secure a stake in Borroe's groundbreaking vision for the Web3 ecosystem.
Borroe ($ROE) Pioneering the Next Era of Web3 Funding
Borroe's strength doesn't just lie in its promising $ROE token price. The team behind Borroe brings a wealth of experience to the platform.
The project is in capable hands, with Michael Price, a former VP at XE.com, and Maxim Prishchepo, a blockchain expert with knowledge spanning crypto trading systems to distributed data storage, at the helm of affairs.
Borroe's innovation is a force to be reckoned with. The platform's AI-powered risk assessment and blockchain-based solutions have created a new paradigm for revenue stream loans.
The marriage of NFTs and AI isn't just a technological marvel; it's a winning formula that's reshaping the Web3 landscape.
The $ROE tokenomics, underpinning Borroe's innovative ecosystem, boasts a total supply of 1,000,000,000 tokens, making it one of the scarcest assets on the market.
$ROE tokens are the gateway to Borroe's bustling marketplace, enabling users to access advanced analytics, priority customer support, and participate in the platform's governance.
Additionally, $ROE tokens unlock rewards and incentives, including participation in the marketplace's unique share-to-earn structure, amplifying its appeal as a transactional tool and a dynamic asset that empowers participants to engage and prosper within the Web3 landscape actively.
Borroe leaves no stone unturned when it comes to security and reliability. The platform's smart contract audit by BlockAudit is a testament to its commitment to security and transparency.
The Borroe ($ROE) smart contract address is also open for all to see, solidifying their dedication to openness.
Borroe is actively working on adhering to existing regulations and preparing for the ever-evolving landscape of crypto governance.
This commitment to compliance sets a new standard in an industry that sometimes feels like the wild west.
Investors Also Stacking DOT As XRP Faces Turbulence
Polkadot, the brainchild of Ethereum co-founder Dr Gavin Wood, commands attention with its innovative approach to blockchain interoperability.
As more projects harness the power of Polkadot's network, the growth potential is palpable. With a current price of $5, DOT is already showing great promise, and its upward trajectory has investors eagerly watching.
Ripple, the fintech company in charge of XRP, has navigated a tumultuous landscape marked by legal battles and regulatory scrutiny.
While Ripple secured a victory in its legal battle against the SEC on July 13, the market's response has been less exuberant than expected.
Despite a sharp spike to $0.93 after the ruling, XRP's price has been dropping ever since. Its current price of $0.632775 reflects an 11% decline over the past two weeks.
Popular Analyst, TraderSZ believes that more trouble awaits XRP in the upcoming weeks, as he predicts that the price could crash to $0.4479.
The sentiment surrounding XRP's future remains uncertain, and as the broader market undergoes fluctuations, investors seek sustainable opportunities.
As XRP navigates through uncertain waters, the spotlight turns to the innovative solutions that Borroe ($ROE) and Polkadot (DOT) bring to Web3.
Learn more about Borroe ($ROE) here:
Visit Borroe Presale | Join The Telegram Group | Follow Borroe on Twitter
---