Web3 Recycle2Earn App Ecoterra Presale Raises $4m, Buyers Must be Fast as Less Than 40% of Tokens Left
Disclosure: Crypto is a high-risk asset class. This article is provided for informational purposes and does not constitute investment advice. By using this website, you agree to our terms and conditions. We may utilise affiliate links within our content, and receive commission.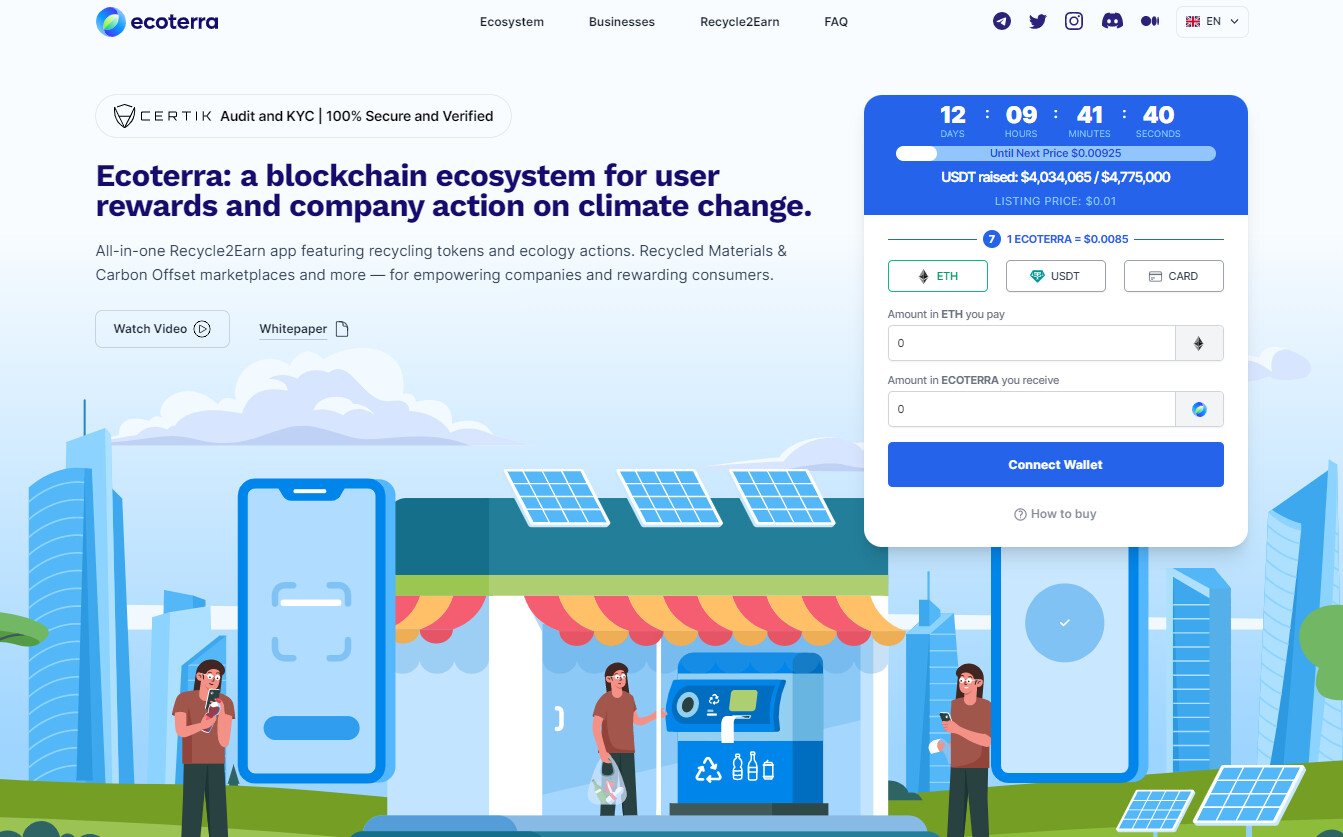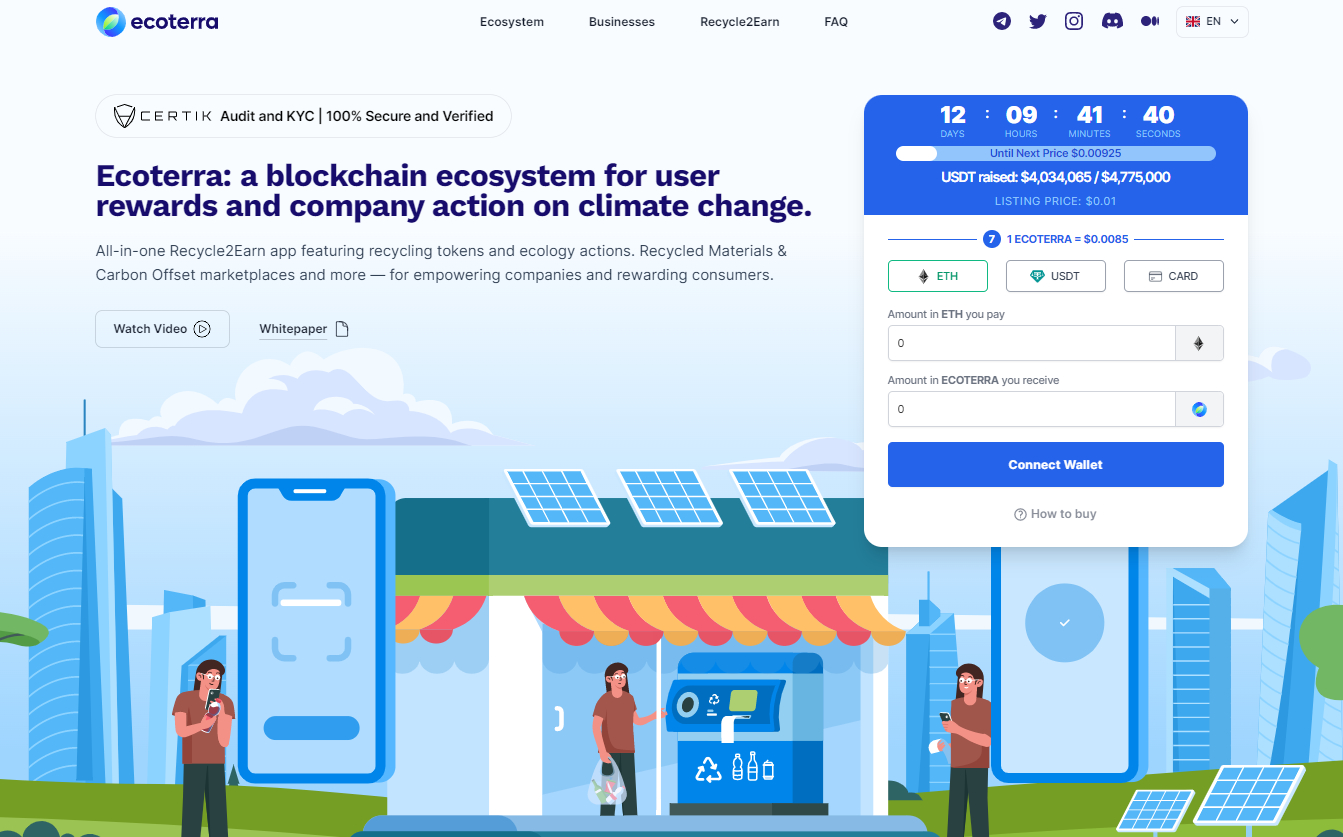 Friday May 19th 2023 – Marking a significant milestone in sustainable investing, ecoterra's $ECOTERRA token surged past the $4 million mark in its presale today.
Ecoterra is now in Stage 7 of its nine stage process and has now completed 60% of its fundraising, targeting a total of $6.7 million. It has taken the $ECOTERRA token just seven weeks to hit the $4 million milestone.
Each new stage comes with a price increase. $ECOTERRA is currently priced at $0.00850 and goes up to $0.009250 in Stage 8.
Ecoterra is launching a Recycle2Earn smartphone app later this year. Its plans have caught the eye of eco-conscious investors on the hunt for high returns from projects focused on mitigating the impacts of environmental degradation and climate change.
The project's business plan aligns with the aim of combating climate change through incentivizing recycling and empowering what it calls 'impact actions', where individuals, nonprofits and companies can commoditize activities that make a direct impact on improving our environment.
Those considering buying the $ECOTERRA token need to move quickly to avoid the next price rise and secure their token holding at the lowest possible price.
Demand for $ECOTERRA Skyrockets Amid FOMO
Such is the excitement surrounding the ecoterra project, crypto analysts predict 10x returns will be generated by the $ECOTERRA token.
To buy $ECOTERRA tokens investors will need ETH or the Tether stablecoin (USDT) in their wallets – connect on the ecoterra website to buy the token. Those new to crypto can purchase with normal 'fiat' money using a card.
When the presale ends, $ECOTERRA will list on exchanges at a price point of $0.01 – 150% above the Stage 1 price of $0.004 and 60% above the current Stage 4 price.
Ecoterra Leads with Innovative Recycle2Earn App
Recycling is an ecological necessity and a business opportunity, as humanity seeks to mitigate the impact of climate change and environmental degradation.
To help to achieve those ends, ecoterra has invented a rewards scheme for recyclers and a system to incentivize ecological impact action activities to improve our environment.
Ecoterra's Recycle2Earn app is the most important part of the ecosystem.
It is the smartphone app that enables users to access the three main pillars of the ecosystem: the recycled materials and carbon offset marketplaces and the impact profile that tracks ecology impact actions.
The platform will use a liquidity pool to handle token liquidity when the app is up and running.
The ecosystem liquidity pool will balance incoming $ECOTERRA from fees and packages purchased by companies with the outgoing $ECOTERRA used to reward users within the Recycle2Earn app.
The beta version of the Recycle2Earn app is expected to launch before the end of the year.
A Simple Recycled Materials Marketplace to Help Companies Recycle More
The ecoterra ecosystem is designed to empower companies and reward users for their eco-friendly and recycling efforts.
Ecoterra CEO Mihai Ciutureanu has been working on demonstrating these use cases for the past two years.
At the center of the ecosystem is the recycled materials marketplace that connects companies in need of recycled materials with recycling businesses offering those resources.
Through the implementation of advanced filtering, the marketplace ensures that the materials listed align with the specific demands of each buyer.
Payments are made with $ECOTERRA tokens or other crypto. Also, the purchase history can be integrated into a company's trackable profile for greater transparency, providing a verifiable way to guard against the problem of greenwashing.
To push forward corporate adoption ecoterra will target the initial group of companies by offering free trial packages to persuade them to join our ecosystem. By taking this approach it provides a way for companies to gain a fuller understanding of how ecoterra's ecosystem works.
Scannable Database of Recyclables Expands with Major Brands
The project has begun integrating global brands into the ecosystem. So far the brands added to the database include Vittel, Heineken, San Pellegrino, Pepsi, Fanta, Peroni and Dr Pepper, with more to be continuously added.
All the branded products in the ecoterra database will be recognized as scannable materials for which users of the app can earn rewards for recycling.
The team at ecoterra has years of experience in the recycling industry, enabling the project to move quickly to secure partnerships, such as with supermarket chain Delhaize (Lion).
Delhaize has a branch network in Europe, North America and Asia. In most of its stores reverse vending machines (RVMs) are available – a key element of ecoterra's circular economy-aligned recycling system.
RVMs accept recyclable materials as inputs and in return output a reward that also acts as verification of receipt.
CEO Ciutureanu adds: "We will be focusing on forming partnerships in the upcoming months. Our ongoing discussions have yielded promising results thus far."
NFTs Drive Ecoterra's Impact Actions for Environmental Innovation
Another innovative part of the ecoterra ecosystem is its use of non-fungible tokens (NFTs) to represent milestone 'impact action' achievements, as tracked.
All actions are tracked in the impact profiles and constitute the main input for each user's impact profile. By implementing NFTs to represent ecological actions such as tree planting or other ecologically beneficial activities, they become commodified and therefore tradable.
Impact action NFTs act to encourage all of us to take individual action to help protect our environment.
Another great ecoterra feature is the creation of an $ECOTERRA token income stream for those households and companies that are generating renewable electricity.
As domestic generation grows by leaps and bounds, this part of the ecoterra ecosystem will grow in importance.
Don't Miss Out on Ecoterra's Early-Stage, High-Impact Project
Ecoterra has exceptionally well thought through utility features and is the only product coming to market that offers a Recycle2Earn solution.
By investing in the ecoterra presale you will be backing a project that has a business model to mitigate the impact of climate change, while generating for its users and investors a profit at the same.
With ecoterra on the scene there is no longer an excuse not to recycle your garbage. The $ECOTERRA token is the monetary form of that incentive scheme and solves the problem in an elegant fashion of getting us all to recycle more effectively and diligently.
Ecoterra demonstrates how economic success can be aligned with ecology to produce positive outcomes for both the bottom line and the planet.
The presale is a rare chance to get involved at the early stage of a transformative use of technology by a startup that will deliver a solid revenue stream of rewards.

Visit ecoterra Now
---