Viral Web3 Freelancers Platform DeeLance Trending on Indian Twitter – Presale Selling Out Fast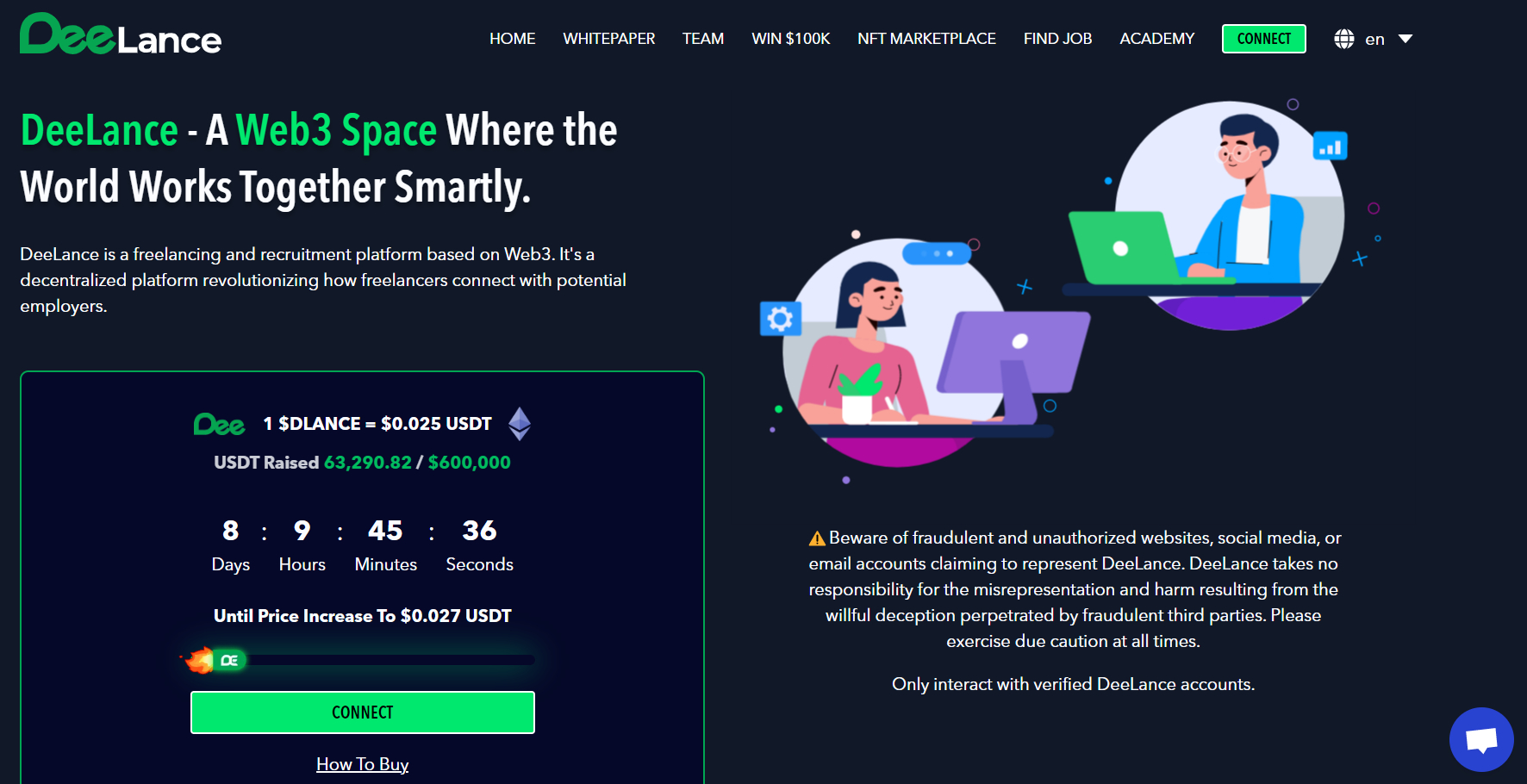 Web3 recruitment marketplace DeeLance is gaining massive traction for its mission to shake up the industry as it trends on social media.
Launching its presale only last week, decentralized hiring platform DeeLance has started trending on Twitter in India.
The hashtag #DeeLanceCoin was at No.3 on Twitter in a country of 1.4 billion people.
India's fast-growing economy and young, aspirational middle class make it an ideal market for gig economy platforms such as Deelance.
DeeLance Expected to be a Hit In Indian
With hundreds of thousands of graduates coming into the labor market every year, there is strong competition in the Indian jobs market.
Web3 recruitment marketplaces such as Deelance, that offer lower fees as well as more trusted and efficient ways of finding and hiring the right staff, means it is sure to be a hit in the country.
Already the fundraising for the marketplace, which will also leverage metaverse and NFT technology to power the ecosystem, has brought in $62,000 in next to no time.
The recruitment services industry is valued at a massive $761 billion globally in revenue terms, according to IBISWorld, so DeeLance is targeting a huge business opportunity.
DeeLance is going to take a chunk of that value by leveraging blockchain to make recruitment safer and more efficient.
Finding the right person for the job remains the number one issue faced by most employers and businesses.
Early DLANCE Investors To Secure Quick 40% Gain
The native token of the platform, DLANCE, runs on the Ethereum blockchain and is currently priced at $0.025 in Stage 1 of the three-stage presale.
Interested investors can buy DLANCE with Ethereum (ETH), Tether (USDT) or with a card over the Transak payment network.
DeeLance's presale first stage ends in 8 days, at which time the token price will rise to $0.027 in Stage 2 and then $0.029 in Stage 3.
Those buyers who get in on the lowest price are getting a discount of 40% on the exchange list price of $0.037.
Crypto analysts are already eyeing up the DeeLance project as the next crypto candidate to go ballistic when the DLANCE coin starts trading.
Total supply of DLANCE tokens is 1 billion (1,000,000,000), of which up to 30% (300 million) is on sale to the general public.
DeeLance Uses NFTs to Secure Work Ownership Rights
DLANCE derives its value from its utility as the only currency that can be used to purchase land in the DeeLance metaverse and transact within the NFT marketplace.
It is also used for office leasing, paying for advertisements and other services and features that come on stream as the ecosystem develops.
Ownership of digital work is embodied in an NFT digital token so that the recruiter can be sure that they have secured ownership of the work they paid for.
DeeLance is the only recruitment platform that incorporates NFTs and the metaverse into its operations at a foundational level, not as a gimmicky afterthought.
A freelancer's work can be safely stored as a NFT on the system, verifying ownership by its creator until delivery and settlement of payments due.
3 Reasons DeeLance Is a Future Winner
All the business logic of the transactions is embedded in smart contracts, dispensing with the need for a trusted third party and all the fees and time-wasting that can often involve.
Meanwhile, the seller is secure in the knowledge that they own their work until payment is released from escrow.
DeeLance's client fee is just 2%, the lowest in the industry, while its 10% freelancer fee also compares favorably against competitors.
Additionally, unlike with the existing platforms such as Freelancer, there is no withdrawal fee or delays because of currency conversion – payments with crypto are instant.
Other competitive advantages include no limit on task sizes, a scalable disputes system, super-efficient escrow, content ownership and enhanced staff recruitment features.
There's no time to lose to jump onboard the DeeLance presale for the Web3 return on investment opportunity of the year.
---