Web3 Freelance Metaverse DeeLance's Presale Jumps to Stage 4 as $1.2 Million Raised - Investors Race to Get In Ahead of 50% Price Rise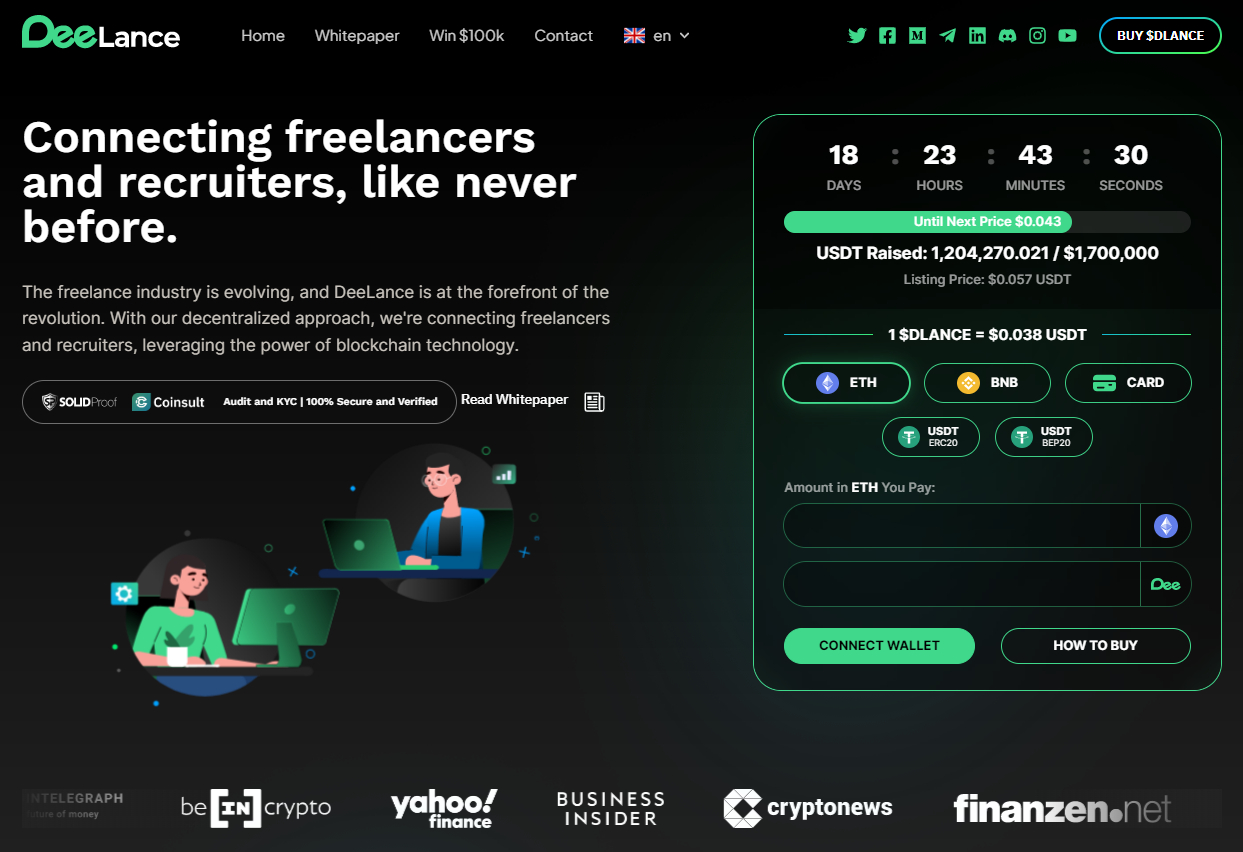 Tuesday, 30th May - Web3 freelance metaverse platform DeeLance, which has been touted as a potential game changer for the remote gig working industry, just hit a huge milestone in its presale.
The project has now raised a whopping more than $1.2 million via the sale of its native $DLANCE crypto token, despite fundraising efforts only having been launched a few weeks ago.
That means the presale has now entered its fourth stage and the $DLANCE price has risen to $0.038.
DeeLance is building an innovative, crypto and NFT-powered metaverse that unites freelancers and employers and promises to transform remote working forever, as well as the $761 billion-dollar recruitment sector.
Using the decentralization and transparency of the blockchain, DeeLance wants to remove overly powerful middlemen like Fiverr and Upwork that have been abusing freelance workers and employers alike for the last decade.
And there is no time to lose for investors that still want to get in early on the DeeLance project, which crypto experts have hailed as one of the most promising crypto start-ups of 2023.
That's because when the presale hits $1.7 million, the $DLANCE price will rise 13% to $0.043.
Meanwhile, there are only four presale stages left, with fundraising efforts to halt once $DLANCE sales hit a total of $6.8 million.
$DLANCE will then list across major cryptocurrency exchanges for $0.057 later this year, meaning investors who get in now could be sat on paper gains of 50%.
Adding to the excitement is a massive $100K $DLANCE token giveaway competition that DeeLance is conducting.
Four lucky investors that own at least $100 worth of $DLANCE tokens must complete eleven tasks, which include joining DeeLance's multiple social media platforms, to qualify.
DeeLance Presale Picking Up Project Secures Major VC Investment
The surge in DeeLance's presale comes just after the revolutionary web3 platform secured a massive strategic investment from a venture capital firm.
Bitgert Ventures will invest $1.12 million in DeeLance to help fund the development of its blockchain-powered metaverse.
Bitgert Ventures focuses on investing in "decentralized infrastructure, ecosystems, and applications that have the potential to reshape".
The firm's investment in DeeLance is a strong endorsement of the project that might open the door to further intuitional funding.
Meanwhile, given its wide portfolio of investments across the web3 space, Bitgert can provide valuable expertise, connections and business opportunities for the DeeLance project.
That should give the DeeLance team a massive boost as they work hard to deliver on the project's roadmap pledges over the coming quarters.
Bitgert has invested in promising up-and-coming crypto projects including JulSwap, a cross-bridge exchange, OKSE, a prepaid crypto card based on web3 wallet technology and carbon, a decentralized web3 browser.
To match the big VC investment that the project just secured, DeeLance just updated its website to deliver a more professional feel.
Importantly, the new website comes with a new feature that allows $DLANCE investors to buy the token with BNB and USDT (the BEP-20 version) via the Binance Smart Chain (BSC) network.
How DeeLance's Platform Will Revolutionize Remote Freelancing
DeeLance's metaverse can be thought of as a blockchain-powered, work-focused digital space that is designed to empower both freelancers and employers with lower fees than existing major web2 freelance websites.
At the core of DeeLance's approach is the tokenization of freelance work products into NFTs, which facilitates the secure and reliable transfer of work ownership.
This directly addresses long-standing challenges in the digital freelancing space, such as copyright infringement and payment fraud, and provides an unprecedented level of security and peace of mind to all stakeholders.
Meanwhile, unlike many existing freelance platforms, which can be difficult to sign up to and take a large cut of a freelancer's earnings, DeeLance is highly accessible and features exceedingly low fees.
To sign up for DeeLance, there are no browser plugins, third-party apps, or even credit card details required.
Payments are fast and done with crypto and, thanks to the blockchain, everything is transparent and secure, payments secured via an escrow system and smart contracts.
Analysts Predicting Big Things for $DLANCE as Buzz Grows
Buzz surrounding the DeeLance project across social media platforms has been steadily amping up in recent weeks, as more and more people learn about the project's plans and vision to transform freelance and remote working.
Indeed, a recent post promoting DeeLance in Reddit discussion forum CryptoMoonShots got significant traction, receiving a net 168 upvotes and generating more than 200 comments in less than 24 hours.
All the while, the project's Twitter account has amassed an impressive more than 28,000 followers, while its Telegram and Discord channels have grown to over 13,000 and 4,000 members each.
Meanwhile, various reputable news and analysis websites such as Cryptonews.com, Business 2 Community, InsideBitcoins, Techopedia, Cryptopresales.com and Analytics Insight all rank DeeLance amongst 2023's most promising crypto presale projects.
And other media partnerships mean that the web3 start-up also features prominently across other major crypto news websites including Be[In]Crypto and CoinTelegraph, as well as on traditional news websites like Yahoo! Finance and Business Insider.
The team has also made significant efforts to reach out to various crypto communities, hosting several Ask Me Anything (AMA) sessions across the likes of Hulks, Gems Calls, Coinsniper, ICO Speakers, BSC news, Binance Live, and Whale Coin Talk.
As the word spreads and the DeeLance community rapidly grows, it's no wonder that crypto analysts are predicting big gains for $DLANCE in the year ahead.
Popular British crypto presale analyst Jacob Crypto Bury thinks DeeLance has "massive potential", while fellow presale analyst Crypto Gains thinks $DLANCE could easily have 20x potential.
DeeLance has been audited and certified by SolidProof and Coinsuls, ensuring that it is SAFU and the team has been KYCed.
DeeLance has also secured a pre-ICO listing on CoinMarketCap.
---