We Asked Google Bard If Bitcoin and Collateral Network Will Go Up
Disclaimer: The text below is an advertorial article that is not part of Cryptonews.com editorial content.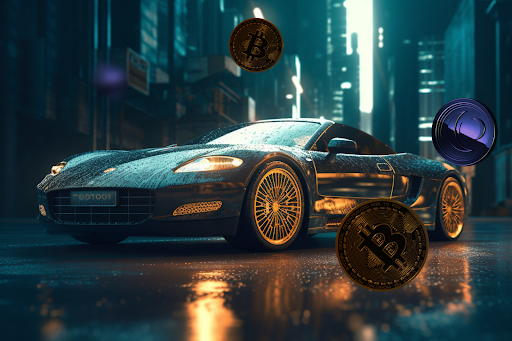 In an era of technological advancements, artificial intelligence (AI) models have become a source of intrigue and curiosity. So, we turned to Bard, Google's famous AI experiment, to gain insights into the potential rise of Bitcoin (BTC) and Collateral Network (COLT).
Google Bard: Bitcoin Shows Mixed Sentiment
We sought insights from AI-powered Bard regarding the potential price trajectory of Bitcoin by the end of 2023. Bard clarified that it is impossible to accurately determine the price for Bitcoin (BTC) with certainty due to its sensitivity to various factors, including the global economic landscape.
Yet, Bard proceeded to objectively present bearish and bullish predictions for Bitcoin from industry experts. Some experts believe BTC could reach $50,000 by 2023, while others anticipate a decline to $20,000 or even lower.
Interestingly, Bard underscored the significance of the institutional adoption of Bitcoin. Increased interest from institutions has the potential to drive BTC prices higher. Notably, the previous all-time high of nearly $69,000 for Bitcoin was partly fueled by institutions entering the cryptocurrency space.
Currently, Bitcoin trades at $27,709.34, which is far closer to the bearish forecasts. On the other hand, the weekly chart of Bitcoin has seen an increase of 5.36%. The increasing price of Bitcoin indicates a bullish market as all other altcoins have started to recover following the step of Bitcoin prices.
Collateral Network Is Set for A Bullish Momentum
The innovative approach of Collateral Network empowers borrowers to leverage valuable assets as collateral, including luxury cars, fine art, diamond rings, real estate, and more, to unlock much-needed liquidity in less than 24 hours. Meanwhile, lenders can finance fractions of loans and earn passive income weekly.
For example, let's say someone owns a valuable ring worth $20,000 but requires immediate cash. They can utilize it as collateral for a loan on Collateral Network.
First, the borrower sends the jewelry piece to Collateral Network. Next, the company creates an NFT of the ring and fractionalizes it into smaller pieces. Then, investors on the platform can lend smaller amounts of money and receive fixed-interest payments in return.
Once the borrower repays the principal loan and interest, Collateral Network redeems the diamond ring from its vault and burns the corresponding NFTs.
Collateral Network (COLT) is currently in Stage 2 of its public presale, with the tokens trading at a discounted price of $0.014. Google Bard predicts that Collateral Network holders could potentially witness a remarkable 35x gain by the end of its presale and 100x upon listing on major exchanges.
Find out more about the Collateral Network presale here:
Website: https://www.collateralnetwork.io/
Presale: https://app.collateralnetwork.io/register
Telegram: https://t.me/collateralnwk
Twitter: https://twitter.com/Collateralnwk
---