Wall Street Memes Launches Epic Community Short Squeeze on Completion of $1M Buyback
Disclosure: Crypto is a high-risk asset class. This article is provided for informational purposes and does not constitute investment advice. By using this website, you agree to our terms and conditions. We may utilise affiliate links within our content, and receive commission.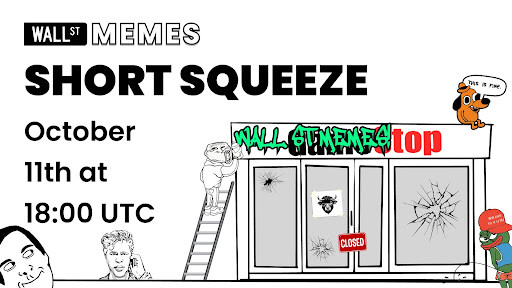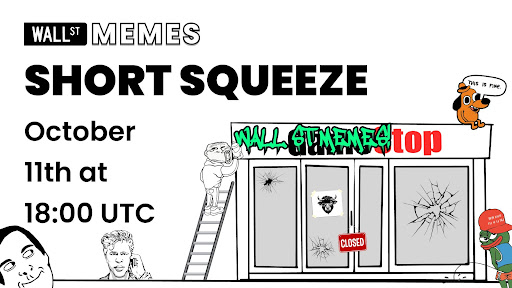 Wednesday, October 11th, 2023 – New top meme coin Wall Street Meme's has completed a one million $WSM buyback, pushing the price up 32% to $0.048 as it launches a community 'short squeeze' campaign reminiscent of the GameStop meme stocks phenomenon.
A short squeeze is when those betting the price of an asset will fall find themselves on the wrong end of a buying surge that forces successive short positions to be closed by buying back the asset, dramatically fuelling the size of the upward price movement.
The $WSM short squeeze campaign starts at 6pm UTC today, Wednesday October 11th. There are open interest short positions on OKX, MEXC, LBank and CoinW centralized exchanges that all face being liquidated in the squeeze.
Wall Street Memes is the outgrowth of an existing vibrant meme stocks-focused community. It aims to bring the same swashbuckling democratizing energy seen in meme stocks to the crypto scene.
Wall Street Memes has a highly engaged community of more than 1.1 million followers across, X, Instagram, Telegram and Discord, so the short squeeze has every chance of success.
Wall Street Memes short squeeze could be the GameStop event of crypto
Today Wall Street Memes is marshalling its social muscle to attack the short money that has entered the market on the back of perpetual futures listings on a number of exchanges.
Back in 2021, stocks such as GameStop, AMC, BlackBerry, Bad Bath & Beyond and Tesla caught the imagination of retail traders, guided and coordinated by the WallStBets sub Reddit.
In particular, GameStop and AMC were being heavily shorted by hedge funds. So successful was the short squeeze campaign that star hedge fund Melvin Capital was forced to close after being hit by heavy losses.
The Wall Street Memes community has responded enthusiastically to the short squeeze call. A message in the 38-000-strong Telegram group has been liked 541 times:
https://t.me/c/1921010863/645823
The tweet on X has attracted 824 replies, 949 retweets, 1,869 likes and 137,000 views:
https://www.twitter.com/wallstmemes/status/1712027183726608512
In just a couple of weeks, Wall Street Meme has become the 7th-largest meme coin by market capitalization; its market cap is currently $83.7 million.
When measured by 24-hour volume ($40 million), $WSM is the fourth-most-traded meme coin, behind only Dogecoin, Pepe and Shiba Inu.
All told then, $WSM has the visibility and community to execute an epic short squeeze.
For a gauge of how the short squeeze could take off, consider the fact that the search volume interest over time for 'wall street memes' search term is now beating 'wallstreetbets', as can be seen in the Google Trends chart below:
As excitement builds in the run-up to the short squeeze, there have been rumors flying around about a major product launch, which the team flagged up to be taking place this month.
Interestingly there is talk of $WSM going on a price roll similar to Rollbit, which has returned 13,000$ for early buyers of $RLB. Rollbit started a daily buyback and burn program in August this year.
There is no firm information about the nature of the product Wall Street Memes will be introducing to its community this month.
However, also driving interest in $WSM is the likelihood of yet more tier 1 exchange launches this month too. The coin is already listed on OKX, HTX, Gate.io and nine more exchanges, as well as derivatives markets recently opening on MEXC, OKX, BitMEX among others.
There are persistent rumors that top centralized exchange Binance could be next to list $WSM.
Wall Street Memes ($WSM) price could blast 10x to a $1 billion valuation
The team aims to hit a $1 billion valuation in the medium term could be coming sooner than at first envisaged.
When Pepe launched on Binance it rocketed 200x. But $WSM has the utility that coins like Doge and Pepe lack.
Even Shiba Inu, which has returned 26,000% for some early investors, has struggled to add a utility layer, as seen in its troubled Shibarium launch.
Furthermore, the Wall Street Memes project is helped by the interactions Elon Musk has had with the community on X (formerly Twitter). There are even rumors that Musk may be one of the whale buyers of $WSM.
Add to that the $WSM staking utility that enables token holders to receive rewards for holding the coin, and it arguably puts the token head and shoulders above the rest of the meme coin crowd.
Regarding $WSM's yield-bearing utility, 470 million tokens are staked, earning an annual percentage yield of 43%. So as well as capital appreciation, owners of the $WSM token can lock in a passive income stream, making the token doubly attractive.
More good news – Wall Street Memes is also currently conducting a generous $50,000 airdrop competition, which can be entered on Gleam.
For more on why Wall Street Memes is the mem project of the moment, check out the video from new coin launch expert Jacob Crypto Bury below:
As news about Wall Street Memes short squeeze spreads, the coming price action will be watched closely.
If $WSM has managed to bottle the lightning of the meme stocks craze and transfer it to crypto with a short squeeze that blows the doors off, then all bets are off on how high the $WSM price could go.
---