Wall Street Memes Crypto Presale Raises $100k Minutes After Launch, The Next Pepe Coin or Dogecoin?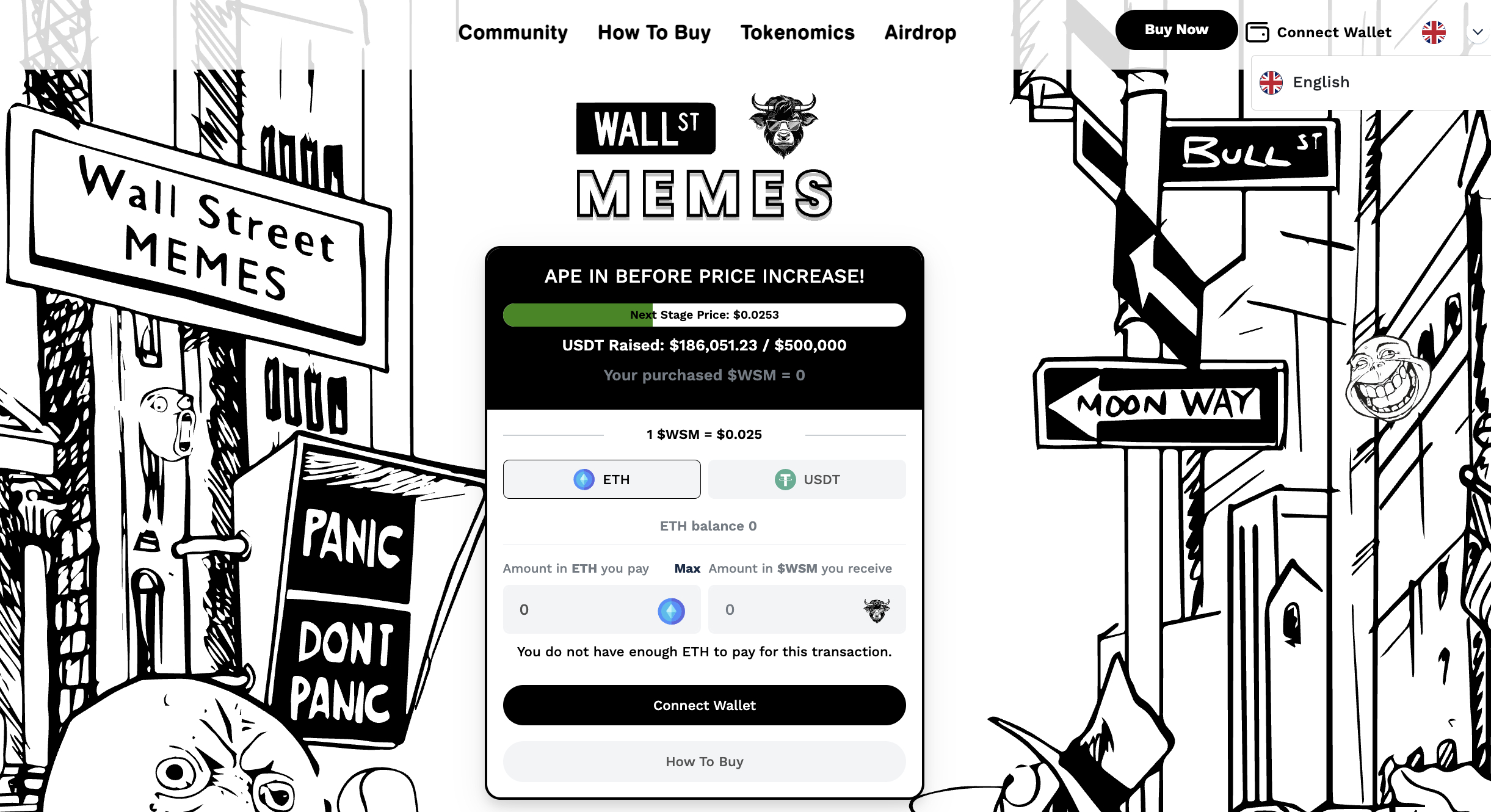 Today marks the launch of the Wall Street Memes token ($WSM) presale, courtesy of the the internet's hottest investing community, that turns stock stonks into hard cash, and is now doing the same for meme coins.
If you are looking for the next meme coin to explode like Pepecoin, Dogecoin or Shiba Inu, then look no further.
The team behind the Wall Street Memes token knows everything there is to know about building brands in the new age of finance – which is exactly why they are unleashing $WSM token today.
Analysts are already predicting 10x gains for Wall Street Memes when it lists on exchanges and you can be a part of it, but tokens are being snapped up fast.
$100,000 of $WSM sold in minutes as 1 million-strong community lets rip – Wen Binance?
Demand for the $WSM token is going to be off the scale, which is why in the space of minutes of the launch being announced, $100k was raised from eager investors.
The founders of WSM famously made $2.5 million when, in 2021, they minted the highly successful Wall Street Bulls 10,000 piece NFT collection, which sold out in 32 minutes.
All told, Wall Street Memes has a 1 million-strong social community of degens, which all but guarantees that the $WSM token will be listed on tier 1 crypto exchanges like Binance.
Wall Street Memes 'King of Stonks' to become the 'King of Memes'
The Wall Street Memes token is set to be the 'King of Memes', as well as the King of Stonks, in a way that could very easily surpass the success of Dogecoin, Shiba Inu or Pepecoin.
The phenomenal brand reach of Wall Street Memes in the financial world, and among retail investors in particular, sets it apart as the most legitimate meme coin ever.
Add to that its proven ability to cross-sell between the stock and crypto audiences, as demonstrated by its wildly popular first NFT launch, it genuinely means there is no time to lose to grab the $WSM token at its lowest price – on sale today for $0.025.
Before $WSM token lists on top-tier centralized exchanges it will launch on decentralized exchanges.
Pioneering success with Wall Street Bull NFTs in 2021 to be followed by launch of $WSM and minting of Wall Street Bulls Ordinals today
The WSM community is super plugged into the internet's financial hangouts and latest market developments.
Not only are there 523k hyper-engaged community members on its wallstbets Instagram account, there are another 214k on Twitter and more than 100k across its two other Instagram channels, wallstgonewild and wallstbullsnft.
And not to be left out is the Wall Street Bulls NFTs Twitter account, where there is news today of the mint of its Wall Street Bulls Ordinals NFT Collection. There are 420 pieces and you can get on the whitelist by heading over to the Wall Street Bulls Discord server (21k followers). The mint itself takes place on the Magic Eden bitcoin ordinals marketplace.
Rest assured then, that Wall Street memes has a hyper-engaged community, which means there really is no time to lose to lock in the lowest prices possible for a meme coin that will be much more than merely the next Pepe.
– If you are looking for the best meme coins to invest in, then check out the cryptonews guide –
Wall Street Memes token is tokenizing the movement
The Wall Street Memes team is confident that its powerful undercurrent of financially savvy traders and investors will not just snap up the tokens, but will be the sort of tuned-in ambassadors other projects can only beg for.
Still, not discounting the organic growth and community strengths described above to boost its entry into the meme coin world, Wall Street Memes has even more artillery to bring to bear in its battle for meme coin supremacy – its interaction with Elon Musk (seen highlighted on the Wall Street Memes website), not to mention a host other millionaires and billionaires.
How so? Well, Wall Street Memes, if you are among the uninitiated, has its origins in the meme stocks mania that took the stock market by storm in 2021.
Wall Street Memes was at the center of that maelstrom. At one point the movement, associated in the first instance with the Reddit sub WallStreetBets, threatened to empower retail traders to take on and overturn the dominance of institutional investors.
That turned out not to be the case, yet – although there was one notable scalp: Melvin Capital hedge fund, which shorted meme stock favorite GameStop, was forced into closure.
Wall Street Memes token is tokenizing the movement.
$WSM token gives meme coins legitimacy and a new meaning
Wall Street Memes takes its swashbuckling approach rooted in its avowed aim of opening up finance to the little guys into the meme coin space – to bring riches within the grasp of the man and woman on mainstreet.
And what better vehicle to use to achieve that aim than to launch a meme coin that anyone can buy. And through the act of buying alone you will be poking a finger in the eye of the institutions and governments that keep all the good stuff for themselves.
Wall Street Memes is taking its democratizing mission to the next level and bringing legitimacy to the meme coin space – it is a crypto project you can trust.
Over to the Wall Street Memes website to let the team speak for themselves in their own words:

"The little guy challenged Wall Street in the infamous GameStop fiasco of 2021, and the legacy of those brave Wall Street Bets heroes endures until today.
"Born out of that movement is Wall Street Memes - the ultimate expression of the internet's triumph over rampant capitalism. "Greed is good," said Gordon Gekko in the '80s as he got rich off useless stocks. Around 30 years later, hundreds of arguably even more useless meme coins allow ordinary people to do the same.
"Wall Street Memes is tokenizing the movement. Join the $WSM army today and prove that greed is, indeed, very good."
100% of $WSM tokens are for the community – no private sale, no team allocation
In keeping with its democratizing ethos, 100% of the token supply is for the Wall Street Memes community – there is no behind-the-scenes private sale and no team allocation largesse.
As a consequence, 50% of the token supply is available in the presale; 30% as community rewards; 10% for CEX liquidity and 10% for DEX liquidity.
Total $WSM token supply amounts to 2 billion (2,000,000,000).
Also, 30% of token supply is allocated to community rewards. It can be inferred that airdrops to holders will be a big part of the ecosystem.
Indeed, the first $WSM airdrop is open now. Join the discord, connect socials, engage on socials, hold and trade $WSM to be eligible to receive the drop.
To buy $WSM tokens you will need ETH, BNB or USDT (ERC-20 or BEP-20 versions accepted) in your crypto wallet. Simply connect at the website to make your purchase.
After buying, why not celebrate your purchase by heading over to the Wall Street Memes merch store where you will find among other things a collection of brilliantly irreverent t-shirts. There's new designs coming soon for the presale.
Proudly wear your Wall Street Memes t-shirt and spread the word about how greed is indeed very good.
Visit Wall Street Memes website
---