VW Chose carVertical To Partner In Development of Blockchain Solutions
Disclaimer: The text below is a press release that was not written by Cryptonews.com.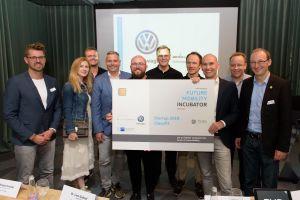 Volkswagen chooses carVertical to partner in the development of blockchain-based applications
carVertical, the most successful automotive ICO so far, was granted a ticket to Volkswagen Future Mobility Incubator in Dresden, as the company became the winner of manufacturer's pitch competition. The event was held on May 31st in Riga (Latvia).
The decision was announced after numerous teams of entrepreneurs held their presentations at the event organised by German-Baltic Chamber of Commerce. As the expert jury noted, carVertical convinced them with the blockchain-based concept of recording vehicle histories.
carVertical gained a strong boost to their development activities after raising $20 millions in funds back in January 2018. Company's roadmap includes various applications based on decentralised vehicle history registry. The first application is the platform of vehicle history reports, which is set to debut later on this month.
carVertical's initiative to build global and tamper-proof vehicle history registry is supported by European Union. The company also features solid board of advisors, containing current or previous executives of car manufacturers, cyber-security experts and blockchain professionals.
carVertical will begin work in Die Gläserne Manufaktur (VW's innovation hub) in Dresden (Germany) in September 2018. The incubation program includes financial support of €15,000. In connection with the program, Die Gläserne Manufaktur also offers the assistance of mentors and coaches, an attractive working environment at the facility, high-quality IT infrastructure, contacts with Volkswagen research and development employees and decision-makers, professional advice by Sächsische Aufbaubank (SAB), close proximity to the start-up scene and both financial and personnel support from the City of Dresden.
The expected outcome is the joint development of blockchain-based solutions. That would enhance Volkswagen's presence as the leader for future mobility applications and provide carVertical with valuable resources and expertise.
---