Venturing into the Crypto Labyrinth: VC Spectra, Shiba Inu, and BNB!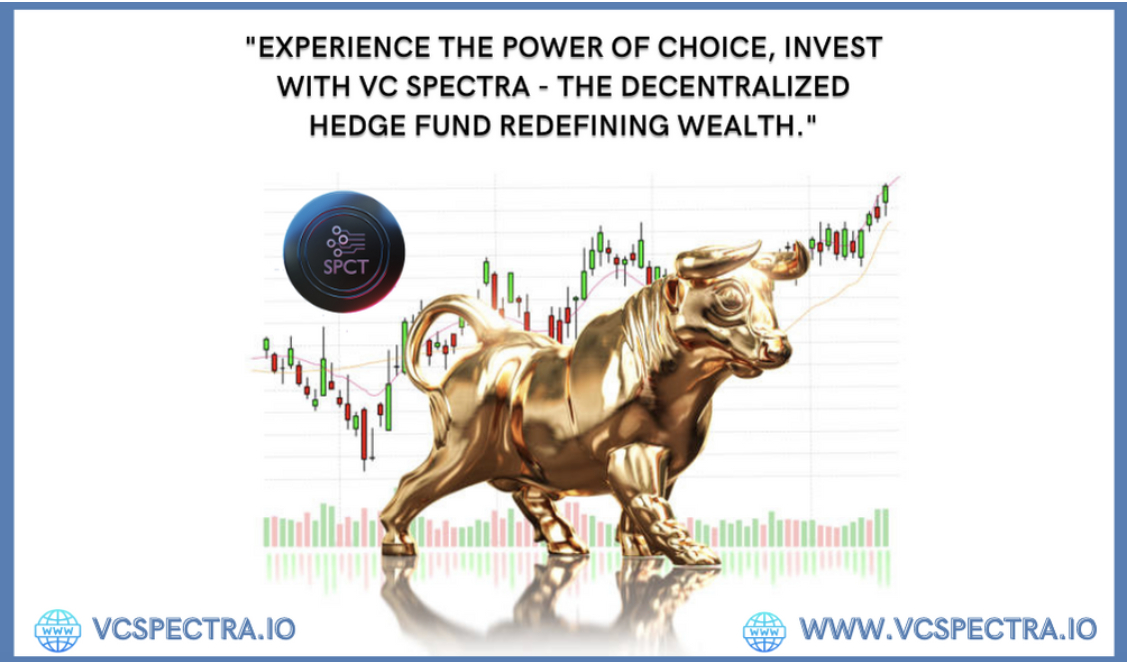 Disclaimer: The text below is an advertorial article that is not part of Cryptonews.com editorial content
Exciting news for investors as VC Spectra (SPCT) soars in Stage 2 of its public presale, offering investors optimized returns with its AI trading techniques. Meanwhile, Shiba Inu (SHIB) is set to launch Shibarium, while BNB aims to upgrade its ecosystem in the coming days. Let's explore how VC Spectra (SPCT) compares to Shiba Inu (SHIB) and BNB.
VC Spectra (SPCT) Takes The Crypto Market By Storm
VC Spectra (SPCT) is a decentralized hedge fund empowering financial growth by employing meticulous selection procedures to identify high-potential blockchain projects. VC Spectra (SPCT) remains committed to accountability and sustainability, utilizing strict risk management principles to curate investment portfolios carefully.
Investors can enjoy the fruits of their labor, as VC Spectra (SPCT) incentivizes them with buybacks and quarterly dividends based on investment profits. Token holders also enjoy voting rights and exclusive access to blockchain startups and pre-ICOs.
Furthermore, VC Spectra's native token, SPCT, adopts the BRC-20 standard and operates on the secure Bitcoin blockchain. SPCT's deflationary model is characterized by a burn mechanism that systematically decreases the token supply.
VC Spectra (SPCT) recently progressed to Stage 2 of its public presale. SPCT trades at $0.011, marking a 37.5% upswing from its initial $0.008 price. The savvy investors who got in early are reaping the rewards of an impressive 900% value surge, while those jumping in now can still enjoy a substantial 627% return on investment (ROI).
Step into a world of endless possibilities and incredible advantages by investing in VC Spectra (SPCT) and enjoy a 25% bonus on any deposit.
Shiba Inu (SHIB) Positioned For A Bullish Rally
Shiba Inu (SHIB) soared by 22.9% over the past month, from $0.0000074 to $0.0000091. Analysts suggest Shiba Inu's (SHIB) upward momentum can be linked to recent events in the crypto space.
First, a new whale investor recently purchased Shiba Inu (SHIB) tokens, amounting to a staggering $40 million in a single transaction. This remarkable maneuver has driven Shiba Inu (SHIB) to new heights and led to the accumulation of a staggering 4.41 trillion SHIB tokens.
Furthermore, the highly anticipated Shibarium launch is set to take place on August 15 during The Blockchain Futurist Conference in Toronto, Canada. Shytoshi Kusama, the lead architect behind Shiba Inu (SHIB), has provided a deep dive into the project's strategic direction.
He highlighted a Self-Sovereign Identity (SSI) facet within Shibarium. SSI introduces a paradigm shift in digital identity management by decentralizing the governance and authentication of individual data.
Amidst these developments, experts say Shiba Inu (SHIB) can skyrocket by 36.3% in the coming months, from $0.0000091 to $0.0000124.
BNB Leaves Traders Awestruck With Phenomenal Upgrades
Investors have a reason to rejoice as Binance upgrades its ecosystem, propelling BNB's bullish rally.
Binance has announced its commitment to support the imminent network upgrade and consequent BNB Smart Chain hard fork (BEP20). This event will transpire at block height 30,720,096, roughly projected for August 10 around 02:00 (UTC).
To streamline this transition, the suspension of token deposits and withdrawals on the BNB Smart Chain (BEP20) will commence approximately on August 10 at 01:45 (UTC). However, trading activities involving tokens accessible on the BNB Smart Chain will continue uninterrupted.
Binance will oversee all requisite technical aspects, orchestrating a seamless transition process. Binance's proactive approach underscores its steadfast dedication to technological advancement, solidifying BNB's utility.
The news excited investors, driving BNB's price up by 3.7% over the past month, from $234.9 to $243.6. Due to the recent developments, analysts indicate BNB can spike by 4.7% in the coming months, from $243.6 to $255.1.
Find out more about the VC Spectra presale here:
Buy presale: https://invest.vcspectra.io/login
Website: https://vcspectra.io
Telegram: https://t.me/VCSpectra
Twitter: https://twitter.com/spectravcfund
---