VeChain and BTC Price Fluctuate As Golteum (GLTM) Presale Gains Momentum
Disclaimer: The text below is a press release that is not part of Cryptonews.com editorial content.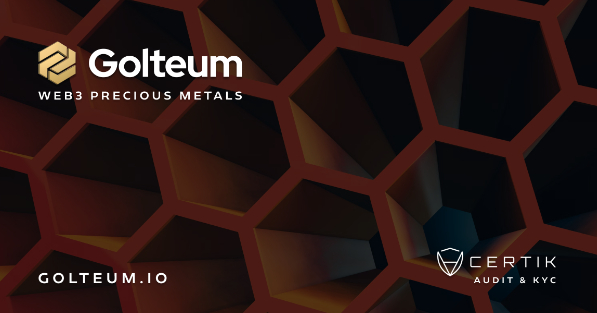 The cryptocurrency industry has been downward since the beginning of the year. As such, numerous cryptocurrencies have been affected by the fluctuating market.
Among them is the world's most valuable cryptocurrency, Bitcoin (BTC), and renowned crypto like Vechain (VET).
Although these cryptocurrencies have shown rapid price recovery rates over the months, investors' sentiments have already shifted to emerging crypto initiatives like Golteum (GLTM) as the presale has picked up speed over the past few days.
VeChain Surges 12% Following Coinbase Listing Announcement
Blockchain protocol Vechain recently saw gains of over 12% just after Coinbase announced the listing of two Vechain assets to its roadmap.
The two VeChain crypto tokens added to Coinbase listings are VeChain (VET) and VeThor (VTHO).
The price value of VET reacted to the announcement, hitting one of the highest gains the cryptocurrency has made in the last few days.
Vechain (VET) is a top crypto asset in the market, but we believe Golteum (GLTM) has higher prospects as the token is yet to launch and is unaffected by current market volatility.
Bitcoin (BTC) Rallies Upward By 12%
The world's largest cryptocurrency, Bitcoin, recently experienced a price jump of over 12%.
On Wednesday, Bitcoin's price value hit the highest mark since April 14, when its price was relatively down and still recovering. BTC topped approximately $30,000.
Market players are linking the surge to the recent news that BlockRock, a U.S. asset management enterprise, launched a Bitcoin ETF.
The crypto market has been on a downtrend since this year, and Bitcoin was one of the first cryptocurrencies to experience severe price declines.
According to renowned data organization, Kaiko, Bitcoin fell by 20% earlier this year. It was one of the cryptocurrencies that experienced the worst price declines in terms of market depth.
Currently, Bitcoin is recovering rapidly from its initial downward spiral. Its surge in value seems to be driven by large trades and low liquidity in the market.
Golteum (GLTM) Rallies Investors With Innovative Approach Towards Precious Metal Investments
Golteum is a state-of-the-art multi-asset Web3 platform that combines precious metal trading with cryptocurrency.
Golteum allows users to invest in tangible metal assets with real-world value, like gold.
This innovative platform will make precious metals which are usually rare to find, accessible and empower users to take control of their financial status by trading these assets.
Golteum has made its platform a safe crypto trading and investment environment for its users.
The metal-backed crypto investment platform has teamed up with Fireblocks to integrate the Fireblocks Web3 engine and take advantage of the firm's advanced tokenization mechanism.
As an Ethereum-based platform, Golteum will improve scalability by enabling users to utilize the layer-2 solutions.
Golteum has recently undergone a strict KYC verification and audit process by Certik, a renowned security firm, to ensure its platform is secure and effective.
Golteum's second presale round is underway, as the first presale round sold out almost immediately after its launch.
The GLTM token price is currently sold for only $0.012, increasing from $0.0074 in the initial presale.
Now is the best time to explore this innovative multi-asset web3 platform and take advantage of a 15% bonus discount available only in the second stage of its presale.
Buy GLTM now on the Golteum presale.
For more information about the GLTM Presale:
---