Using Blockchain to Fight Fake Corporate News and Stock Swings
Disclosure: Crypto is a high-risk asset class. This article is provided for informational purposes and does not constitute investment advice. By using this website, you agree to our terms and conditions. We may utilise affiliate links within our content, and receive commission.
Disclaimer: The text below is a press release.
________________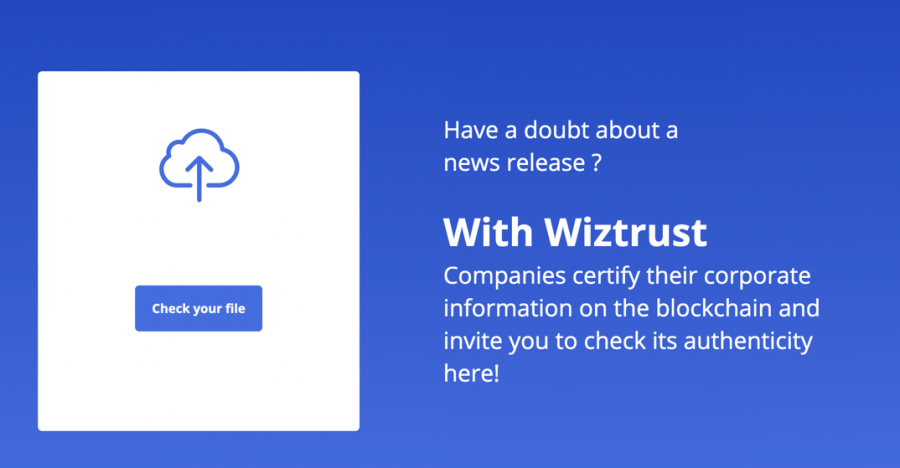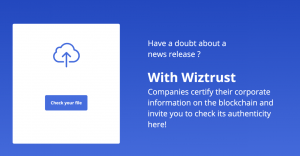 December 2, 2019, New York City – Business journalists are constantly targeted by hackers and "hacktivists" trying to get fake financial stories covered by a quality news source. Motivated by profit, politics or malice, these scammers get more creative by the day.
Over the past few years, companies like Blackrock, Fitbit, Google, Pfizer, Samsung and Shell have been the victim of hackers who forged press releases and spoofed websites in order to profit from the resulting stock swings. These announcements drove inaccurate press coverage by the Associated Press, Bloomberg, CNBC, Dow Jones Newswires, the Financial Times, Fox Business News and The Washington Post.
Fake news isn't just a political hot button, it's financial kryptonite. A fake financial news incident could harm a firm's reputation with investors and customers, and ultimately impact their stock price. CTOs spend millions to secure their data and transactions; CMOs hire global teams for brand building and social media monitoring. But CFOs are only just beginning to realize the need for robust verification to protect their company's bottom line.
Fake Financial News Will Cost You
News hoaxes can spread even more rapidly via social media, where seemingly official Tweets and posts are quickly read and spread. As recently as September, messaging platform Kik and crypto news outlet Coindesk fell prey to an enterprising hacker who used Telegram to impersonate Kik's CEO and convince Coindesk that the CEO was quitting. Coindesk later retracted their story.
Reputation isn't the only victim of a news hoax. After a fake corporate news incident, hours and dollars are spent walking back the story, correcting news coverage, and repairing the perceptions of employees, partners and customers. Fake news cycles can last for weeks and involve multiple corporate teams in the damage control.
Even top-tier media outlets are at risk financially. Bloomberg is now facing a €5m fine from French regulators, after reporting on a fake press release that French construction group Vinci had fired its CFO after discovering accounting irregularities. Vinci's shares dropped by almost 19 percent after Bloomberg's reporting.
How can financial institutions, corporates and media outlets build trust in their information in the face of source hacking, corporate identity theft, deep-fake videos and the 10x effect of social media?
One solution is Wiztrust, which has incorporated blockchain verification into its communications platform. Their tool can help prevent stock market manipulation, protect the interests of their shareholders, and preserve the reputation of their executives.
How News Verification Works
Wiztrust allows companies to easily certify the announcements they distribute to press, investors and analysts. Corporate communications and investor relations professionals generate a unique fingerprint for their content files, ranging from earnings releases and shareholder letters to videos and photos.
"With the increasing sophistication of digital, audio and video technologies, fake financial news is easier to create and harder to detect," says Wiztrust co-founder Raphaël Labbé. "Corporations and listed companies, as well as the news outlets that cover them, need to protect their brands from hacktivist activity."
More than 15 financial services, insurance, pharmaceutical and real estate firms have implemented Wiztrust to certify their corporate news including Allianz, Bouygues, BPCE, Groupe Beneteau, Klépierre, Macif, Malakoff Humanis and Natixis, representing 300 billion Euros in market cap. Journalists can verify these companies' announcements with a simple drag and drop on the Wiztrust platform – no software download needed.
In a world where accuracy and breaking news drive ad dollars, and trading decisions are made in milliseconds, verification platforms like Wiztrust will become indispensable to news workflows and corporate reputations.
About Wiztrust
Wiztrust was created by Wiztopic, the publisher of a platform solution for communications teams of financial and publicly listed companies. With Wiztopic, companies can manage, distribute and measure the performance of their content. With Wiztrust, they can now protect their content and shareholders interest.
Related Links:
Forbes: Blockchain to Fight Fake News?
Schneider Electric Announces Adoption of Wiztopic's Blockchain Certification Platform
Bouygues, BPCE, Colas, Gecina, Beneteau, Klepierre, la française, Macif, Malakoff Mederic, Natixis and TF1 Join Wiztrust
MEDIA CONTACT
Christine Mohan
[email protected]
+49 176 57866634
{no_ads}
---