Upland Has Sparked A Stunning Revival In The Fortunes Of EOS
Disclaimer: The text below is a press release that is not part of Cryptonews.com editorial content.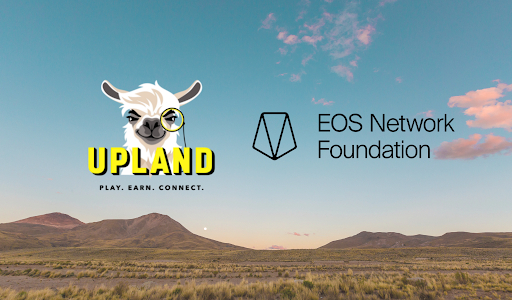 Upland, the metaverse-based virtual property game, is driving the resurgence of the EOS blockchain that was once labeled an "Ethereum killer" only to become bogged down by a lack of development.
A recent report by crypto research outfit Messari shows that Upland, a metaverse-based virtual world that's mapped to its physical counterpart, Earth, has emerged as the most popular decentralized application on EOS, leading to significant adoption of both its blockchain infrastructure and the $EOS token that underpins it.
Upland can be accessed via the Web, Android and iOS devices as well as virtual reality headsets, and allows metaverse players to visit dozens of replica digital cities all over the world. Users must literally head to the airport and fly to each new destination, where they can explore, buy up land and build on it, decorate their properties and even establish a virtual business. Upland boasts a comprehensive and scalable, crypto-based economy that provides exciting financial opportunities for budding virtual entrepreneurs. To date, it has already sold more than five million land NFTs to over 300,000 individual users, and many thousands have launched "metaventures" to start earning a virtual income.
Without doubt, the growth of Upland was boosted during the recent Qatar World Cup, when it became FIFA's official metaverse partner. Upland built a virtual replica of Doha, Qatar's capital city, where it created an immersive World Cup Experience with tons of digital merchandise on offer, including a digital version of the Lusail Stadium, venue of the final that saw Argentina beat France to become world champion.
Upland boasts that it's not only the biggest metaverse on EOS, but one of the most popular in all of Web3, and the numbers seem to back up those claims. According to Messari, Upland counts more unique wallet addresses connected to it than the combined total of every other dApp on EOS. In February, it averaged at around 20,000 daily unique wallet addresses, adding new ones at a rate of approximately 60 each day.
EOS On The Comeback Trail
The incredible growth displayed by Upland caps off a remarkable year for the EOS blockchain, which is finally looking to live up to its billing as one of the most promising rivals to Ethereum. Longtime crypto investors will recall that EOS previously raised a record $4.1 billion through its initial coin offering back in 2017/18. Big things were expected of it, thanks to its ability to scale while supporting transaction speeds that left Ethereum in the dust. However, a lack of investment from EOS developer Block.one meant that it never lived up to expectations.
Things are different now though as EOS has since been reborn after a community revolt led to the creation of its new governing body, the EOS Network Foundation, which successfully forked the project and took control of its funding in late 2021. Having implemented a radical redesign of the EOS blockchain and revamped its project roadmap and goals, EOS is now rapidly building out a lively ecosystem of dApps.
While Upland has clearly been the most successful of these, it's not the only one that's getting attention. In its report, Messari also highlights play-to-earn games such as Crypto Dynasty, Prospectors and Wombat for their growing audiences. EOS boasts a very successful NFT marketplace too, with AtomicHub achieving a daily sales volume of $1,400 in February.
EOS's presence in DeFi is growing too, with Defibox hitting just over $470k in daily trading volume last month, with its biggest EOS/USDT liquidity pool holding $6.2 million in total value locked. Applications including Yield+ and Recover+, which provide liquidity incentives and insurance for EOS DeFi users, were also noted in the report.
Messari concludes its report by saying that the growth of Upland and other dApps means that the once so promising EOS blockchain is finally beginning to repay the faith in its original backers. With numerous developer grant and ecosystem fund programs in place, there's every reason to be optimistic that it can continue on its path to recovery.
---