Up To 50% Yielding Crypto Bond By Minereum Is Now Live
Disclaimer: The text below is a press release that was not written by Cryptonews.com.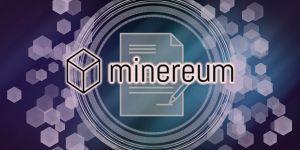 Minereum, the first self-mining smart contract, has launched its first Crypto Bond in the DeFi space. The Minereum Crypto Bond is a blockchain smart contract with traditional bond functionalities and offers up to 50% yield.
Minereum allows users to mine coins without the need for any mining equipment. Initially launched in 2017 via airdrop, Minereum launched a new V2 airdrop in 2020, which included 1.2 million participant addresses. However, airdrop participants are required to pay a one time ETH fee to start mining the airdropped coins and to spend their mined coins, thus avoiding a massive over-supply of the token. These fees are then distributed to the Fee Shares holders and anyone can become one.
Minereum V2 includes a variety of new features, including:
Ecosystem overview
Genesis Addresses Decentralized trading
MNE Decentralized trading
Fee Shares Decentralized Trading
Lucky Draw Game
Staking
Today, the platform has launched the first Crypto Bond in the DeFi space, which offers up to 50% yield.
Minereum Crypto Bond
The Minereum Crypto Bond is a smart contract that brings traditional bond functionalities into a blockchain. It entails all the characteristics of traditional bonds, including Maturity, Yield, and Bond value. However, unlike traditional bonds, there is no debt here, as the smart contract simply locks your Minereum (MNE) tokens for a duration of a bond.
The bond's value is the MNE value you choose to lock into the contract, and its yield depends on the bonds' maturity period. As of today, there are three bonds available in the Minereum Crypto Bond system:
1 year = 30% yield
3 years = 40% yield
5 years = 50% yield
The yields can be changed in the future but generated bonds will always have the selected yield. The Yield is paid annually for the duration of the bond, and once you generate a bond, its yield rate is fixed and doesn't change until its maturity date. When the bond expires, you regain its MNE value.
For example: if you get a 5-Years Bond with the 50% Yield with 10,000 MNE tokens, it means that you will receive 5,000 MNE tokens per year and 25,000 MNE during the entire 5 year period. Besides, upon the expiration date, you will get your originally invested 10,000 MNE tokens, meaning that you will receive a grand total of 35,000 MNE tokens for an initial 10,000 MNE investment.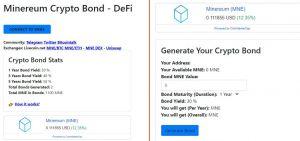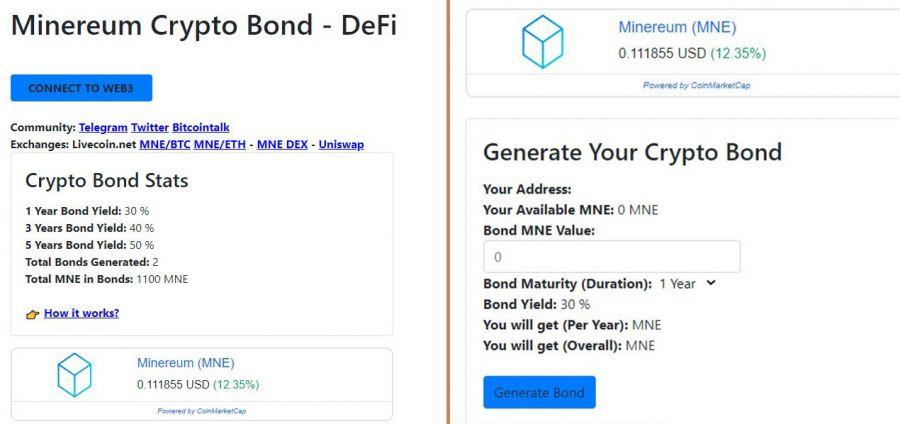 How to participate in the Minereum Crypto Bond?
In order to participate in this DeFi initiative, you will need:
An Ethereum web3 browser wallet like Metamask (PC), TrustWallet (Android), Coinbase Wallet (iOS / Android), or similar.
Have the amount of MNE for the Bond value you wish in the ethereum address that you're using for the Bond.
Choose your Bond Duration and Yield.
Have some ETH in your wallet to cover the ethereum gas fees.
That's it, you are now part of DeFi!
In order to create a Bond, or for more information about the project, please visit https://www.minereum.com/v2/cryptobond
If you don't have any MNE yet, you can buy it on Livecoin.net, Uniswap, and MNE DEX.
---