Unleash Your Cryptocurrency Ambitions with Crypto Signals' Exclusive Copy Trading Initiative on Bybit Exchange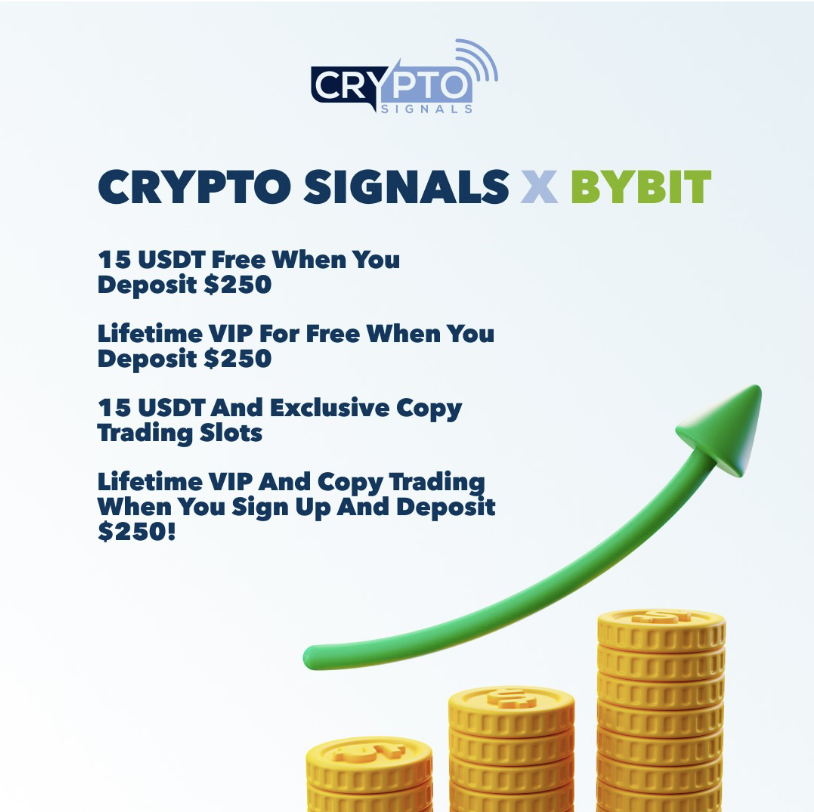 The cryptocurrency world brims with opportunities to escalate your trading potential, and standing at the helm is Crypto Signals with its unique offering: Copy Trading on Bybit.
This transformative feature empowers traders to mirror the strategies of an exceptional trader, boasting a staggering 400% ROI.
For a limited time only, Crypto Signals extends a complimentary lifetime VIP membership to anyone who joins Bybit and deposits $250 using the following Bybit Partner Link: https://partner.bybit.com/b/cryptosignalstrading.
Don't let this extraordinary opportunity to bolster your trading prowess and reach new heights of success slip away.
A renowned entity in the crypto space, Crypto Signals is lauded for delivering timely and precise trading signals that empowers its members to make informed decisions in the rapid-fire cryptocurrency market.
Its team of experienced analysts conduct thorough market analysis to provide reliable guidance to traders throughout their journey.
The Copy Trading feature brings with it an array of captivating benefits that traders can leverage:
Mirror Success
Bybit's Copy Trading feature allows traders to mirror the success of the exclusive trader tied to Crypto Signals. This proficient trader, with an astonishing 400% ROI, offers a proven track record that others can follow.
By replicating their trades, you get a slice of their expert strategies and insights, potentially boosting your profits.
To start mirroring their strategies, simply use the following Copy Trading Link: https://i.bybit.com/jaabrxe?action=inviteToCopy.
Efficiency and Simplicity
Copy Trading streamlines the trading process, eliminating the need for traders to spend copious amounts of time analyzing the market or making complex trading decisions.
This means you can rely on the expertise of the trader to handle the technical aspects, freeing you to focus on other areas of your life.
Diversify Your Portfolio
Diversification is crucial in managing risk and enhancing potential for success. With Copy Trading, traders can diversify their portfolios by following multiple traders at once.
This approach grants traders access to various trading styles and strategies, spreading risk, and potentially enhancing returns.
Join Crypto Signals on Bybit and Unlock Exclusive Offers
To seize this exclusive offer, traders are invited to join Crypto Signals on Bybit using the provided Bybit Partner Link: https://partner.bybit.com/b/cryptosignalstrading.
Once registered and with a deposit of $250, traders will be eligible for a lifetime VIP subscription, gaining access to premium features and services.
Don't miss this exceptional opportunity to elevate your trading strategies and achieve remarkable results. Visit the following links to get started:
Crypto Signals Website: https://cryptosignals.org
Crypto Signals Telegram Group: https://t.me/+A0GO2dsLP385NGY0
Crypto Signals Discord Server: https://discord.gg/8HpPZM3kyR
With Crypto Signals and Bybit's Copy Trading, traders can unlock their full trading potential and embark on a journey towards enhanced profitability in the cryptocurrency market.
Don't miss this exceptional opportunity to elevate your trading strategies and achieve remarkable results.
Disclaimer: Cryptocurrency projects endorsed in this article are not the financial advice of the publishing author or publication - cryptocurrencies are highly volatile investments with considerable risk, always do your own research.
---