Uniswap (UNI) and Polkadot (DOT) Lose Momentum as VC Spectra's Presale Stage 2 Witnesses 37.5% Realized Gain
Disclaimer: The text below is a press release that is not part of Cryptonews.com editorial content.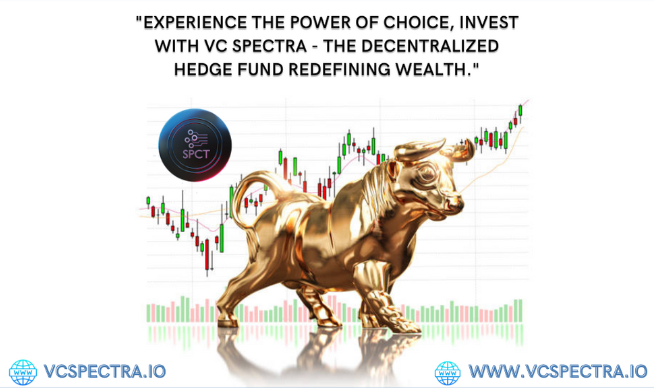 Amid all the bearish pressure in the financial markets, decentralized hedge fund VC Spectra continues to see widespread investor interest.
As traditional platforms like Uniswap (UNI) and Polkadot (DOT) battle with waning public interest, VC Spectra's SPCT token has seen an impressive 37.5% jump in price from Stage 1 of its public presale.
Let's explore the latest developments with these platforms and examine how VC Spectra (SPCT) keeps managing to go against the trend.
Uniswap (UNI) Facing Bearish Pressure Amid Security Concerns
Uniswap (UNI) has been facing strong bearish pressure lately. While Uniswap's UNI token's price has increased an impressive 12.9% – from $5.4 to $6.1 – since August 4, 2023, it appears to be losing momentum.
Unisawp (UNI) has experienced a sharp 7.5% decline from $6.6 to $6.1 over the last two days – from August 2 to August 4.
Uniswap (UNI) is now struggling to break convincingly above $6.2 but is showing signs of exhaustion, suggesting that a further decline might be likely for Uniswap (UNI).
On July 20, Uniswap (UNI) founder Hayden Adams' Twitter account was hacked, and the attackers posted a scam tweet targeting the account's more than 254,000 followers.
While the tweet was quickly taken down, the incident sheds light on Uniswap's frequent encounters with hackers, raising concerns about the Uniswap (UNI) platform's security.
Polkadot (DOT) Struggles to Shake Off Bears
Polkadot (DOT) struggles to gain bullish momentum, as its price repeatedly fails to break above the $5.6 barrier. Polkadot (DOT) took a massive 8.5% plunge from $5.64 to $5.16 between July 21 and 24 – in just three days.
Polkadot's (DOT) price then traded flat for a few days before resuming its decline to now trade at $5,02, showing signs of a further imminent decline.
Polkadot (DOT) recently revamped its governance system by introducing Polkadot OpenGov, allowing simultaneous voting on multiple issues.
While this new system aims to address scalability issues faced by earlier Polkadot (DOT) versions, the community will now need to adapt to this decentralized approach, and it remains to be seen how it will impact the Polkadot (DOT) network's future.
According to analysts, if DOT's price remains below its 50-day SMA, it could drop to $4.74 and $4.65.
Alternatively, an unlikely rise above the 20-day EMA may lead to a potential rally to $5.64 resistance.
VC Spectra Sees Rapid Growth Amid a Troubled Market
VC Spectra (SPCT) is a groundbreaking decentralized asset management protocol and trading platform.
VC Spectra aims to offer investors a top-notch investment experience marked by the highest security, transparency, and profitability levels.
With its state-of-the-art investment solutions catering to investors of all classes, VC Spectra (SPCT) is reshaping the industry.
VC Spectra (SPCT) utilizes highly advanced AI-powered algorithms and systems to identify the most promising private/seed sales and ICOs.
This highly systematic approach significantly enhances their potential for substantial returns on investment.
The Spectra token (SPCT) unlocks an array of platform services and fuels the voting mechanism, empowering users to participate in the platform's decision-making processes actively.
This grants VC Spectra (SPCT) users a significant role in shaping the platform's future.
VC Spectra (SPCT) has entered Stage 2 of its public presale, with the SPCT token now trading at $0.011. This marks a remarkable realized gain of 37.5% from its initial price of $0.008 during Stage 1.
In the upcoming Stage 3 of VC Spectra's public presale, the SPCT token will be priced at $0.025, showcasing an impressive 127.27% surge from its current value.
Moreover, by the conclusion of VC Spectra's public presale, the VC Spectra (SPCT) token will reach $0.08, presenting a remarkable 627% gain for investors who acquire their tokens now.
Learn more about the VC Spectra presale here:
Buy Presale: https://invest.vcspectra.io/login
Website: https://vcspectra.io
Telegram: https://t.me/VCSpectra
Twitter: https://twitter.com/spectravcfund
---