Undeads Metaverse Reaches New Heights with Immutable
Disclaimer: The text below is a press release that is not part of Cryptonews.com editorial content.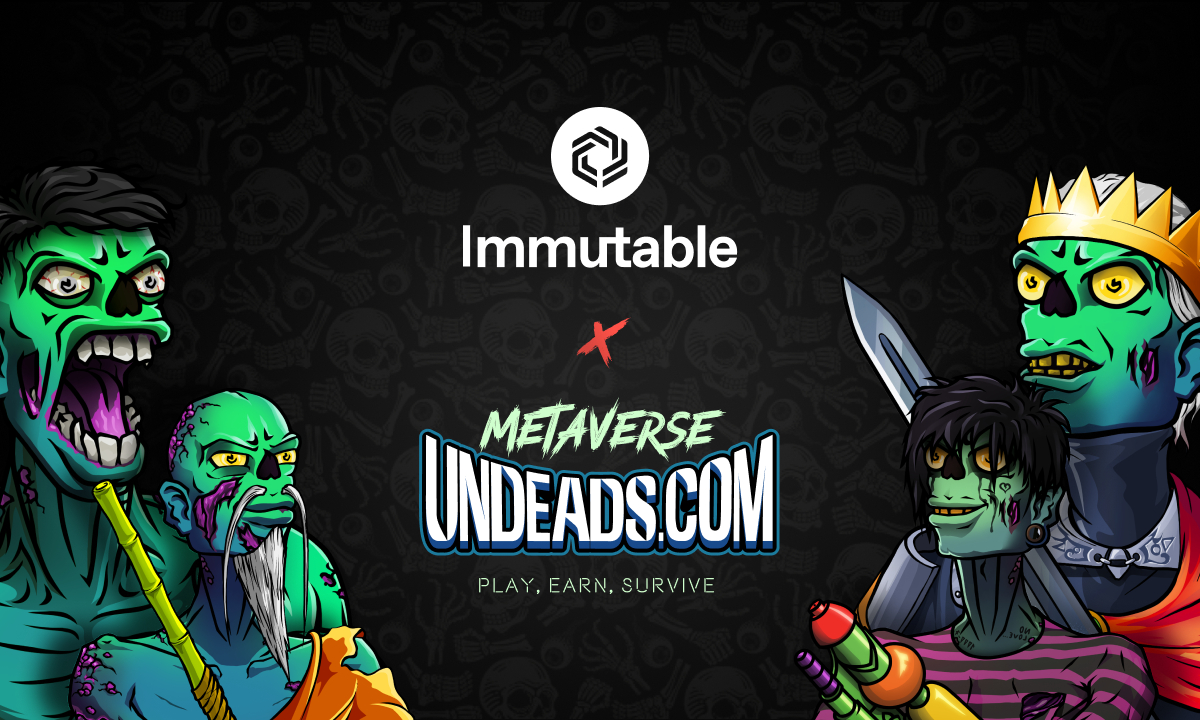 Undeads Metaverse, a trailblazing force in the gaming industry, proudly announces its groundbreaking partnership with Immutable, the preferred developer platform for building & scaling web3 games on Ethereum.
This collaboration aims to catapult the highly anticipated Undeads Metaverse, a AAA Web3 Survival game, onto the global stage, setting new standards of excitement and innovation in the gaming realm.
The Immutable gaming platform makes it easy for game studios and independent developers to safely and confidently build and launch successful games on Ethereum. The product suite includes pre-built solutions, optimized for usability, that help developers get to market faster without sacrificing security or player experience. By joining forces with Immutable, Undeads ensures that players can immerse themselves in a seamless and hassle-free gaming experience, unencumbered by gas fees or technical difficulties.
Ash Hodgetts, the visionary Chief Marketing Officer at Undeads, expressed great enthusiasm about this transformative partnership, stating, "Undeads now stands shoulder to shoulder with the elite games on a platform that has taken the gaming world by storm. With the support of Immutable, Undeads is poised to soar to unprecedented heights, captivating audiences around the globe."
Undeads have already made significant waves in the industry, having recently achieved a monumental milestone with the successful completion of their first NFT drop, generating $1 million USD in sales. Meanwhile, the upcoming Undeads Runner game is well underway, promising an exhilarating gaming experience where players can use their Undeads NFTs to play and earn rewards.
Undeads Ambassadors will have an exclusive sneak peek of the game in September, making today the perfect time to register and become part of this thrilling adventure.
"I'm excited to announce that the zombie-splattering action in this game is already incredibly satisfying," revealed Ash Hodgetts. "We can't contain our excitement to unleash it upon our community. Brace yourselves for an unforgettable experience!"
Undeads Metaverse is poised to redefine the gaming landscape, now being able to offer a fusion of cutting-edge technology and heart-pounding gameplay.
About Undeads Metaverse
Undeads is a next-generation survival MMORPG with a large selection of play-to-earn mechanics and over 10 types of playable NFT assets. Undeads is built to enable players to earn cryptocurrency while playing the game and interacting with others. Ultimately, Undeads aims to build a Web3 gamers community and player-driven economy full of engaging activities designed to create an ecosystem of engaged players and deliver the ultimate gaming experience that will exceed community expectations.
Undeads Web3 game has an isometric model with action-combat that takes place in a post-apocalyptic metaverse. The conflict focuses on a struggle for resources between two opposing factions: humans and zombies. Players are tasked with venturing into uncharted regions, establishing and guarding their own settlements, grinding for resources, constructing and enhancing their own gear, engaging in commerce, becoming skilled in trading, and developing their NFT characters. Undeads is also loaded with built-in entertaining VR games for true metaverse and virtual reality fans.
About Undead FZE LLC
Undeads was founded by Undeads FZE LLC, in February 2022. With over 70 industry veterans from the United States, Canada, Australia, Europe & Asia and a wide network of world-class partners.
Website | Latest VR Trailer | Watch the trailer on YouTube now
Contact details: Ash Hodgetts
Email: [email protected]
Location: Dubai, United Arab Emirates
---