Turks May be Turning to Crypto Despite Lira Recovery
There are possible signs that investors in Turkey, a country with population of 80 million people, may be turning their backs on the lira – and buying cryptocurrencies instead.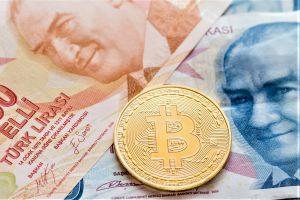 Slate cites a study by Turkish researcher Twentify, which found that around 1 in 5 respondents said they had begun trading in cryptocurrencies after August this year, when the lira took a massive tumble in price. (However, since then it has recovered by 26% against the dollar.) Inflation in the country also remains high (21.62% year-on-year in November), another factor that has led investors to seek out ways to protect the value of their savings. Reuters reports that Turkish economic growth has "dwindled to 1.6% year-on-year in the third quarter of 2018" – down from 7% in 2017.
TRY/USD chart:

____
Per a report in Turkish media outlet DHA, trading on certain Turkish crypto exchanges increased by 37% in November, peaking at a weekly increase of 72% in the week beginning November 12. However, the whole crypto market saw higher trading volumes in November due to huge sell off.
Meanwhile, Slate quotes Emin Gün Sirer, a Turkish-American professor at Cornell University, who says the country's "relatively young population compared [to the rest of] Europe, and [their] flexible adoption of new technology provide the conditions for an eager market for cryptocurrency."
In a column for Hürriyet Daily News, journalist and business expert Ersu Ablak stated, "It makes me happy that the latest cryptocurrency investments involve Turkey [...] This is partly due to the fact that Turkish people are very adaptable to new technologies and new methods."
The country's chief religious body, the Directorate of Religious Affairs, has previously ruled that cryptocurrency use is not permissible under Islamic law, but State author Sara Nasser concludes that, nonetheless, "cryptocurrency is an attractive, but risky dream" for many Turks.
Vitalik Buterin, the co-founder of Ethereum, recently interacted with Turkish crypto-enthusiasts on Twitter, expressing his surprise at the size of the country's crypto-community. Istanbul will also host one of the AME region's biggest blockchain and cryptocurrency-themed forums, the Blockchain Economy Summit, in February next year.
____
Weekly LocalBitcoins, a peer-to-peer bitcoin marketplace, volume (in bitcoin) in Turkey: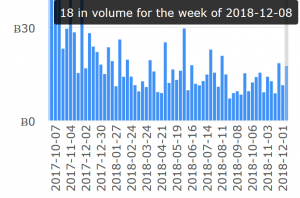 ---