Turkey Prepares Crypto Regulations Amid 'Disturbing' Money Outflows
Turkish crypto investors were given a respite of sorts on Friday, with the new Governor of the country's central bank stating that he would not seek to carry out a total crypto ban – although far-reaching crypto regulations might be unveiled by early May.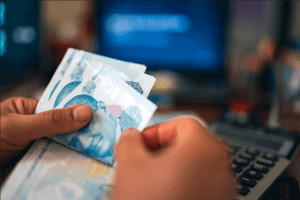 The Governor, Şahap Kavcıoğlu, was appointed after the abrupt dismissal of his predecessor last month, and made waves in the crypto world by banning the use of crypto as a form of payment in a move earlier this month. After a decidedly rocky month for crypto in Turkey, investors had been bracing for the worst.
In an interview with a television network, the transcribed highlights of which were published by the newspaper Sözcü, Kavcıoğlu called crypto a "sensitive subject" with "no infrastructure, regulation and control mechanism."
However, he added that the government "cannot fix" crypto "by just banning it."
He added,
"We are working on the regulations […] with the Ministry of Treasury and Finance. […] I believe that the efforts will come to a head in two weeks."
He added that the financial regulators, the Capital Markets Board and the Banking Regulation and Supervision Authority, had been "making their own regulations," as had related ministries.
But it appears the governor now wants to pursue a streamlined approach with the consent of all parties. He added that the issue was a thorny one as it was unclear whether crypto should be classified as an "asset or a property," and that there were precious few international examples to follow when it comes to crypto.
However, he claimed that there was "very serious crypto traffic," with funds flowing "to Europe and the United States, adding, "We don't know for sure where these cryptocurrencies are going."
He called the "outflows" of money in crypto from Turkey "disturbing."
The news comes after a torrid month for Turkey's crypto community, with two large crypto exchange platforms folding in the space of a week, with at least one CEO reportedly placed in police custody.
Per Bloomberg, which quoted the Demiroren News Agency, the Vebitcoin trading platform has ceased operating due to "deteriorating financial conditions," with its CEO, Ilker Bas, detained along with three other exchange employees.
The country's Financial Crimes Investigation Board has placed a block on Vebitcoin's bank accounts and launched an official investigation.
The trading platform is one of the country's largest, with average daily transaction volumes of around USD 60m.
Earlier last week, the rival Thodex ground to halt after its own CEO, Faruk Fatih Ozer, reportedly vanished from the country.
Bloomberg quoted the Haberturk newspaper as reporting that a legal team representing investors stated the platform had around 390,000 active customers and had incurred losses of up to USD 2 billion.
In a notice posted on its website, Thodex angrily dismissed allegations of wrongdoing as "unfounded" and part of a "smear campaign" against it. The CEO wrote that he had traveled abroad on April 19 not to flee the authorities, but to conduct meetings with foreign investors."
It claimed that only 30,000 accounts had been affected, and that its total usership was around 700,000.
However, the company conceded that it was "temporarily" closed to investigate "abnormal fluctuations" on company accounts – although it assured users that their funds were safe.
Last week, police made 62 arrests as the Financial Crimes Investigation Board expanded the scope of its probe into the exchange.
____
Learn more:
- The Case Of a Plunging Fiat Currency: Turkey's Struggling Lira
- Turks Turn to Exploring Bitcoin, Ethereum, And Tether as Lira Plummets
- Venezuela Paying Iranian, Turkish Companies in Bitcoin – Report
- Thai Central Bank Sets A Precedent By Banning Baht-pegged Stablecoin
- Latest Episode of India's Crypto Ban Soap Draws Decidedly Mixed Reviews
- Here Are the Ways Governments Could Attack Bitcoin – and None of them Sound Hot
- Nigerian Senators Blast Central Bank For Its Crypto Ban
---