Trade Crypto Easily with Tycoon
The text below is an advertorial article that was not written by Cryptonews.com journalists.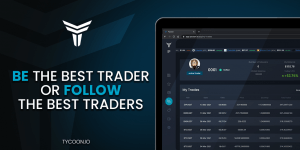 After 12 years of existence, the cryptocurrency domain finally gets the attention it deserves.
Given all the benefits that the lack of third parties brings, it's a shame we didn't make this switch to crypto earlier.
But now this isn't a problem anymore. Since Elon Musk joined the community, crypto has become a real competitor for fiat. Sooner or later, the USD will not be the king anymore.
This is why so many want to join the crypto trading hype now. But truth to be told, it's not that easy, right?
There are over 8,000 cryptocurrencies out there, each of them more vulnerable than the others. And having your eyes on every important change in the market is a real hassle - especially if you don't have technical knowledge.
That's why you are here, right? To find a solution and learn how to trade easily.
And great news, there is actually a solution to your concerns - the Tycoon ecosystem.
What is the Tycoon ecosystem?
Tycoon is an entire ecosystem built to help traders both with or without expertise. It was developed on the profit share business model, providing a win-win experience for both parties.
There are two main types of traders on this platform - the experts and the novices - each of them with its set of benefits.
This project aims to create a trustful connection between experts and beginners, expanding crypto usability by getting rid of users' anxiety.
How does Tycoon work?
It's actually very straightforward.
Any trader can connect their Binance account on the platform with an API key. Because of that, the platform is able to give newcomers the possibility to automatically trade based on the financial activity of the experts they choose.
It's called copy trading - if you ever heard of it.
So there's a list of all the master traders on the platform. If you want to trade but you are afraid you don't have enough technical expertise, then you can choose to follow the best traders out there and let the platform copy their activities.
That way, you get the possibility of generating profits without actually doing anything.
However, that doesn't mean that the experts will be exploited and receive nothing in return.
Followers will have to pay a profit share fee of 30% to the platform which then will be distributed between the Tycoon and the trader according to his ranking. The more followers, the bigger the benefits.
Followers have the opportunity to receive from 70% up to 77.5% of generated profits in case that they're selected traders are profitable.
Tycoon only generates revenue if followers and traders do so as well, it's one of the very few businesses that actually are on the side of the client.
What if the chosen trader doesn't perform well?
Not to worry.
A big plus of the Tycoon ecosystem is that they provide users with the option to set an individual stop-loss. If an expert trader falls below the set threshold, the app will stop trading by his model.
And this situation will not leave you alone in the crypto trading area. You are free to assign a portion of your funds to different individual traders.
The more traders you follow, the bigger your portfolio will be. So, in the end, after you level up your confidence, you will have a lot of assets to choose from in certain market circumstances.
What are the benefits of Tycoon?
It depends on which side you are on.
If you are an expert trader, you gain the ability to run your own crypto trading business by doing what you do best, trading.
Besides that, traders also receive forecasts regarding the number of potential followers - based on their place in the leaderboard, crypto used, time spent, etc. That way, the trader can get an idea about how much he could potentially earn on the platform, and even better - he can choose to change his trading strategies.
If you are a follower, then things are a little different.
Besides the potential for generating revenue with little effort and the stop-loss option, followers also have access to metrics regarding the activities of their selected traders. That way, users can carefully analyze if following a specific trader is worth it or not.
Another great benefit is the demo account - where newcomers can try copy trading without investing with real assets. Just until they feel ready to trade with real money.
How safe is the platform?
It actually has one of the best security features of all crypto projects.
First of all, it has multi-factor authentication - so that malicious actors will stay away from your assets.
And secondly, everyone has the option to use the platform under a pseudonym - users appear on the platform with an alias, so your privacy is safe.
Do they have a token?
Glad you asked that.
Yes, Tycoon has its own token, which is on sale right now at a price of $0.10 each. And those who get their hands on the TYC will have a great bonus - no less than a 25% discount on their profit share fees.
That means even a greater reward for those that follow the most successful traders.
Who is behind the project?
Tycoon is the outcome of the great ideas and expertise of Serdar Bisi, Hakan Turgut, Semira Keklik, and Pedro Merkl. Together, they gathered the best people for their team, with vast experiences in business, cryptocurrencies, and blockchain technology.
They started in 2018, and now they finally got the project to the public, with plans to develop an android version as soon as possible - making the technology available on the go.
Now, what are you waiting for? Join the most promising crypto trading platform, and don't forget to suit up with fresh new Tycoon tokens!
---