Top picks for April 2023: Ethereum (ETH), Solana (SOL), RenQ Finance (RENQ)
Disclaimer: The text below is an advertorial article that is not part of Cryptonews.com editorial content.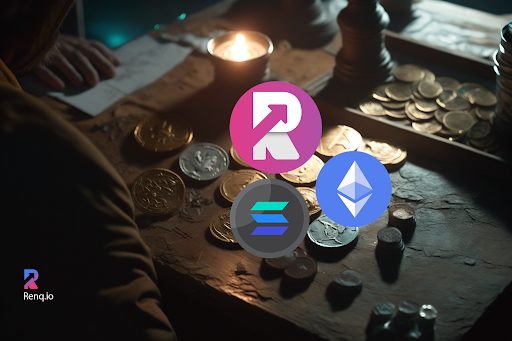 Cryptocurrency continues to be an attractive investment option for investors worldwide. As the cryptocurrency market continues to evolve, investors are always looking for the next big thing. In April 2023, several cryptocurrencies are expected to experience bullish trends that could result in significant gains.
Ethereum (ETH), Solana (SOL), and RenQ Finance (RENQ) are among the top picks for those seeking high returns on their investments. While Ethereum and Solana are well-known in the industry, RenQ Finance is a relatively new player that has been making waves in the decentralized finance (DeFi) space.
RenQ Finance has emerged as an attractive option for those looking to diversify their portfolios, owing to its innovative technology and strong community support.
Ethereum (ETH)
Ethereum is the leading provider of blockchain technology globally, with more decentralized applications (dApps) hosted on its platform than all other chain providers combined. Ethereum quickly established itself as the market leader in the dApps field, leading to ETH becoming the second-largest cryptocurrency by market cap, following Bitcoin. Often, Ethereum's value is closely linked to Bitcoin news.
Originally using the same proof-of-work (PoW) consensus method as Bitcoin, Ethereum has since September 2022, transitioned to a proof-of-stake (PoS) method, dramatically increasing customer capacity and speed, and bringing its offering much more in line with alternative blockchains. This new protocol delivers financial, transactional, and environmental benefits.
Although Bitcoin's market cap is more than twice that of Ethereum, ETH's market cap of over $220 billion vastly dwarfs that of its nearest competitor, making it the top smart contract-supported cryptocurrency by market cap ahead of Binance coin.
In April 2023, Ethereum is expected to continue its upward trend, with some experts predicting that it could reach a value of $2,048 or more. The primary factor driving Ethereum's growth is the increasing adoption of decentralized finance (DeFi) and non-fungible tokens (NFTs), which are built on the Ethereum network. Additionally, Ethereum's transition from proof of work to proof of stake is expected to reduce fees and increase efficiency, making it an even more attractive investment option.
Solana (SOL)
Solana (SOL) is a layer-1 blockchain network that was created as a response to some of the underlying limitations of Ethereum's unwieldy layer-1 proof-of-work consensus mechanism. Solana's revolutionary combination of proof-of-stake with proof-of-history protocol delivers outstanding block finality.
With Solana's blockchain processing transactions at very high speeds and delivering much lower transaction costs than Ethereum's options, the network supports the growth of Web3 technologies thanks to its scalable, secure, and dependable blockchain performance.
Several dApp developers have flocked to Solana, with the platform hosting ecosystems including decentralized exchanges, GameFi platforms, and a growing digital art scene that makes excellent use of the platform's host NFTs. Solana's pioneering hybrid blockchain consensus protocol and brilliant levels of network reliability make it one of the top altcoins by market cap today.
In April 2023, Solana is expected to continue its growth, with some experts predicting that it could reach a value of $28.87 or more.
RenQ Finance (RENQ)
RenQ Finance (RENQ) is a decentralized exchange (DEX) that offers a multi-chain platform for trading and investing in cryptocurrencies. Its innovative technology and use cases make it a promising investment opportunity for those interested in decentralized finance.
RenQ Finance was designed to solve the liquidity problem in the decentralized finance (DeFi) space. With its unique algorithm, RenQ Finance can provide liquidity for other tokens on its platform, allowing investors to access a wide range of tokens with ease. This has made the platform popular among investors and has contributed to its steady growth.
In terms of recent developments, RenQ Finance has passed a security audit by CertiK, one of the leading blockchain security companies. This has further increased investor confidence in the platform, as it demonstrates RenQ Finance's commitment to ensuring the security of user funds and protecting them from potential security breaches and attacks.
RenQ Finance has also seen significant adoption in the Asian market, with reports of talks with the biggest CEX in Asia. This is expected to drive further growth for the token in the coming months, as it gains more exposure in the region.
In April 2023, RenQ Finance is expected to experience significant growth, with some experts predicting a surge of 20x or more. RenQ Finance's multi-chain approach, non-custodial platform, and support for financial products set it apart from other decentralized exchanges in the market, making it an attractive option for investors.
Conclusion
Investing in cryptocurrencies requires careful consideration of various factors, including market trends, technology, and adoption. Ethereum, Solana, and RenQ Finance are three of the top cryptocurrency picks for April 2023, with strong potential for growth and significant gains.
However, it's essential to approach any investment with caution and to conduct thorough research before making any decisions.
Click Here to Buy RenQ Finance (RENQ) Tokens.
Visit the links below for more information about RenQ Finance (RENQ):
Website: https://renq.io
Whitepaper: https://renq.io/whitepaper.pdf
---