Top 5 New Crypto Sectors to Buy: Meme Coins, AI Coins, VR, DeFi 2.0 & Web3 Projects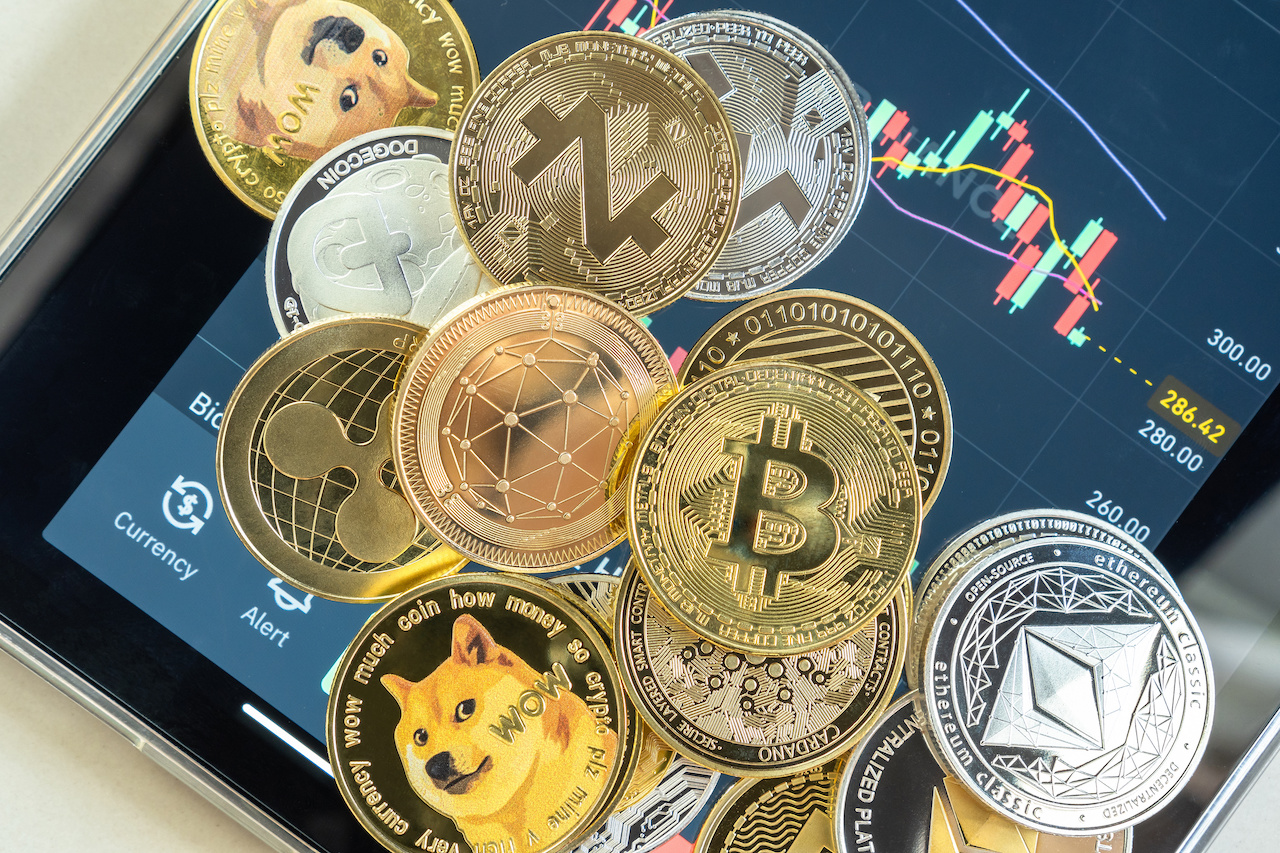 The market may still be weathering a crypto winter at the moment, but that hasn't stopped the cryptocurrency industry from continuing to innovate and develop exciting new projects and products.
Even with unstable prices, 2023 has brought a regular supply of new platforms and tokens, each with their own unique features and selling points.
This article rounds up the best of them, highlighting five new platforms and altcoins in five sectors each, from meme tokens to DeFi and Web3.
Each has the potential to experiene strong growth in the coming months, especially if the market returns to more bullish conditions.
Meme Coins: Wall Street Memes (WSM)
2023 has been a pretty good year for meme tokens, with the likes of PEPE, SPONGE and 4CHAN all experiencing rallies that easily beat market averages.
These are all coins based on some popular meme or character, with the mere usage of a familiar meme serving to draw a (hopefully) big community towards the token using it.
Such a strategy has worked well for the tokens mentioned above, and it's likely to work well for Wall Street Memes (WSM), a new meme coin that has already raised over $9 million in its presale, which began only a few weeks ago.
Associated with the meme stocks movement that came from the r/wallstreetbets sub-Reddit and was responsible for the 2021 GameStop and AMC rallies, WSM has been very quick in attracting a community of investors and holders.
Indeed, its Twitter account boasts over 236,000 followers, providing some sign of how big it could become once its presale ends and it lists on exchanges.
It's currently priced at $0.0298 in its presale, although this will rise to $0.03370000 by the time the final (30th) stage of the sale begins.
New investors can participate by going to the official Wall Street Memes website and connecting their crypto wallets, with WSM buyable using either ETH, USDT or fiat currency.
Given that WSM is starting from such a low price, it could easily see some big rallies in the second half of the year, taking the place of the crop of meme tokens currently in vogue.
AI Coins: yPredict.ai (YPRED)
Ever since ChatGPT launched to the public last year, the world has been going crazy for artificial intelligence, with businesses and industries pivoting towards the use of AI in order to raise productivity.
The cryptocurrency industry has been no exception to this trend, with a number of coins being launched in the past few months that reference AI in some way or another.
However, many of these have been fairly gimmicky, in the sense of making reference to AI without actually using it in any meaningful sense.
Fortunately, yPredict.ai looks set to be a rare exception to this general rule, with the Polygon-based platform set to use AI and advanced algorithms to provide users with various trading tools.
It launched the presale for its native YPRED token a few weeks ago, and has already raised in excess of $2.5 million.
Another big milestone for yPredict is its recent launch of its first AI-powered predictive trading model, while its platform will steadily expand its features over the coming months to offer a range of other AI-based prediction tools.
Such tools will be made available through yPredict's own marketplace, which will enable developers of forecasting and analytical models to sell their services directly to traders.
The native YPRED token will be used to pay for subscriptions to such models, as well as for staking purposes and for gaining access to the platform's analytics.
As such, it will offer genuine utility, putting it in an excellent position for future gains.
Investors can visiting the official yPredict.ai website in order to join YPRED's presale, which currently prices the altcoin at $0.09.
Virtual Reality: DeeLance (DLANCE)
Virtual reality is another big trend at the moment, especially after Apple jumped into the ring with the announcement of its Vision Pro headset in early June.
Crypto has already established some presence within the nascent VR industry, mostly via metaverse platforms such as Decentraland and the Sandbox, yet few platforms have really explored ways of integrating the virtual with the real world.
DeeLance is a rare example of a new cryptocurrency project doing just that, with its decentralized platform for freelancers aiming to provide a virtual space within which workers can find real work.
Accordingly, DeeLance's platform will enable freelancers and companies to hold virtual meetings and conferences, while brands and businesses will be able to advertise in its digital world, creating an ecosystem for work in the Web3 era.
Aside from this metaverse, DeeLance's platform also incorporates an online recruitment portal and an NFT marketplace, with the latter offering a particularly unique innovation.
Namely, the NFTs it will list will represent units of work, which can be kept or traded on by the freelancers who original produced and completed them.
This is an interesting concept, and it helps explain why the presale for its DLANCE token has raised more than $1.3 million.
Such a raise is likely only the beginning for DeeLance, and with work increasingly becoming remote and freelance-based in our post-Covid world, it could easily become one of the biggest new projects of 2024.
DeFi 2.0: ecoterra (ECOTERRA)
DeFi remains probably the biggest sector within crypto, with the decentralization of cryptocurrencies unlocking nearly limitless opportunities for lending/borrowing money, trading, and earning a passive income.
However, as establsihed as DeFi has now become, this doesn't mean that innovation is not happening within the sub-sector, with several new platforms showing that there are new ways of harnessing the power of DeFi for positive ends.
This is particularly the case with ecoterra, a recycle-to-earn platform that has sold more than $5.2 million of its native ECOTERRA token since its presale began last month.
Operating on Ethereum, ecoterra's platform aims to provide a decentralized and crypto-based ecosystem for encouraging more sustainable living.
It will reward users in ECOTERRA for recycling their household waste at participating recycling points, while it will also offer NFT-based carbon offsets to users who generate their green energy.
On top of this, these credits will be tradeable on the platform's own NFT marketplace, meaning that users could find it very profitable to go green.
Its incentivization of greener behavior accounts for why its sale has already been so successful, with new investors able to join in by visiting the official ecoterra website and connecting their software wallets, with 1 ECOTERRA currently costing $0.00925.
This price will rise to $0.01 in just over eight days, although its listing on exchanges in the next couple of months could easily see it rise much, much higher.
Web3: Launchpad.xyz (LPX)
Web3 emerged as one of the most exciting new areas in crypto in 2021, promising to decentralize ownership of the Internet in a way that ensured that actual users were rewarded for the value they added to websites and platforms.
Fast forward to 2023, and a number of platforms are appearing which look set to make good on the early promise of the Web3 concept, with Launchpad.xyz being one of the most interesting.
Aiming to become an omni-channel for Web3, Launchpad's platform will integrate the many different applications, tools and services that make up the growing Web3 sector, enabling the average user to overcome the technical and practical challenges posed by siloed apps.
To this end, Launchpad will offer a Web3 wallet address, yet it will comebine this with a play-to-earn game hub, a launchpad for presales, a trading terminal, and an AI-powered search engine specifically for crypto.
It has been able to raise over $1 million on the basis of this ambitious ecosystem, with its wallet set to launch in the next few weeks.
The end of the year will also see it launch its own decentralized exchange, while 2024 will bring an NFT exchange and the ability to create fractionalized assets.
Together with its Web3 wallet, news feeds and gaming hub, such features suggest that Launchpad.xyz could become the main place to go for Web3 for the average user, definitely making it one to watch for the future.
Disclaimer: The Industry Talk section features insights by crypto industry players and is not a part of the editorial content of Cryptonews.com.
---