Top 5 Most Promising DAOs In 2022
Disclaimer: The Industry Talk section features insights by crypto industry players and is not a part of the editorial content of Cryptonews.com.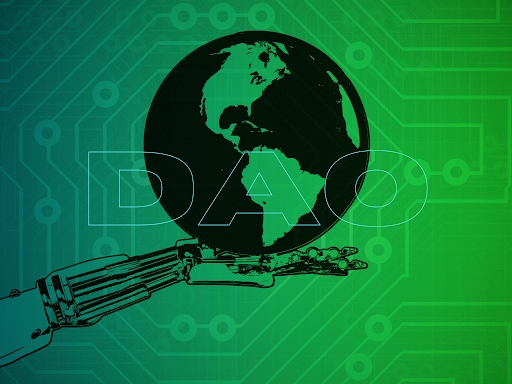 Decentralized Autonomous Organizations, or DAOs, are slowly transforming the digital landscape as we know it. The leader-less governance structure has made inroads in cryptocurrency and blockchain and can be applied to many other facets of life. Several intriguing projects have sprung up recently, and they all try a slightly different approach.
EarthFund DAO
The EarthFund DAO is designed to tackle humanity's biggest problems by giving everyone a voice in these matters. If we want to change our planet for the better, one must facilitate collaboration globally. EarthFund DAO and its treasury can make that impact and get more people to donate to causes rather than projects. Furthermore, EarthFund has put together a crypto crowdfunding platform made up of autonomous and cause-focused communities with their own treasuries and missions.
Grants paid out through the platform are subject to a 5% fee. However, it is a fee charged on top of the amount being raised for a cause, ensuring the recipient gets 100% of the funding they need. Community members who voted or weighed in on these cause-focused members are rewarded for participation. An MVP of the EarthFund DAO is currently rolling out,, and spans over 2,500 token holders.
Eventually, the DAO will become completely autonomous and put the community in control of day-to-day operations. However, causes will remain autonomous communities with crowdfunding opportunities and voting on how collected funds should be allocated. The EarthFund DAO wants to bring like-minded people together and ensure the causes get the money they need without unnecessary intermediaries.
DAOSYS
The Syscoin team has always seen merit in the Decentralized Autonomous Organization approach. However, the team acknowledges there are still some key issues when setting up a DAO, allowing them to introduce a new "standard." The new model will become apparent through the DAOSYS project, driving growth and incubating innovation for the Syscoin ecosystem. Furthermore, organizations will be democratized by incentivizing contributions, fostering self-sovereignty, and eliminating risks.
The DAOSYS model is an Autonomous Service Engine or ASE. Through the ASE, DAOs can tap into a treasury management system without relying on governance tokens. Although those tokens are often part of a DAO's treasury, they have also been misused to benefit the few, rather than the many. Instead, Syscoin believes a DAO should act as an Automated Market Maker providing a two-way street of value between the ecosystem and its users.
Moreover, through the ASE and DAOSYS model, anyone can set up a Decentralized Autonomous Organization as if they would set up a liquidity pool. DAOSYS features several DeFi components to help DAOs leverage existing markets to fund missions. Shifting risk away from capital is an exciting addition to the DAO landscape.
UpLift DAO
The UpLift project spans a permissionless decentralized launchpad enabling incubation, launching, and acceleration of projects in the DeFi space. Combining that approach with crowdfunding opportunities instills a sense of long-term backing into projects and investors. Becoming part of a launchpad extends better investment potential for users and democratizes access to such opportunities for smaller wallet holders.
Through the DAO model, anyone can participate in the presale of future projects. More specifically, decisions are made by all users staking the $LIFT token, with a low threshold required to participate in the IDOs conducted through the UpLift platform. Furthermore, it will feature all the traditional DAO aspects, including governance and voting, community incentives, token staking, and more.
UniX Gaming DAO
Play-to-earn gaming is still one of the more exciting verticals in the cryptocurrency and blockchain industry. UniX Gaming is an early adopter of P2E and has built a NFT portfolio valued at nearly USD 2 million. Furthermore, users can participate in UniX Gaming's DAO Vaults to generate high-yield returns and benefit from the DAO's revenue-generating activities and expansion activities.
The UniX Gaming token represents governance rights in the DAO, enabling users to weigh in on crucial decisions regarding scholarships, supported games, rewards, land sales, and more. It is a good way of democratizing access to play-to-earn games - which often require an upfront investment - and helping new and upcoming games gain a broader community of supporters.
UniX Gaming recently announced a partnership with DAO Maker and SL2 Capital for its Initial Game Offering (IGO) launchpad. Through the launchpad, DAO members can invest in upcoming crypto games during their initial development phase. SL2 will handle the technology stack and writing, verifying, and executing smart contracts. DAO Maker will brink its multi-year launchpad expertise to the table, raising over USD 288 million in wealth for its users in 2021.
BitDAO
It is hard to overlook the success of BitDAO, as it is the lading Decentralized Autonomous Organization where its treasury size is concerned. The DAO has invested in various decentralized finance projects and has the support from the ByBit exchange, giving it long-term potential. Moreover, DAO participants gain exposure to the DeFi projects BitDAO invests in - following community voting - aligning incentives between DAO participants and the supported projects.
Becoming part of the DAO is easy, as it is accessible to anyone holding the token, contributing to the project, or becoming a partner. Even non-token holders can join the BitDAO forum and social media to have conversations or pitch their ideas. In addition, token holders can recommend and vote on growth strategies and how the treasury is used. BIT holders can either cast votes directly or delegate their voting rights to a different address. That later aspect does not require tokens to be transferred.
---