Top 40 ICOs by Gains / Loss Due to ETH Price Swings
Although Ether price has fallen around 85% from its all-time high of USD 1,400, many initial coin offering (ICO) projects have cashed out before the price crash in 2018, a new research of 222 ICOs found.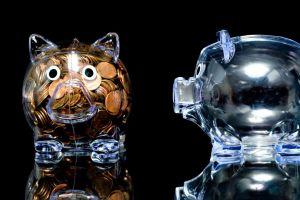 The research, done as a collaboration between cryptocurrency exchange BitMEX and cryptocurrency analyst group TokenAnalyst, showed a different approach by ICOs towards their Ethereum balance.
Here are top 20 ICOs by total gains from change in value of ETH holdings, USD million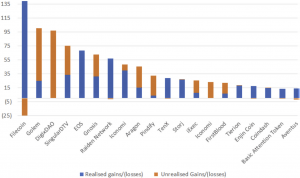 Filecoin, a decentralized storage network, for example, has realized a gain of more than USD 135 million thanks to the change in the price of ETH. However, in unrealized losses, they have around USD 25 million - although the gain more than makes up for it. Joining Filecoin are Golem, "AirBnB for computers", with an estimate of around USD 20 million in realized gains and unrealized gains of more than USD 70 million, while DigixDAO, a smart assets company, only has unrealized gains - but more than USD 95 million of those.
Here are top 20 ICOs by total loss from change in value of ETH holdings, USD million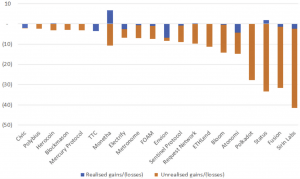 Sirin Labs, a developer of blockchain-based smartphones and computers, leads the list with losses, with more than USD 40 million total lost. Status, a mobile Ethereum operating system, and Fusion, a cryptofinance platform, are two more ICOs that have lost more than USD 30 million. Monetha, a blockchain-based platform that aims to provide "universal/transferable trust" for the e-commerce industry, is an interesting example: although it has more than USD 10 million in unrealized losses, it also has more than USD 5 million in realized gains. Interestingly, most of the graphs are in orange - unrealized gains and losses - while the biggest realized loss belongs to Envion, a developer of "smart decentralized blockchain infrastructure."
Panic sell myth and accountability
According to popular believe, ICOs had threatened the price of Ethereum for quite some time. However, the blog post by BitMEX concludes that, "the 'panic sell' thesis is either false or will only occur to a lesser extent than some expect." Also, an earlier research showed that "smaller ICO projects present a higher risk for panic selling of their ether holdings," as previously reported.
Moreover, BitMEX stressed that a number of the ICOs will not deliver on these promises in spite of gains: "In our view, the level of accountability in some of these ICOs is low, for instance even obtaining information about the amount raised, which currencies the raise occurred in, which Ethereum addresses are used and if the funds are spent/sold or not, can be challenging. Therefore fruits of these investments may disappoint in our view."
The researchers also noted that many of these projects are competing over the same scarce resources, developers.
"One could argue that the volume of capital obtained by these ICOs could inflate the cost of these resources (perhaps the less experienced developers). This may not only plague the crypto-currency ecosystem with higher costs, but also to some extent some startups in the wider technology industry, for many years," they concluded.
---