Token2049: Security Tokens, Bottom Calling and Avocados
At the Token2049 event in Hong Kong, which ended today, things were far from boring: Estonian crypto exchange DX.Exchange has announced their own security token, while other panelists were looking for the Bitcoin bottom, and the team behind smart contract platform Tron has reportedly sent someone in an avocado costume to troll Vitalik Buterin, co-founder of competing platform Ethereum.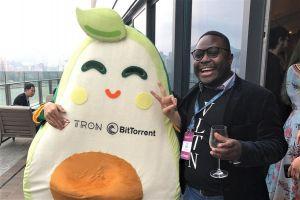 Another platform for security token trading
Estonia-based digital asset marketplace DX.Exchange announced at the conference that it will begin to list security tokens starting today, March 14th, along with launching their own token, dubbed In Good We Trust (IGWT). The token's purpose is to showcase the new security token service and help raise funds for the company, which will be restructured into a new entity called DXtech Exchange. They have also announced that 18 million IGWT tokens will be sold in a private sale, with 10% of the exchange's profits to be regularly distributed to the token holders. There will be no minimum investment amount.
DX.Exchange's CEO and co-founder Daniel Skowronski said at his panel, titled "STOs and Security Tokens - The Future of Crypto is Closer than we Think" that the move would "mark a further step towards realizing its vision of tokenizing the world and opening the doors to a new crypto economy." He went on to add, "We believe that all assets whether its securities, art or real-estate will be tokenized. This tokenization has many benefits but the strongest is the ability to help create wealth for people all over the world no matter their social economic situation. At DX, we can help trade the untradeable."
Bottom calling remains a favorite hobby
A panel, titled "Crypto Analysts: When Moon?" called out new bottoms - reportedly as low as USD 1,300 for Bitcoin.
According to tweets from the event, popular cryptocurrency analyst Murad Mahmudov and Arjun Balaji, an independent blockchain researcher, see the Bitcoin bottom in the USD 2,000 - USD 2,500 range by the end of summer 2019, while another crypto analyst and trader Tone Vays is the one to go as low as USD 1,300.
However, at least Mahmudov and Balaji are reportedly more optimistic about 2020.
Bitcoin is one thing, but the panelists do not hold much love for Ethereum, having unanimously indicated that they consider ETH's current price of around USD 130 to be overpriced.
Abra adds ETH support
Global investment app Abra announced at the event that it has expanded support for the Ethereum platform by integrating the platform's native coin, ETH. Users are now able to deposit, invest, and withdraw ether directly from the Abra app. Interestingly, ETH was previously available on Abra as a synthetic asset, meaning that users had exposure to the price movements of ether and could only make deposits into the Abra app via a US-based bank account, American Express card, Bitcoin, Bitcoin Cash or Litecoin.
Now, users can directly deposit and withdraw ETH via any Ethereum wallet. "By adding native ether support, Abra users will now be able to easily buy and move ether from other wallets to the Abra app," said Bill Barhydt, CEO and founder of Abra. "This also opens up the potential to use ETH as an on-ramp to invest in the other assets listed on Abra."
Avocado: more than just healthy food
The avocado issue started on Twitter, between Tron CEO Justin Sun and Buterin. After Tron acquired BitTorrent, a file sharing protocol with the community of over 100 million users, and launched the BitTorrent token, Sun dug out an interview from 2017 where Buterin praises BitTorrent. The latter was quick to correct the assumption that he is indirectly endorsing Tron: "That interview was from Aug 2017. Tron acquired BitTorrent in July 2018. My praise for BitTorrent had nothing to do with Tron. This is like implying that because I like avocados, I approve of everyone who has ever bought an avocado."
Now, the Tron community got stuck on the avocado comment. Tone Vays posted a video showing someone in a smiling avocado suit with the Tron and BitTorrent logos on it taking pics with attendees, writing, "Documenting for Future: [Justin Sun] & [Tron] team r [sic] headed to troll Vitalik Buterin at Ethereum Speach [sic] Token2049 [with] avocado (I can tell u [sic] why but will be the fun in that 😂). Who's [sic] side does a #Bitcoin Maxi take?.. Rooting for avocado!"
The community, for the most part, does not consider this funny.
"New lows for both Tron and Tone. No surprises there," writes Twitter user @antiprosynth, while others are calling the stunt "desperate" and "needy." Another user under the handle @brothatsrowdy writes, "Cringe af. Talk about emotionally attached to a coin when you are supposed to be a trader."
---