Tim Draper on His USD 250,000 per Bitcoin Forecast: "Spirits Told Me"
"Spirits told me," joked Tim Draper, famous early investor in groundbreaking projects such as the internet, Tesla, Skype and Hotmail among others, answering to a question about his recent bitcoin price forecast.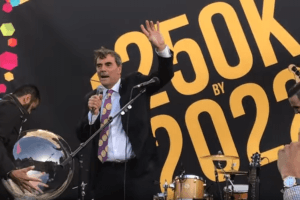 He was on a Skype call with participants of Crypto Capital World, a crypto investments conference, currently taking place in Vilnius, Lithuania.
Earlier in April, Draper estimated that bitcoin will hit USD 250,000 within four years. Now he explained why.
According to the investor, there are trillions of US dollars worth of fiat currencies and in a few years cryptocurrency share will reach at least 20%, while bitcoin's share of the crypto universe's market value will stand at 20%-25%.
Also, Draper added that the "greatest engineers" are now working on cryptocurrencies, while "not many engineers" are working on improvements of US Dollar or Japanese Yen.
In 2014, he correctly predicted that bitcoin would pass USD 10,000 mark in 2017.
Now the investor explains that back then he estimated that bitcoin would become recognizable by many people, while growing number of available trading platforms would encourage newcomers to buy bitcoin.
"This [Bitcoin] is bigger than the internet. It's bigger than the Iron Age, the Renaissance. It's bigger than the Industrial Revolution. This affects the entire world and it's going to be affected in a faster and more prevalent way than you ever imagined," Draper stated earlier this week and repeated his previous forecast that "In five years you are going to try to go buy coffee with fiat currency and they are going to laugh at you because you're not using crypto."
Meanwhile, Draper is not only one giving bold price target for Bitcoin. This week, John Pfeffer, a partner at Pfeffer Capital, put 1% odds that bitcoin price will reach USD 700,000. However, Pfeffer did not elaborate, when it may happen.
The forecast is based on an idea that Bitcoin may become "the dominant non-sovereign store of value, it could be the new gold, or new reserve currency".
***
Draper announces his most recent forecast:
---