Three Central Banks Plan to Issue Digital Currency
Central banks are interested in issuing digital currencies (CBDCs), are increasingly researching the topic and two of them see it as a short-term plan, while another considers this something to be done over a medium term, a new survey showed without identifying these three banks.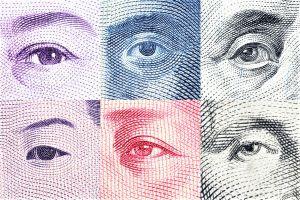 The paper, written and published by the Bank for International Settlements (BIS), included the responses of 63 central banks representing jurisdictions covering close to 80% of the world population. Out of those, 41 are located in emerging market economies and 22 in advanced economies. It distinguishes between two main types of CBDCs: general purpose and wholesale.
According to the BIS, two emerging market economy central banks are considering issuing a general purpose CBDC in the short term, while one central bank reported that they see themselves as very likely to issue a wholesale CBDC in the medium term.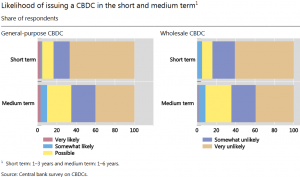 General purpose CBDCs would be widely available to the general public and primarily targeted at retail transactions. Wholesale CBDCs represent a restricted-access digital token for wholesale settlements, like interbank payments or securities settlements. Short term, in the context of the survey, represents a time frame up to three years, while medium term is up to six years.
In the short term, over 85% of central banks see themselves as either somewhat unlikely or very unlikely to issue any type of CBDC. Beyond the short term, an increased proportion of central banks consider the issuance of both types of CBDC to be possible. Many banks run into legal issues with such ideas: almost a quarter of central banks have, or will soon have, authority to issue a CBDC while a third do not, and about 40% remain unsure. The survey goes on to state that the uncertainty is more or less the same across all jurisdictions, regardless of economic development.
General purpose CBDCs are nothing new: both Sweden and Uruguay boast advanced projects with a lot of publicly available information on this matter. Sweden's central bank, Sveriges Riksbank, is working on an "e-Krona" project, beginning in early 2017 and publishing its second report in October 2018. The report states that the use of cash is declining in the country, and the bank is vying to remain a big player in the payment market by use of the electronic krona, as a complement to cash. The bank is also looking into using distributed ledger technology (DLT), but considers current solutions "too immature."
The Central Bank of Uruguay began a pilot programme in November 2017 to issue, circulate and test an e-Peso as an attempt to further its broader financial inclusion goals. Interestingly, the platform does not use DLT and shows no intent to start.
As reported in September, Ukraine's central bank National Bank of Ukraine, says it plans to launch a digital fiat based on its hryvnia currency.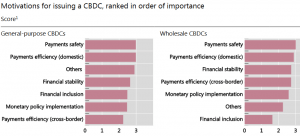 As reported in October, a joint report from IBM Blockchain and the Official Monetary and Financial Institutions Forum (OMFIF), an independent think tank, showed that participants in the survey overwhelmingly believed that a "wholesale CBDC should be issued by the central bank and denominated in the domestic sovereign currency, with which it holds a 1:1 parity in value," while adding that it must be "fully backed by the central bank's reserves."
Also, according to the report, 61% of central banks surveyed said that deploying a blockchain "may not be necessary" due to the few efficiency gains seen during trials with blockchain-based systems.
Meanwhile, in November, Christine Lagarde, the Managing Director of the International Monetary Fund (IMF), praised the advantages of cryptocurrencies and suggested that governments could set up their own cryptocurrencies.
Moreover, central bank-issued digital currencies could "reshape the current competition level in the cryptocurrency market," according to a study published by the European Parliament Committee on Economic and Monetary Affairs.
---